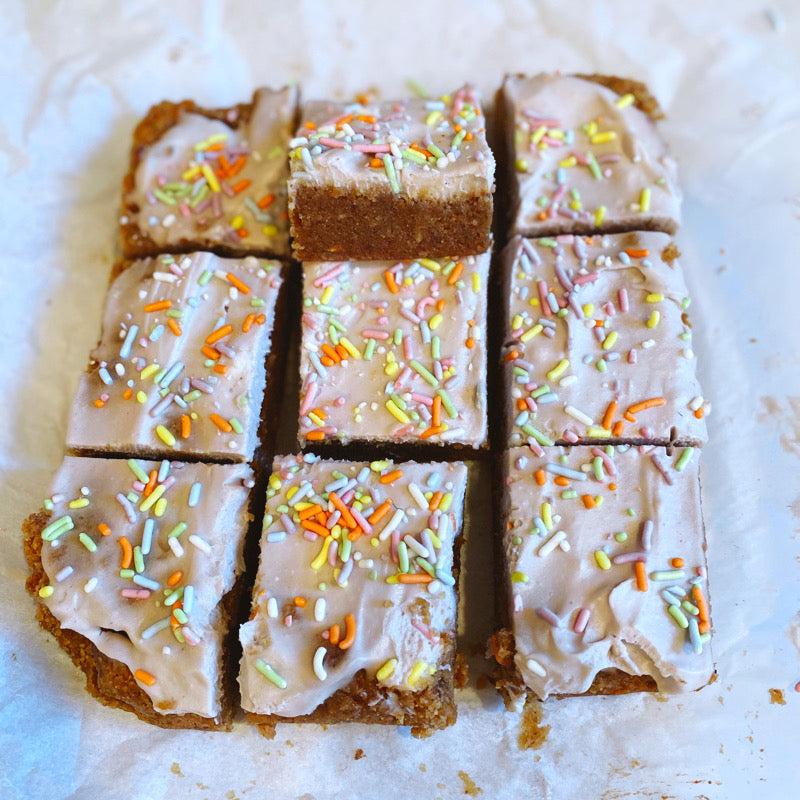 Sugar Cookie Birthday Cake Bars
Sugar cookie meets birthday cake meets blondie. Thats the most accurate way I can describe these cookie bars.... and if that doesn't lock you in, perhaps the Strawberry & Cream icing will do some convincing?
These cookie bars are light , chewy , subtly sweet and hit a flavor combo that cant be missed. 
So break out the candles, whether its your birthday or not, we all deserve some extra sprinkles this year. 
Serves:9 large bars 
Equipment:
high speed blender 
oven 
8x8 baking dish 
mixing bowls 
microwave/ stove 
Prep Steps: Soak Cashews Overnight , Refrigerate Coconut Milk Overnight 
Pro Tip: Make your icing first, so It has time to set in the refrigerator.
Ingredients 
Dry 
2 cups almond flour
2 tbsp oat flour
3 tbsp cassava flour
1 tbsp arrowroot flour 
1/2 cup coconut sugar 
1 tsp baking powder 
1/2 tsp sea salt 
Wet
2 flax eggs ( 2 tbsp flax meal + 4 tbsp water) 
1/4 cup cashew or almond butter 
2 tbsp coconut oil
2 tbsp honey 
1/4 cup + 1 tbsp almond milk 
1.5 tsp vanilla extract 
2 tsp lemon juice
1 tsp lemon zest 
1/2 tsp almond extract 
Preheat your oven to 350F. Line an 8x8 baking dish with parchment paper. 
Prepare your flax eggs in a small bowl. Set aside. 
Add all remaining dry ingredients into a mixing bowl ( almond flour - sea salt.) 
In a microwaveable safe bowl add your coconut oil , honey, and nut butter. Microwave for 20 seconds, stir and repeat until all is melted and one cohesive mixture. 
Add your coconut oil/ nut butter bowl into your dry ingredients bowl. Add in the rest of your wet ingredients-  your flax egg , almond milk , vanilla, lemon, lemon zest, and almond extract. Stir until all combined. 
Spread your batter into your baking dish. 
Bake until your top is golden and beginning to slightly brown around the edges-- about 18-25 minutes, depending on your oven. 
Remove from the oven and allow to COMPLETELY cool-- this is important! 
Icing 
1 can full fat coconut milk ( chilled overnight in refrigerator ) 
1 cup cashews, soaked in cold water for minimum of 4 hours or overnight 
3 tbsp coconut oil, melted
3 tbsp maple syrup 
5 frozen strawberries 
1.5 tsp vanilla extract 
1/4 tsp almond extract 
1/4 tsp sea salt 
Sprinkles (optional) : to top cookie bars once they have been iced
Turn over your chilled coconut milk can and open the bottom with a can opener. Discard of the liquid. Now, scoop out all the coconut cream and add to the blender -- should yield about 3/4 cup.
Rinse your soaked cashews and add to blender.
Add in all other icing ingredients. Blend on high until smooth and creamy -- this will take a few minutes. Scrape down the sides of the blender as needed. 
Allow icing to set for a minimum of 3 hours in the refrigerator before using. 
Add sprinkles before slicing.