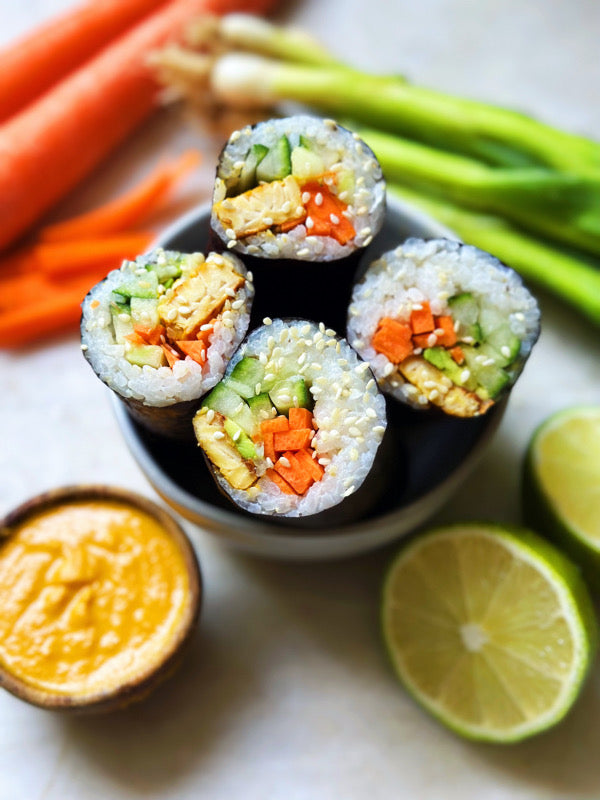 Sushi Burrito w/ Sticky Rice & Carrot Ginger Peanut Tempeh
The best part about a sushi burrito? You are supposed to eat it with your hands. So set those chopsticks aside and dive into this messy goodness. 
This whole recipe was created around some leftover Carrot Ginger Peanut Dressing I had in the fridge from last week's Spring Roll Noodle Bowl. I love when I can give yall more than one way to enjoy something! 
This burrito is hearty and satisfying but light enough that it's hard to stop going in for one more bite. 
I steamed the tempeh before sautéing it to help absorb all the saucy goodness. 
Get creative with whatever veggies you want to throw into your burrito! And always, yes always, add a little more drizzle with each bite. 
Carrot Ginger Peanut Dressing
3 large carrots, peeled and chopped 
5 tbsp peanut butter, unsweetened & unsalted 
1/4 cup chopped onion 
1/4 cup rice vinegar 
3 tbsp fresh lime juice 
3 tbsp neutral oil ( I used avocado oil ) 
3 tbsp low sodium Tamari 
3 tbsp maple syrup 
1 tbsp, peeled and chopped ginger 
1 tsp peeled and chopped turmeric 
1 tsp toasted sesame oil 
1/2 tsp sea salt 
Pinch ground pepper
In a high-speed blender, blend all dressing ingredients until smooth and creamy. Taste and adjust sweetness with maple syrup and tanginess with more lime juice or rice vinegar
Sushi Rice 
1 cup sushi rice 
2 cups fresh water
3 tbsp seasoned rice vinegar 
1 tsp sea salt 
Rinse the rice in a mesh strainer for 1-2 minutes under cool water. 
Add the rice and water to a pot and allow to soak for 20 minutes. 
After soaking, bring the water to a boil. Once the water reaches a boil, cover your pot with a lid and reduce heat to a low simmer. 
Once all the water has evaporated, usually about 12-15 minutes, turn off the heat and move pot off the hot burner. 
Add in the seasoned rice vinegar, then stir and fluff the rice to incorporate the vinegar.  The rice will become sticky and clump together. Allow the rice to cool while you prepare the rest of your burrito. 
Sushi Burrito  
1 8oz package of tempeh 
1 tbsp sesame seeds 
1 large carrot, sliced into matchsticks 
1 cucumber, sliced into matchsticks 
1 ripe avocado, sliced into thin pieces 
4 nori wrappers 
Extra rice vinegar to help the roll stick 
Slice your tempeh into 1/4" tempeh slices. 
Steam in a steam pot for 5 minutes. 
Warm toasted sesame oil on a skillet over medium heat. Use tongs to arrange tempeh so all are laying flat on the sauté pan. Allow them to sauté for about 5 minutes, or until slightly browned on side facing down. Flip and repeat.
Once both sides have browned add your tempeh into a mixing bowl. Pour 1/4 cup dressing over your tempeh and lightly fold in tempeh until all sides are evenly coated. Add more dressing to taste. Sprinkle on your sesame seeds. Set aside while you prepare your burrito. 
Lay your nori wrapper on a sushi rolling mat ( recommend ) or use a piece of parchment paper. 
Spread about  ¾ cup of the rice mixture evenly onto a nori sheet, leaving about ½ inch from the bottom and top of the nori. 
Using your fingertips or a kitchen brush, brush some rice vinegar onto the bare parts of the nori wrapper. This will help your roll to stick when rolling. 
Layer the tempeh and all of the fillings in a row onto the rice. Take the bottom of the nori sheet and roll everything tightly into a large roll, slightly tucking your nori wrapper with your fingertips under the first roll. Continue to roll and tuck until your roll is done. I like to brush a tad more rice vinegar onto the finished "seam" of the roll and then lay the roll with the seam down for at least 5 minutes before slicing. 
Serve with extra dressing and low-sodium tamari. 
Store any leftovers in a sealed container in the refrigerator.