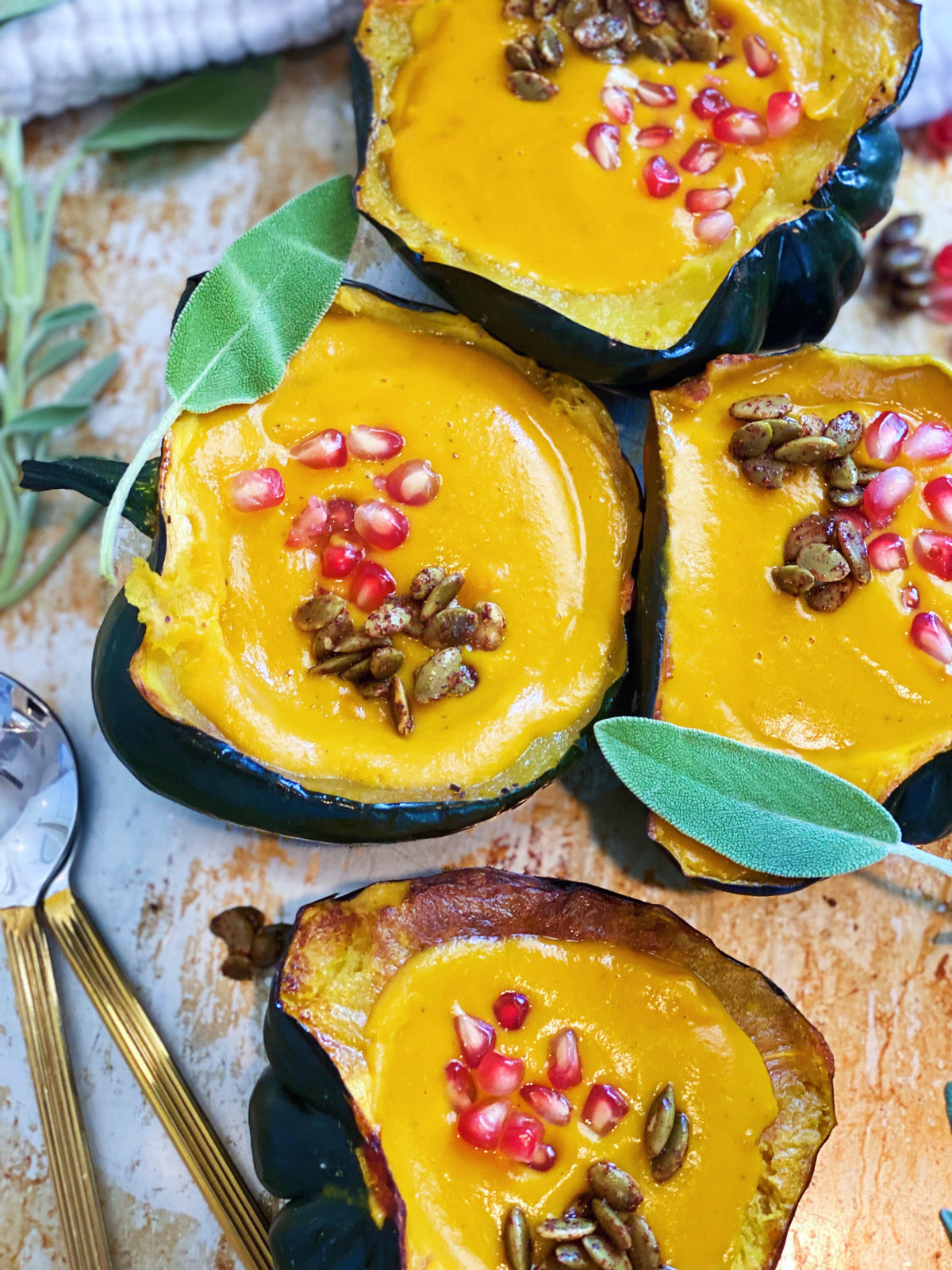 Last week I was craving my curry butternut squash soup from a few years back but was missing some key ingredients -- *ahemm* like the butternut squash. I wanted to shake things up a bit and get creative, so I turned to my absolute favorite vegetable -- the sweet potato. 
I added a little coconut milk, bay leaf, and cannellini beans for extra protein and creaminess. 
I know your next question will be -- well which one is better? Please dont make me choose, but honestly if you are a sweet potato lover-- hint hint. 
We aren't even in October yet and my soup cravings / inspiration are through the roof -- get ready for a soup filled fall! 
Serves 4 
Equipment:
Large Soup Pot
Blender or Immersion Blender
Oven - if serving in squash bowls
SQUASH BOWLS: ( optional ) 
2 
medium
acorn squash, halved 
1 tbsp olive oil or avocado oil 
1 tbsp maple syrup
Preheat your oven to 400 F and line a baking sheet with parchment paper. Using a sharp knife, carefully slice each squash ( from tip to tip-- lengthwise. ) Scoop out the seeds with a spoon. Divide the oil and maple syrup between each half and rub into the flesh with your hands. Sprinkle each one with salt. 
Lay them face ( flesh ) down onto the parchment paper and roast for 35-40 minutes. 
SOUP:
1 tbsp olive oil
1 yellow onion, diced
2 celery stalks, diced
2 cloves garlic, minced 
1 large or 2 small sweet potato , peeled and cubed ( about 2.5 cups )
3 large carrots, peeled and chopped ( about 2 cups)
1 inch knob ginger, peeled
1 tbsp curry powder
3/4 tsp + salt
½ tsp pepper
few shakes crushed red pepper 
2 bay leaves
1 can cannelloni beans, rinsed and drained
1 quart broth
1.5 cup water
1 tbsp ghee or vegan butter ( optional but delicious)
1.5 tbsp maple syrup
1 cup full fat coconut milk 
½ tbsp red wine vinegar
Directions
Add a tbsp olive oil to soup pot & warm over medium heat. Add your onion, celery, and garlic and sauté until the onion is softened. Then add your sweet potato and carrots.
Grate your ginger into your soup pot, continuing to sauté your mix until softened, about 5 more minutes.
Add your curry powder and stir to incorporate, about two minutes.
Add your vegetable broth, bay leaves, beans, ghee / vegan butter, red pepper flakes, sea salt, pepper. Stir and bring to a low boil.
Reduce heat to low and simmer uncovered for 20-30 minutes or until vegetables are softened. Remove your bay leaves, and then transfer soup to a blender and blend until creamy and smooth ( or use an immersion blender here!)  After blending return to pot.
With heat on low, stir in your coconut milk, maple syrup, and red wine vinegar. Stir well.
Taste and adjust seasonings. I added a pinch more salt , pepper, and red wine vinegar!
Toppers: pumpkin seeds, drizzle of coconut milk, pomegranate seeds, red onion , crispy chickpeas.