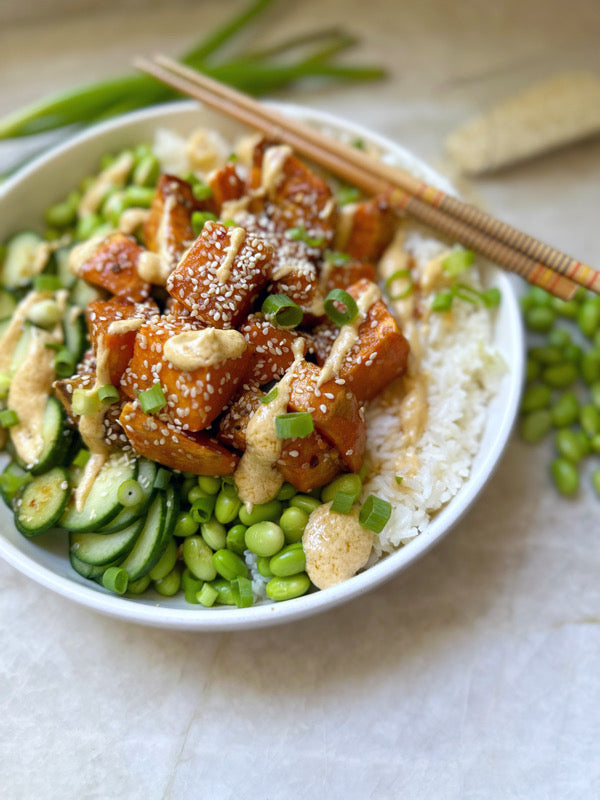 Sweet Potato Teriyaki Bowls
A delicious take on a salmon teriyaki rice bowl…. with marinated roasted sweet potatoes, a homemade teriyaki sauce, and a sriracha aioli, because we like to take things over the top. 
This bowl is fresh, hearty, and absolutely delicious. 
Switch up the sweet potatoes for roasted carrots, tempeh, or salmon if you wish. 
This recipe would work really well for a meal prep item — just build your bowls as you go! 
Incredible benefits come along with this simple bowl too — protein from the edamame, nutrient-dense sweet potatoes, hydrating cucumbers, and jasmine rice to balance it out! 
Enjoy! 
Equipment
High-speed blender
Oven 
Stove
Sauce-pot
Serves
2+
Bowl   
2 medium sweet potatoes, peeled and chopped into large cubes
1 tbsp olive oil
1 cup cooked jasmine rice, cook according to package instructions
1 cup cooked edamame beans
1 English or 2 small Persian cucumbers , sliced very thin
1/4 cup green onions
2 tbsp sesame seeds
Teriyaki Sauce 
1 tbsp tapioca flour or cornstarch + 2 tbsp water
1/3 cup no salt vegetable broth
1/3 cup low sodium tamari
1
tsp toasted sesame oil
2 tbsp honey
2 tbsp rice vinegar
1 tbsp coconut sugar
1 garlic clove, grated
1.5 tsp freshly grated ginger
1/4 tsp sea salt
red pepper flakes to preference 
Sriracha Aioli  
3/4 cup raw cashews, soaked overnight in water
3 tbsp olive oil
3 tbsp water
1 tbsp lemon juice
1 tbsp sriracha + more to taste / spice preference
2 tsp honey
2 tsp apple cider vinegar
1 clove garlic, peeled
1/2 tsp sea salt
Preheat oven to 400F. Line a baking sheet with parchment paper. Spread sweet potatoes onto parchment paper and drizzle with olive oil. Roast until fork tender, about 22 -25 minutes. 
While your sweet potatoes roast, prepare your teriyaki sauce.
Mix your tapioca flour or cornstarch + 2 tbsp water in a small bowl. Whisk until flour is completely dissolved, no clumps. Set aside. 
In a small saucepan add all other teriyaki sauce ingredients. Bring to a boil and then reduce heat to a simmer. 
Slowly whisk in your tapioca/ water mixture. 
Allow your sauce to simmer, continuously stirring/whisking until it starts to thicken, about 5-7 minutes. Move the sauce off the hot burner, and continue to stir until it cools. The sauce will continue to thicken as it cools. Stir in red pepper flakes.  
Add your sweet potatoes to a mixing bowl and add 1/2 cup teriyaki sauce to start. Stir well. If you prefer a saucier sweet potato, add more sauce! 
While the sweet potatoes soak up the marinade prepare the aioli. 
Drain and rinse your cashews. Add them to a high-speed blender. Add all remaining aioli ingredients to the blender and blend on high until smooth and creamy. For more spice add a tad more sriracha, and more sweetness add a dash more honey. 
Prepare your bowl — divide the rice , edamame, and cucumber evenly amongst two bowls. Top with divided sweet potatoes and sprinkle with sesame seeds and green onion. 
Drizzle any remaining marinade and sriracha aioli on top. 
Store teriyaki sauce and aioli in the refrigerator for up to one week.