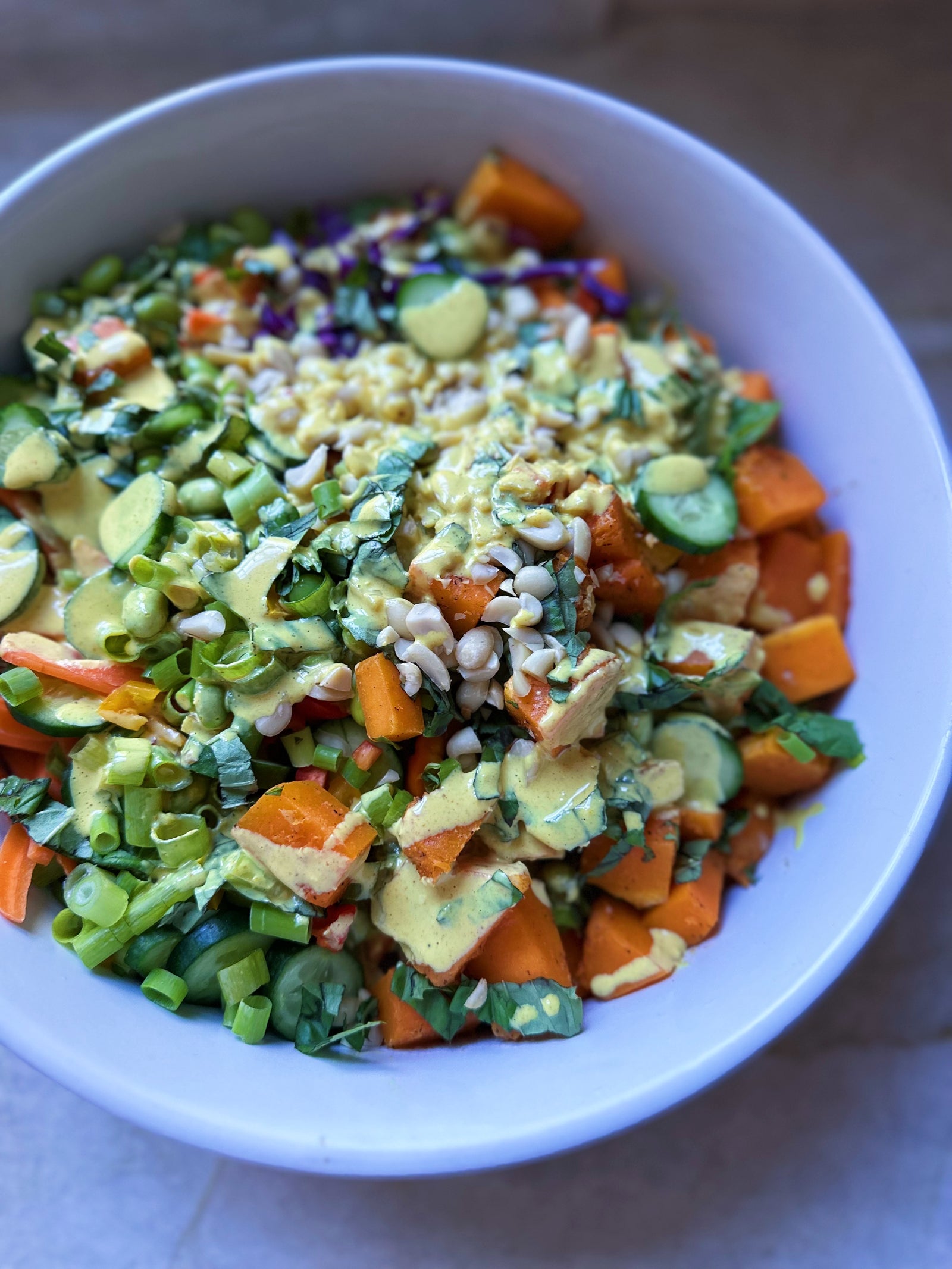 Thai Butternut Squash Salad w/ Curry Tahini Dressing
My favorite tell of a great recipe is after I eat it once, I want it the next day, and the next, and everyday after that. This is EXACTLY what happened with this one. 
This salad is magical. Roasted butternut squash, crunchy cabbage, crisp cucumber, colorful peppers, protein packed edamame, toasted peanuts, and more. 
I cannot even explain how glorious this golden curry tahini dressing is. Even if you are not a Tahini fan, I promise you will love it. It just aids in its creamy texture but the flavor profile is stolen by the ginger, curry, citrus and dash of maple syrup. 
This dressing deserves a post of its own — make for salads, roasted veggies, buddha bowls, and more. 
Salad 
3 cups peeled and cubed butternut squash 
2 tbsp olive oil 
Himalayan sea salt 
Pepper 
1 bunch Lacinto kale, de-stemmed and finely chopped 
1/2 red cabbage, shredded or finely chopped 
1 red pepper, finely chopped 
1/2 cup cooked edamame 
1/2 cup matchstick carrots 
1 English cucumber or 2 Persian cucumbers, sliced or diced 
1/2 cup green onions 
1/2 cup toasted peanuts, chopped 
1/4 cup chopped basil leaves 
Dressing 
3/4 cup tahini ( runny not hard ) 
3/4 cup chilled water 
Juice from 1 lime 
Juice from 1/2 lemon 
1 tbsp curry powder 
1-2 tbsp maple syrup 
1 tsp grated ginger 
1 clove garlic, minced 
Salt to taste 
Directions
Preheat oven to 400 F. Line a baking sheet with parchment paper. Toss butternut squash cubes with olive oil and season with salt and pepper. Spread squash out onto a baking sheet. Roast until fork tender, about 35 minutes. Remove from oven and allow to cool while you prep your salad. 
Add all remaining salad ingredients into a large mixing bowl and toss.
Prepare your dressing by adding all dressing ingredients into a small food processor ( preferred ) or whisking vigorously in a large bowl. Process until you reach the desired consistency. 
Taste and adjust seasonings.
Add a small amount of dressing to the salad and work it in with salad tongs or your hands. 
Add butternut squash and more dressing and lightly toss. Adjust salt and pepper. 
Enjoy!