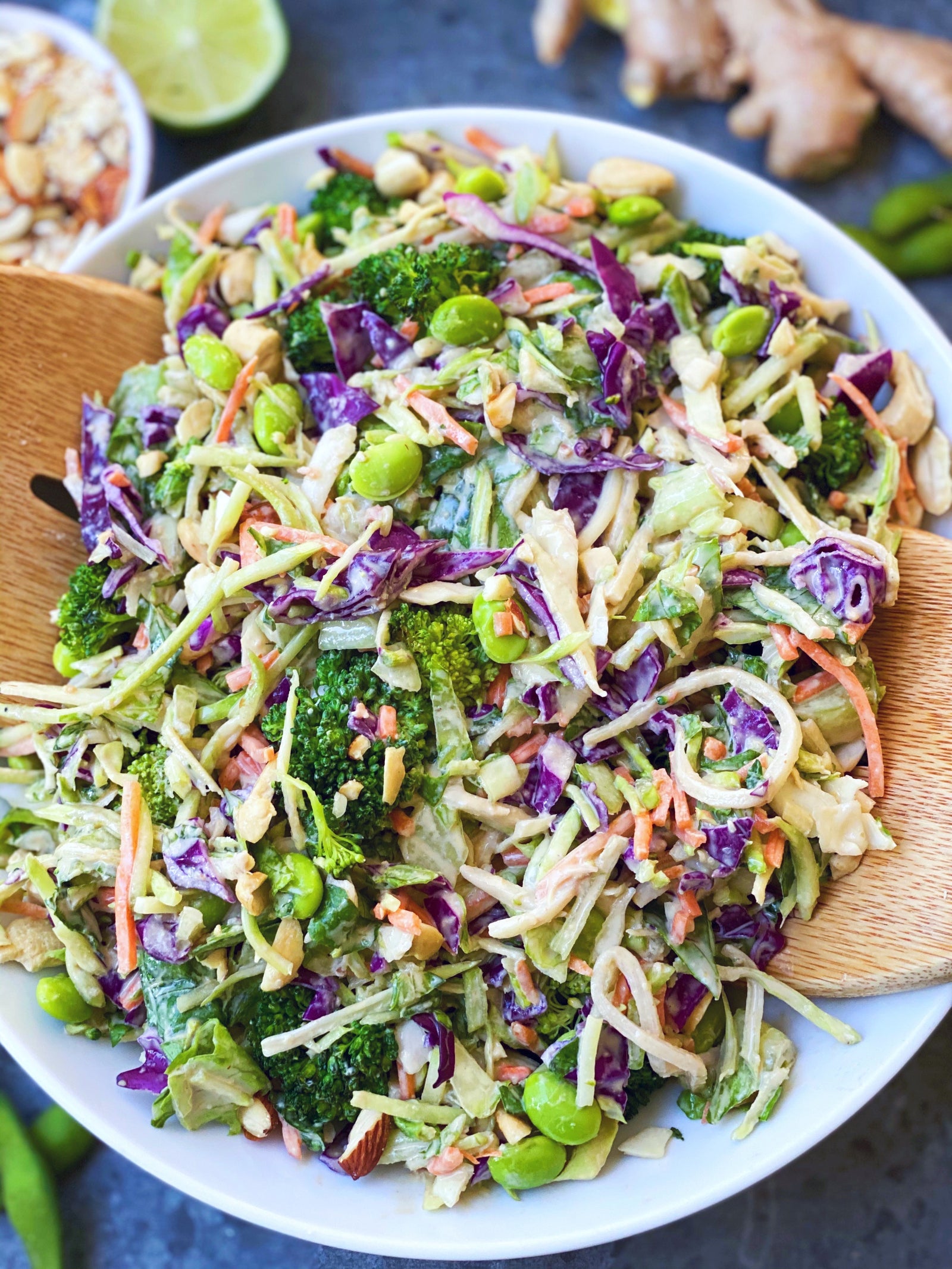 Go ahead and save this one at the top of your "MUST MAKE" list, because I guarantee it will be a summer staple! Crisp, nutrient packed, flavor filled, crunchy goodness, all marinated in a creamy Asian tahini dressing that takes this dish to the next level.  
Get creative and do what works for the fam-- add grains, jalapenos, soba noodles, you get the idea.
Cant wait to see your creations!  
I n g r e d i e n t s 
Salad
2 cups romaine, finely chopped
1 cup broccoli slaw ( or supplement with more cabbage of choice)
1 cup red cabbage, shredded
1 cup green cabbage, shredded
½  cup shredded carrots
½ cup green onions
½ cup edamame ( or green peas!)
1 cup mung bean sprouts ( or Palmini Artichoke Noodles make a great sub)
½ - 3/4 cup slivered almonds ( or sub cashews!)
1.5 cup broccoli florets  ( optional -- directions are to saute, but you can add in raw too if you prefer. If choose raw, add in with all other salad ingredients) 
Dressing
1/2 cup tahini, very runny ( my favorite is 365 Whole Foods brand!)
1/4 cup ice cold water ( + more per preference)
1 tbsp rice vinegar
2 tbsp lime juice
2 tsp maple syrup
2 tsp low sodium tamari
2 tsp toasted sesame oil
1 tsp chickpea miso paste ( optional but delicious)
1 full tsp ginger, measured grated
1 garlic clove, minced
2 tsp siracha
1/2 tsp sea salt
D i r e c t i o n s  
Add all your salad ingredients into a bowl and mix well. Place in the fridge while you prepare make the dressing and saute the broccoli. 
In a small food processor add all your dressing ingredients. Process until smooth and creamy. Add more cold water if too thick.
Taste and adjust seasonings and sweetness by adding more maple syrup and/or salt. 
Pour desired amount of dressing over the salad and mix thoroughly. I like to massage the dressing in with my hands! Place salad back in fridge while you saute the broccoli, salad is best when It has time to marinate for 10-15 minutes. 
In a small saute pan, add a dash of olive oil. Warm over medium heat. Add your broccoli florets. Saute for a few minutes ( I like my broccoli warmed through, but still with a crunch) . Once sauteed to your desired preference, bring salad out from fridge, and add warm broccoli over the chilled salad. 
Serve and enjoy!