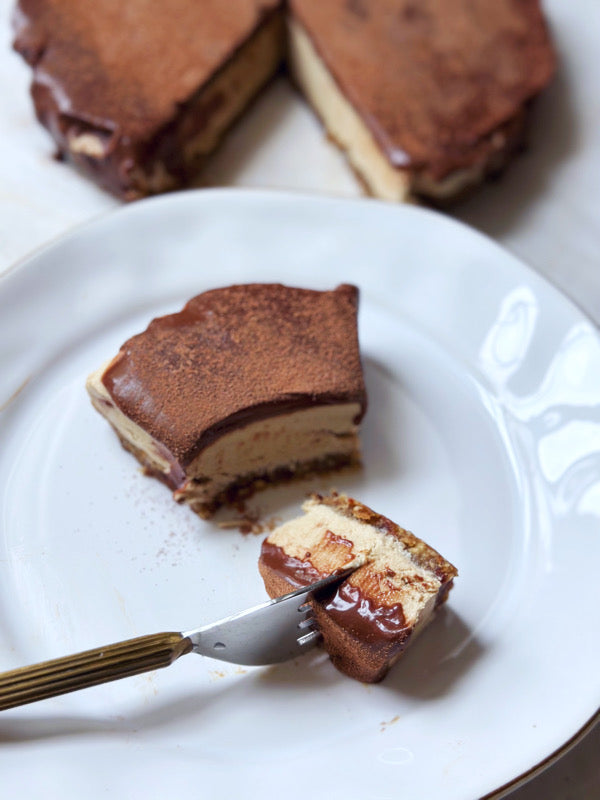 I cannot tell you how many times I have been asked to create Tiramisu. It is always at the top of the "request" list. Yet, it has never been my favorite dessert and it's always a challenge for me to commit to things that I personally do not love, because I don't think I will do them justice. BUT in the past two years I have totally had a change of heart with coffee flavored desserts ( which times perfectly with having two kids don't ya think?)

Whatever the reason, I knew it was time to create something beautiful and silky smooth like Tiramisu.

A beautifully elevated cheesecake with a lady-finger like crust, smooth pudding filling, and chocolate ganache topping... all brought together with notes of coffee. 

Take a bite and dive into something decadent. 
 
Instant Coffee
2 tbsp hot water
2 tbsp instant coffee 
Crust
1.5 cup walnuts 
8 Medjool dates,
2 tbsp coconut oil, measured melted  
2 tsp instant brewed coffee ( from step above  ) 
1.5 tsp vanilla extract 
1/4 tsp sea salt 
Filling 
1 heaping cup raw cashews, soaked in cold water for 6+ hours 
1 can coconut cream ( divided) 
1/3 cup maple syrup
2 tbsp coconut sugar 
2 tbsp nut milk 
2 tsp vanilla extract
1 tbsp brewed instant coffee (from directions above) 
1/4 tsp sea salt 
Chocolate Ganache 
1/2 cup vegan dark chocolate chips 
1/2 cup leftover coconut cream + liquid ( from can in earlier recipe)
First prepare your coffee. Add your instant coffee to a large mug. Pour your hot water over your coffee and stir. Set aside while you prepare the rest of your cheesecake. You will use some in your crust and in your filling! Discard any leftover.  
Line a cake pan with parchment paper. 
Add your walnuts to a large food processor. Pulse a few times to begin to break them down. Add all other ingredients and process until a sticky mix is formed. Press your crust into your pan until an even crust layer is formed. Place in freezer while you prepare your filling.  
Drain and rinse your cashews. Add your cashews to a high-speed blender. Open your can of coconut cream and scoop out one cup of the pure cream. There should be about 1/2 cup cream and some liquid leftover, save for later in this recipe. Add all other filling ingredients and blend on high until your mix is smooth and creamy. 
Pour mix over your crust and place back in freezer. 
Allow your cheesecake to set for two hours in freezer. When ready, prepare your chocolate ganache. 
Add you chocolate chips to a microwave safe bowl. 
Whisk your remainder coconut cream + liquid so it is no longer separated and resembles coconut milk. Warm your coconut milk on the stove until it is hot but not boiling. 
Pour hot coconut milk right over the chocolate chips and DO NOT STIR. Cover the bowl with foil and set aside for five minutes. When ready remove foil and whisk bowl until a smooth chocolate mix remains.. no clumps! If you still have clumps microwave the bowl in 20 second increments stirring in between. 
Pour the chocolate over the top of your cheesecake and place back in the freezer for 30 minutes minimum. 
Optional : sprinkle a little cacao powder over the top of your cheesecake. 
When ready slice and serve!