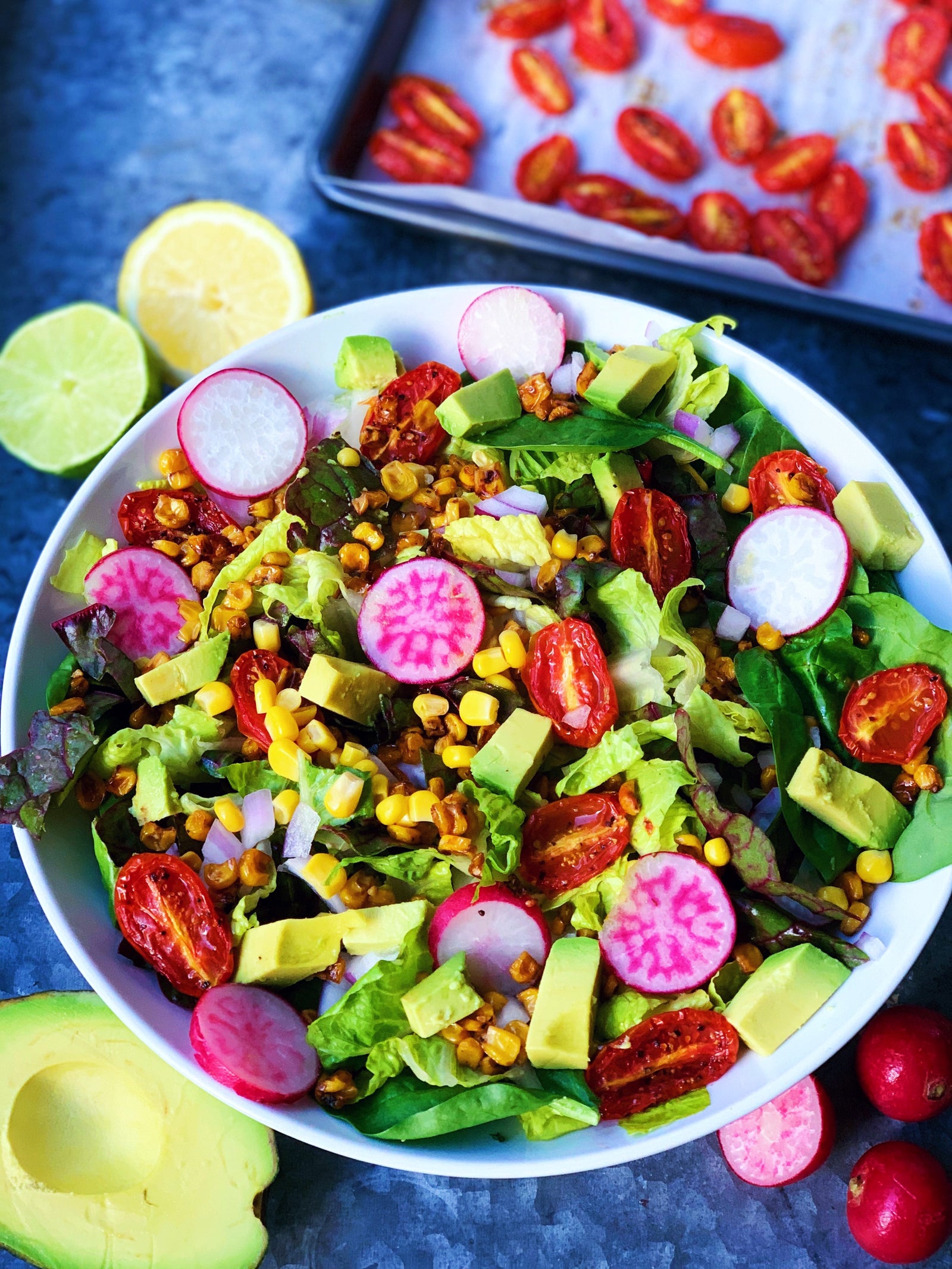 ULTIMATE SUMMER SALAD w/ CHARRED CORN AND SLOW ROASTED TOMATOES
I have not stopped talking about this "salad" since I made it, and you are about to see why.
Charred sweet corn, slow roasted tomatoes, crispy radishes, creamy avocado, and a bed of fresh greens—yep, summer in a bowl if you ask me.
And for those of you who don't like salads, you don't have to worry—bc its everything but that. You hardly need a dressing after the roasted tomatoes and charred corn enter the picture.
Perfect for your next BBQ or poolside get together if you ask me.
Have a great weekend all!
I n g r e d i e n t s
4-5 cups romaine or mixed greens 
1 pint grape tomatoes, sliced in half 
1 ear organic sweet corn (shaved off cob) or 1 can organic sweet corn 
4-5 radishes, sliced very thin 
1 avocado, cubed
Balsamic Vinegar (drizzle ) 
Olive oil ( amounts in recipe ) 
sea salt 
Cast Iron Skillet 
.
D i r e c t i o n s
Prep your tomatoes first. You can make these ahead of time and save. Preheat your oven to 300F. Line a baking sheet with parchment paper. In large bowl add your tomatoes and add a drizzle of olive oil, 1/2 tsp sea salt, and few pinches pepper. Mix well and spread out on baking sheet. Bake for 1 hr - 1hr 30 min (the longer you cook the more caramelized they will get).
When your tomatoes have about 20 minutes left begin to prep your salad.
Add two tsp olive oil to your cast iron skillet. Heat to medium-high. Add cut corn and cook for 2 to 3 minutes. Stir consistently until charred. Season with salt and pepper. When done set aside. 
In a large salad bowl add your greens, tomatoes, sliced radishes, charred corn, and cubed avocado. Mix well. Drizzle with desired amount of balsamic vinegar and olive oil, and add a pinch more sea salt and pepper. 
Serve and enjoy!