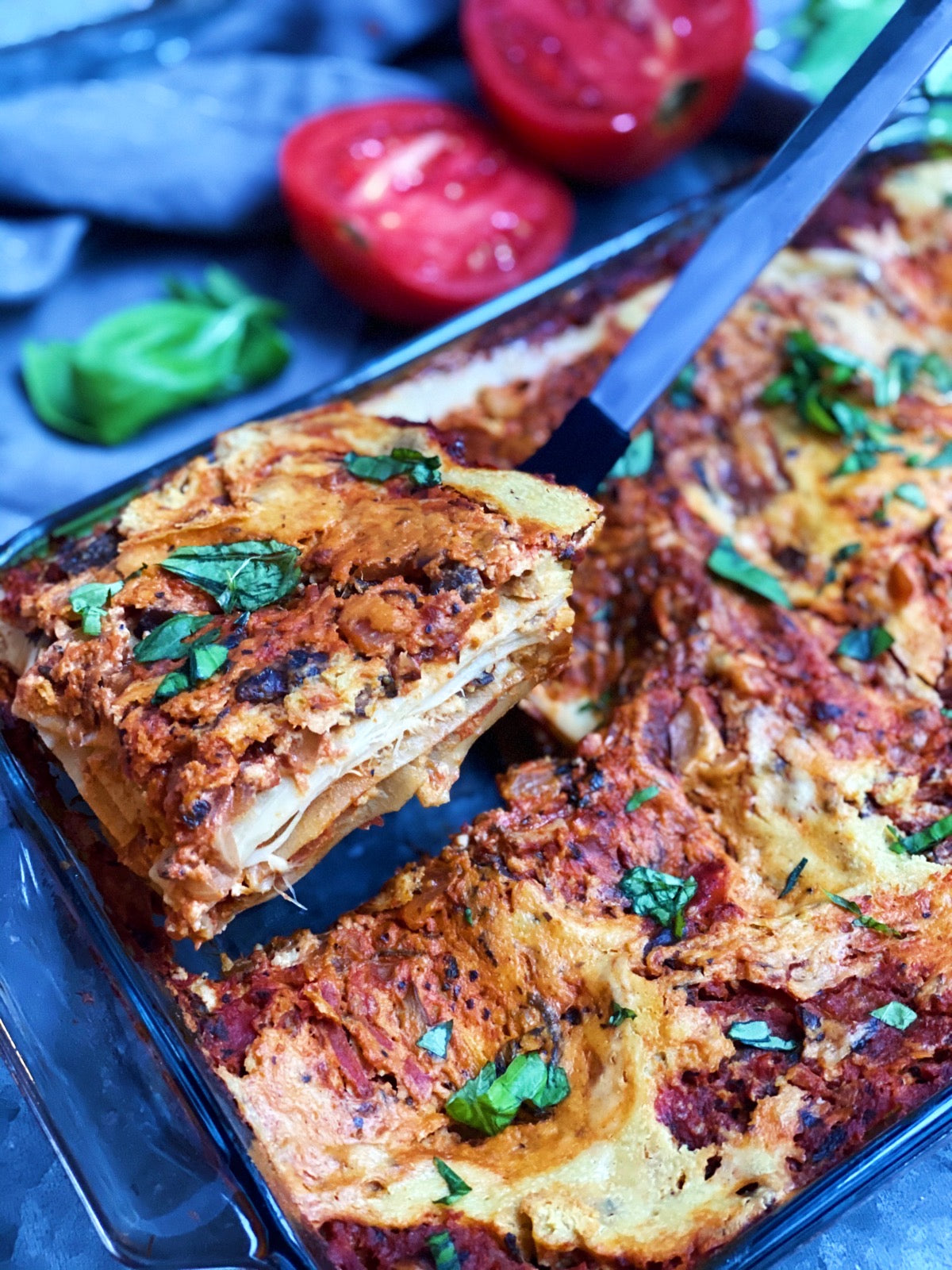 Temps are beginning to drop ( yes, 70s is dropping here in Columbia) and my body is already craving comfort food. 
This lasagna is EPIC... the homemade "ricotta" cheese really takes It over the top, if I do say so myself. I lightened up this one by using a combo of Palmini Lasagna noodles and brown rice noodles, and It just might be my new favorite recipe. 
Chock full of mushrooms and spinach hiding in the sauce too.. this one will quickly become a family tradition.  
Ingredients 
4- 5 no boil lasagna noodles  ( I used this kind by Jovial)
1 bag Palmini Pasta lasagna noodles
Ricotta Cheese
1 1/4 cup raw macadamia nuts or raw cashews, soaked minimum 4 hours
2 tbsp lemon juice
2 tbsp grapeseed oil / avocado oil
2 cloves garlic
¼ cup nutritional yeast
1/2 cup almond milk
1 tsp honey ( optional)
½ tsp sea salt
Sauce
Yellow onion, diced
1 tbsp olive oil
2 cloves garlic, minced
2 , 8 oz containers shitake mushrooms
1/4 cup almond flour
1 jar 25 oz marinara sauce
8 oz can tomato sauce
2 tbsp tamari
½ cup fresh basil
5 cups fresh spinach, rough chopped
½ tsp sea salt
Few pinches pepper
Equipment
High Speed Blender
8" x 11" casserole or pyrex dish
Oven
Serving Size: 8 pieces 
Directions
Preheat your oven to 375F.
Drain and rinse your Palmini lasagna in a colander, carefully, so none of the noodles break.  Line a row of paper towels ( about 3-4 sheets) onto your counter top – place each noodle in a row along the paper towels ( none touching but side by side) until all are lined up. Cover the top with another row of paper towels – lightly press along the top paper towel so that it begins to soak up the moisture of the noodles. Leave them like this while you prepare your sauce and cheese. The below picture should help give a visual!
To prepare your sauce, add olive oil to a large deep sauté pan and warm to medium heat. Add your chopped onion. Sauté 5-7 minutes or until onion is translucent. Add your garlic, chopped mushrooms, and almond flour. Saute your mushrooms on medium-high heat until cooked through and they begin to brown. 
Add your marinara, tomato sauce, tamari, and fresh basil. Stir and bring your sauce to a boil. Once boil is reached, reduce heat to a simmer and stir in your chopped spinach, salt and pepper. Simmer for ten minutes minimum.
While your sauce is simmering prepare your ricotta. Drain and rinse your cashews. Add cashews to your blender. Add all other cheese ingredients and blend on high for one minute. Scrape down sides of blender and blend on high for another minute, or until cheese is very creamy. Taste and adjust your salt, nutritional yeast, or lemon. 
Time to prepare the lasagna. Turn off the sauce burner and stir a few more times. Add a layer of sauce to the bottom of your casserole dish and spread evenly, about 2 cups of sauce. Now place your 4-5 lasagna noodles on the bottom layer ( over the tomato sauce) so that they are slightly overlapping and covering the whole bottom. 
Now take about 1/3 of your cheese mixture and spread over the top of the raw noodles.  
Add another 2 cups of your sauce on top of the cheese and spread evenly.
Now layer on your Palmini noodles – arrange two columns, each column about 13-14 noodles use all of them) , overlapping one over the other. Spread on another 1/3 of your cheese, carefully spreading with the back of a spoon to not mess up your Palmini noodles.
Add your last bit of sauce (about 2+ cups left) and the last 1/3 of your cheese. Slightly swirl the two together.
Tightly wrap foil over the top of your lasagna and bake for 50 minutes. After 50 minutes remove the foil and allow to cook another 10 minutes. Remove your lasagna from the oven and allow to set and cool for 10 minutes before slicing.
Slice and enjoy!