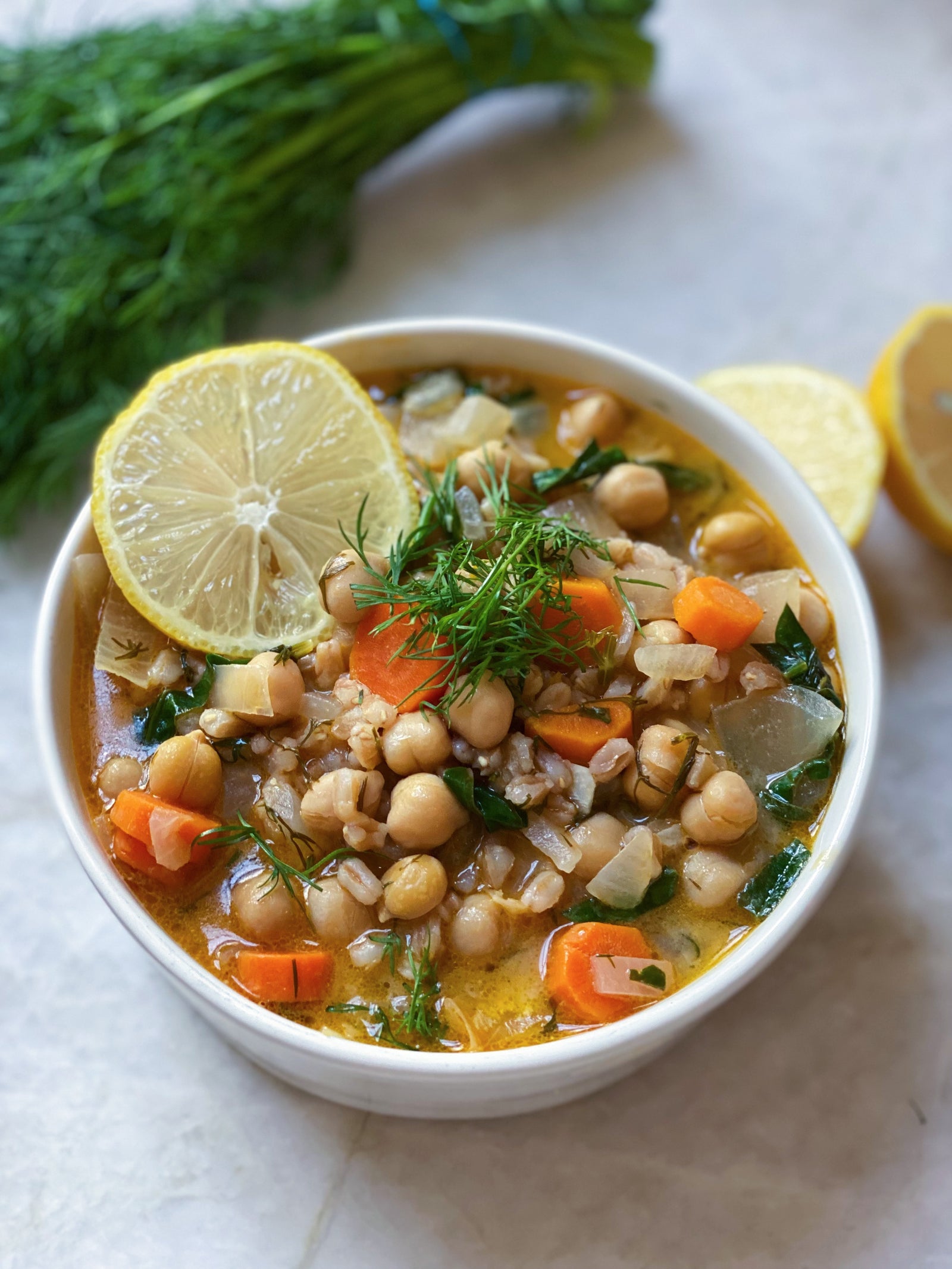 Avgolemono soup was a staple in our house growing up! Though It was a labor of love, my mom made It almost weekly ( even in the summer ) because we loved It so much. It is basically a creamy lemon orzo soup made with eggs, chicken, and orzo. 
This "remake"  is a lot different than the classic,  as the original gets most of its flavor from eggs and making your own broth with a whole chicken. So to enhance the flavor in this soup, I added some protein with chickpeas, replaced the eggs with tahini, used farro instead of orzo, and added some dill for an extra Mediterranean flavor.
Though the soups don't seem similar at first glance the same delicious and hearty lemony flavor is there.  
My sister and I ate this together and we both agreed It will be a staple!
Ingredients 
2 tbsp tahini + 2 tbsp lemon ( mixed in a bowl) 
2 tbsp olive oil 
1 onion, diced
4 large carrots, peeled and diced 
2 cloves garlic, minced
1 bay leaf 
2, 2" lemon peels 
1 can chickpeas, drained and rinsed
2 tsp white miso paste  
8 cups broth 
1 cup farro, rinsed thoroughly 
2 cups water ( divided) 
6-8 tbsp fresh lemon juice 
5 cups spinach, rough chopped 
1/2 cup fresh dill, rough chopped  
1 tsp salt ( more to taste ) 
Pepper ( to taste ) 
**Note if you choose to use orzo in this soup, you will only need about 5 cups of broth and no water, as orzo typically cooks in way less time than farro. 
In a small bowl mix your 2 tbsp tahini and 2 tbsp lemon juice. Set aside. 
Warm your olive oil over low-medium heat in a large soup pot. 
Add your onion and sauté for a few minutes. 
Add your carrots, garlic, bay leaf, and lemon peels. Continue to sauté a few minutes more. 
Stir in your chickpeas and miso paste. 
Discard your lemon peels. 
Now add your broth and farro. Bring to a boil. 
Once your soup is boiling, turn down the heat to a simmer. 
Allow the farro to cook, stirring occasionally. Farro will take about 35 minutes to cook. 
As your farro cooks your soup will begin to thicken and your liquid will evaporate.
Slowly add your water as you think necessary or based on thickness preference. 
Once your farro is cooked, stir your spinach, lemon, dill, salt, and pepper. 
Continue to simmer for another 15 minutes ( or longer ) so the flavors have time to meld together. 
Adjust your salt ( you will most likely need to add more ), lemon, and pepper to taste. 
Store leftovers in a sealed container in the refrigerator.