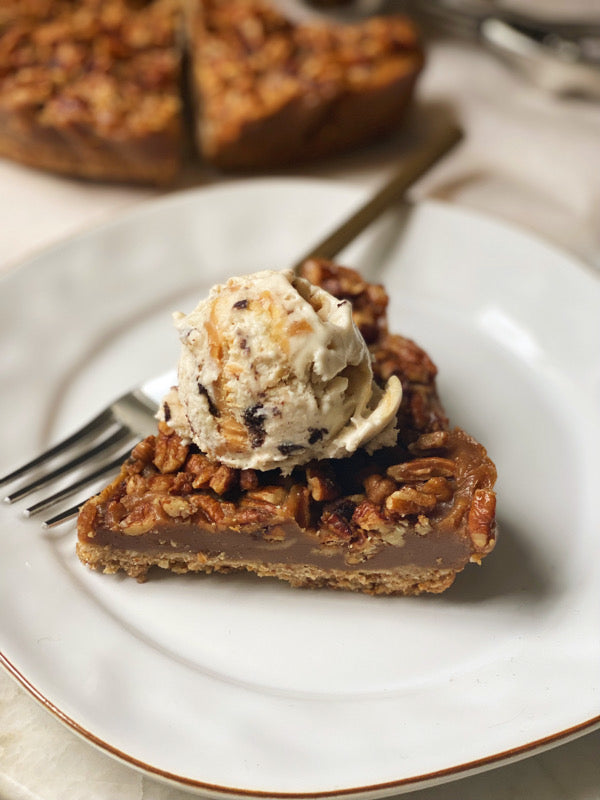 I feel like after Halloween everyone just keeps the party going on... I mean in 23 days is Thanksgiving and in 54 days is Christmas. Wow, forgive me, let's not go there... let's just refocus on this incredible PECAN PIE! 
This pie is made with a golden crust, homemade gooey caramel, and a maple pecan topping. 
I love that you can break this pie down into steps and prep how you please for the holidays! It really is a showstopper. 
Adding a scoop of ice cream or whip cream is ALWAYS the play. 
Crust 
1 cup pecans, roughly chopped
1 cup oat flour 
1 cup almond flour 
2 tbsp coconut sugar
3.5 tbsp coconut oil, melted
2 tbsp maple syrup
1 tsp vanilla
1/2 tsp sea salt
Caramel
1 can full fat coconut milk 
3 tbsp maple syrup
3 tbsp coconut sugar 
1/2 cup almond butter 
1/2 cup cashew butter ( more almond works ) 
1.5 tsp vanilla extract 
1/4 tsp sea salt 
*NOTE: you need runny nut butter for this, no clumpy or crunchy nut butter here. 
Pecan Topping 
2 tsp coconut oil  
1 cup pecans, roughly chopped
2 tsp maple syrup 
1 tsp coconut sugar
Pinch sea salt 
Crust 
Line a 9" cake pan with parchment paper. Preheat oven to 350F.
Add your pecans, oat flour, almond flour, and coconut sugar into a large food processor. Process until the mix resembles flour. 
Add in all other crust ingredients and process. You may have to scrape down the sides in between processing and continue processing until the crust forms into one cohesive mixture. The mix should be slightly sticky and wet. If too sticky add more oat flour, if not sticky enough add a splash of warm water.  
Scoop out your crust mixture onto parchment paper. Press your mix firmly into the bottom of dish to form a crust, working to ensure the thickness is consistent throughout, pinching upwards on the sides to form an edge.
Bake for 20 minutes, removing when golden brown. While your crust bakes and cools begin your caramel. 
Caramel 
Add coconut milk, maple syrup, and coconut sugar to a small saucepan over medium heat. Bring the mixture to a boil, stirring frequently. Let the mixture boil for 4-5 minutes, and then reduce to a simmer. 
Simmer your caramel for 30-35 minutes, stirring frequently, until the color deepens and It has reduced significantly. 
Turn off burner and remove your pot from the heat. Stir in the almond butter/cashew butter , vanilla, and sea salt. Stir until one caramel mixture remains. Allow to cool while you make your topping. 
Pecan Topping
Add your coconut oil and pecans to a small saute pan over low heat. 
Begin to "toast" your pecans, stirring frequently. After a few minutes, when they begin to darken in color, add the remaining ingredients and stir well. 
Turn off the burner and remove from heat. 
Assemble
Add your caramel on top of your crust, spreading into an even layer. Add your pecan topping, spreading out just the same. 
Refrigerate your pie for a minimum of 4 hours. When ready, slice and serve at room temp