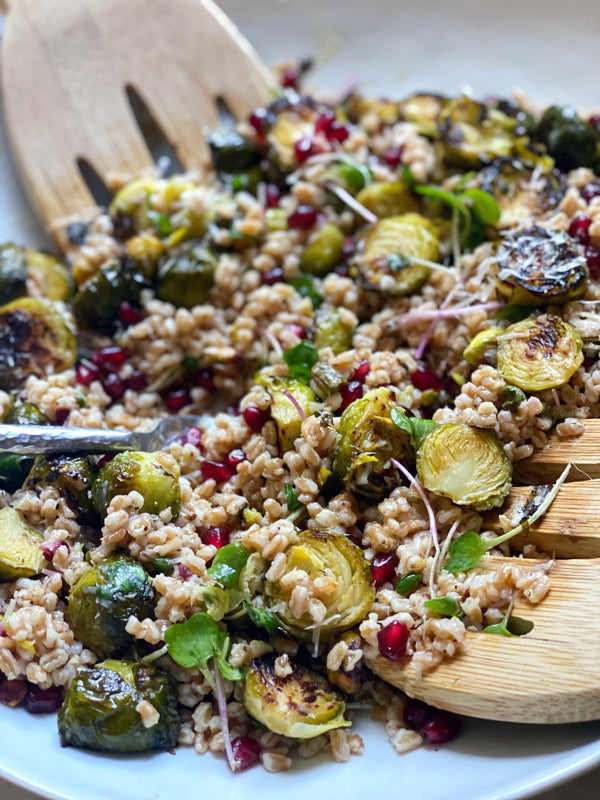 Warm Roasted Brussels Sprouts & Farro Salad
I think every holiday table deserves a beautiful and hearty salad and this roasted Brussel sprouts and farro salad would be a perfect addition. 
Crispy Brussel sprouts, warm farro, crunchy pomegranate seeds and a parmesan dijon vinaigrette take this salad into a category on its own. 
Add a protein, add cheese, add some roasted sweet potatoes, you really cannot go wrong! 
If you prep the farro ahead time , you can throw this one together in under 30 minutes! 
Equipment
Baking Sheet
Pasta Pot 
Oven 
Serves : 6 
INGREDIENTS
Brussel sprouts
1 lb brussel sprouts 
1 tbsp olive oil 
1/2 tsp garlic powder
1/4 cup shredded vegan parmesan cheese
1 tsp Himalayan sea salt 
Salad
2 cups cooked farro 
1/2 cup pistachios ( sub any nut here!)
1/2 cup pomegranate seeds
Herbs or sprouts of choice 
Dressing 
1 shallot, diced 
1/3 cup olive oil 
1/4 cup shredded vegan parmesan 
3 tbsp water
2 tbsp dijon mustard
1.5 tbsp white wine vinegar
1 tsp honey
Salt / pepper to taste
Equipment
Baking Sheet
Oven 
Pasta Pot 
Preheat oven to 425F. 
Start by rinsing your Brussel sprouts. If any leaves come off just set them aside! 
Bring a pot of water plus 1 tsp sea salt to a boil. Once boiling, add your Brussel sprouts and boil for about 10 minutes. 
You want them slightly tender but not fully cooked. 
Once done, drain them in a colander and rinse with very cold water until they have fully cooled down. 
Dry your Brussel as well as you can. This will help them get crispy. 
Slice your Brussel in half. In a large mixing bowl, add your Brussels, olive oil, garlic powder, shredded parmesan, and the remaining 1 tsp Himalayan sea salt. Mix well. 
Spread your sprouts out on the baking sheet in a single layer face down, making sure they have room to crisp up. 
Feel free to sprinkle a little extra parmesan on the top of each one. 
Roast them for about 25 minutes, flipping them over at the halfway mark. 
While your Brussel sprouts cool, prepare your dressing. Whisk together all ingredients until your dressing forms. Taste and adjust salt and pepper. 
Mix your Brussel sprouts into a large bowl with your farro, pistachios, pomegranate seeds, and any greens you may ( or may not ) be using. 
Mix together well. 
Add desired amount of dressing. Mix again and adjust any salt/pepper/parm you may need!