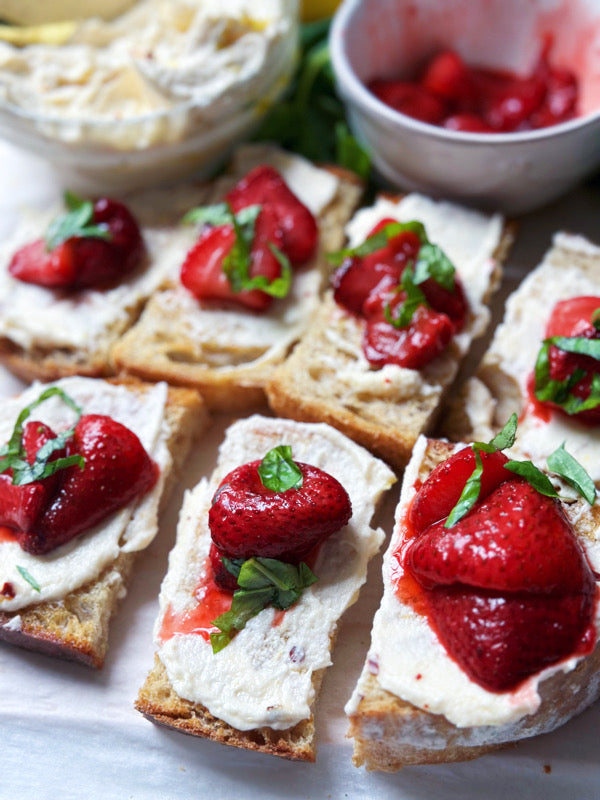 Whipped Feta & Roasted Strawberry Toasts
Don't ask me how we are somehow already into the middle of May because the only thing I can explain is how incredibly delicious these Whipped Feta & Roasted Strawberry Toasts are. 
These would be the perfect appetizer or tapas spread addition! 
My kids LOVE strawberries so I am constantly grabbing them from the store or our farmers market. I recently saw a similar recipe from one of my favorite chefs, Ambitious Kitchen, and knew it was time to try it out. 
This whipped feta would be a fabulous dip served alone too, or spread onto your favorite sandwich.
Cant wait to see y'all recreate. 
Equipment
food processor or blender 
oven 
stove 
small sauté pan 
Roasted Strawberry Toast 
1 pound strawberries, stems removed and quartered

 

2 tablespoons honey
1 small sourdough loaf or baguette, sliced into 1/2" slices

 

2 tablespoons extra-virgin olive oil
handful of fresh basil leaves, chopped or torn for topping

 

Freshly ground black pepper
Whipped Feta
1 block Violife Feta

 

1 container of vegan cream cheese ( I used Kitehill brand )

 

2 tbsp lemon juice

 

2 tbsp olive oil

 

1 garlic clove, minced

 

Few pinches of red pepper

 

Lemon zest for topping
Olive oil for topping

 

Red pepper flakes for topping

 
Preheat oven to 350 degrees F and line two baking sheets with parchment paper. 
On one baking sheet toss the strawberries with honey and spread them into an even layer. 
On the other baking sheet, add your bread slices and coat each side with olive oil. 
Bake the strawberries for 20-22 minutes on the middle rack of the oven, stirring halfway. Keep an eye out towards the end of time to ensure your strawberries are not burning. 
While those bake prepare your whipped feta. 
Add feta cream, cheese, and lemon juice to the food processor. Pulse a few times so that it begins to break down. 
Add 2 tbsp olive oil, red pepper flakes, and garlic to a sauté pan over low-medium heat. Sauté for 1 minute until the garlic is fragrant. Move off the hot burner immediately — you do not want the garlic to brown. 
Once slightly cooled add your olive oil mixture to the food processor and continue to process until smooth and creamy. Taste and adjust any acidity with more lemon or spiciness with the red pepper. Scoop into a bowl and top with lemon zest and an olive oil drizzle. Set aside until strawberries are ready.
Add your toast into the oven when you are about 12 minutes away from serving time ( if you wish for your toast to be served warm.) Be sure and flip the bread over halfway into toasting time. 
When ready remove your strawberries and toasts from the oven. Allow both to slightly cool. When ready to serve, slather on a thick layer of whipped feta, and top with a few roasted strawberries and a few basil pieces. Repeat on each toast. 
Serve and enjoy. 
Roasted strawberries can be stored in a sealed container in the fridge for up to 4 days.