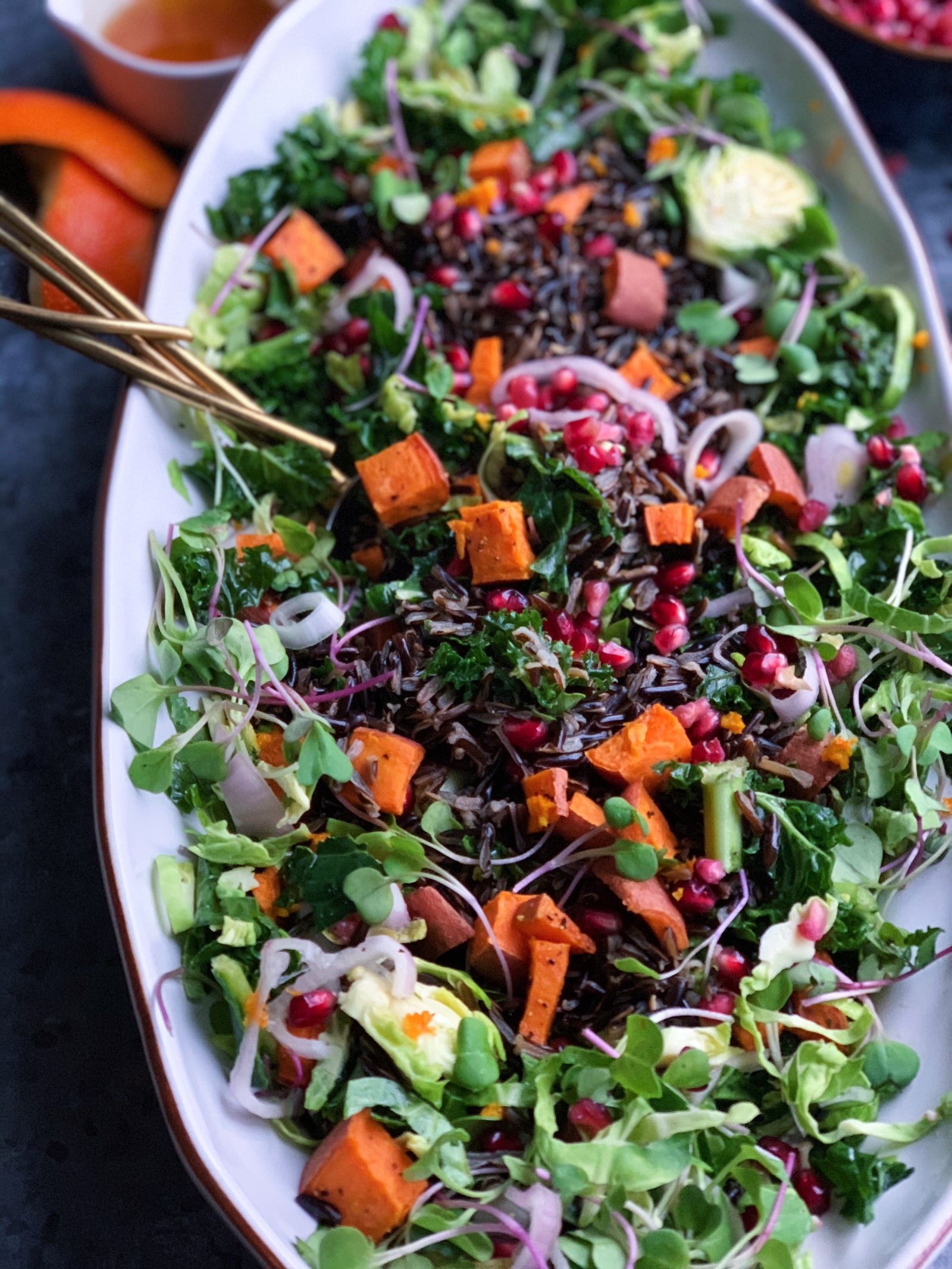 Wild Rice, Shredded Kale, & Brussel Sprout Salad
Where you might be last second gift shopping, I'll be over here last second grocery shopping…. Because this festive "salad" HAS to make an appearance at our Christmas dinner. And im thinking yours too. 
The combo of the cold crisp kale and shredded brussels + warm aromatic wild rice and sweet potatoes + the tart punch of pomegranate seeds will have all your guest coming back for seconds. 
There's still time to add it to your menu too!! 
This salad was inspired by a post by Spices In My DNA! I couldnt help but recreate! 
I n g r e d i e n t s  
1 cup uncooked wild rice ( cook according to package instruction – sub quinoa or brown rice here- can be done ahead of time )
1 sweet potato, diced into even 1 inch cubes (I left the skin on! )
1 tbsp olive oil
4-5 cups shredded kale ( any kind will do )  
3 cups shredded brussel sprouts
1-2 shallot, sliced very thin ( amount based on preference) 
½ cup microgreens ( sub sprouts)
1/3  cup pumpkin seeds
½ cup pomegranate seeds
DRESSING
¼ cup extra virgin olive oil
¼ cup fresh squeezed orange juice, yieled from one whole orange
2 tbsp lemon juice ( 1 small lemon)
1 tbsp sherry vinegar or red wine vinegar
2 tsp maple syrup
1 tsp fresh thyme leaves 
½ tsp sea salt ( to start)
1/4 tsp pepper 
D i r e c t i o n s  
Cook your wild rice according to package instructions. While cooking prep your diced sweet potatoes. Preheat your oven to 375 F and line a baking sheet with parchment paper. Drizzle your sweet potatoes with olive oil and a sprinkle of sea salt and pepper. Bake in oven for about 20 -25 minutes or until fork tender.
Prep your dressing while your sweet potatoes and wild rice continue cooking.
First zest either your lemon or orange (your choice) and add zest into mixing bowl. Peel your orange with a knife or your hands and cut the orange into quarters. Using a handheld lemon squeezer ( or juicer) juice your orange quarters until you yield ¼ cup. Add fresh juice into mixing bowl. Now juice your lemon with the squeezer, and add into bowl.
Now whisk in your olive oil, maple syrup, thyme, and vinegar. Add your salt, whisk and adjust spices to taste. Set aside.  
Add your kale and shredded brussels sprouts into a large mixing bowl. Add about ¾ of your dressing into the mixing bowl and massage the dressing into the kale/brussels mix for about five minutes.
Remove sweet potatoes from oven when ready and set wild rice aside.
Add your thinly sliced shallot, microgreens, pomegranate seeds, and pumpkin seeds to the kale/brussels. Lightly toss.
Now add your warm wild rice and sweet potatoes, and lightly toss.
Taste and add any more dressing that you prefer! I usually add more sea salt and a few shakes pepper!
Leftovers save well in a tightly sealed container in fridge!