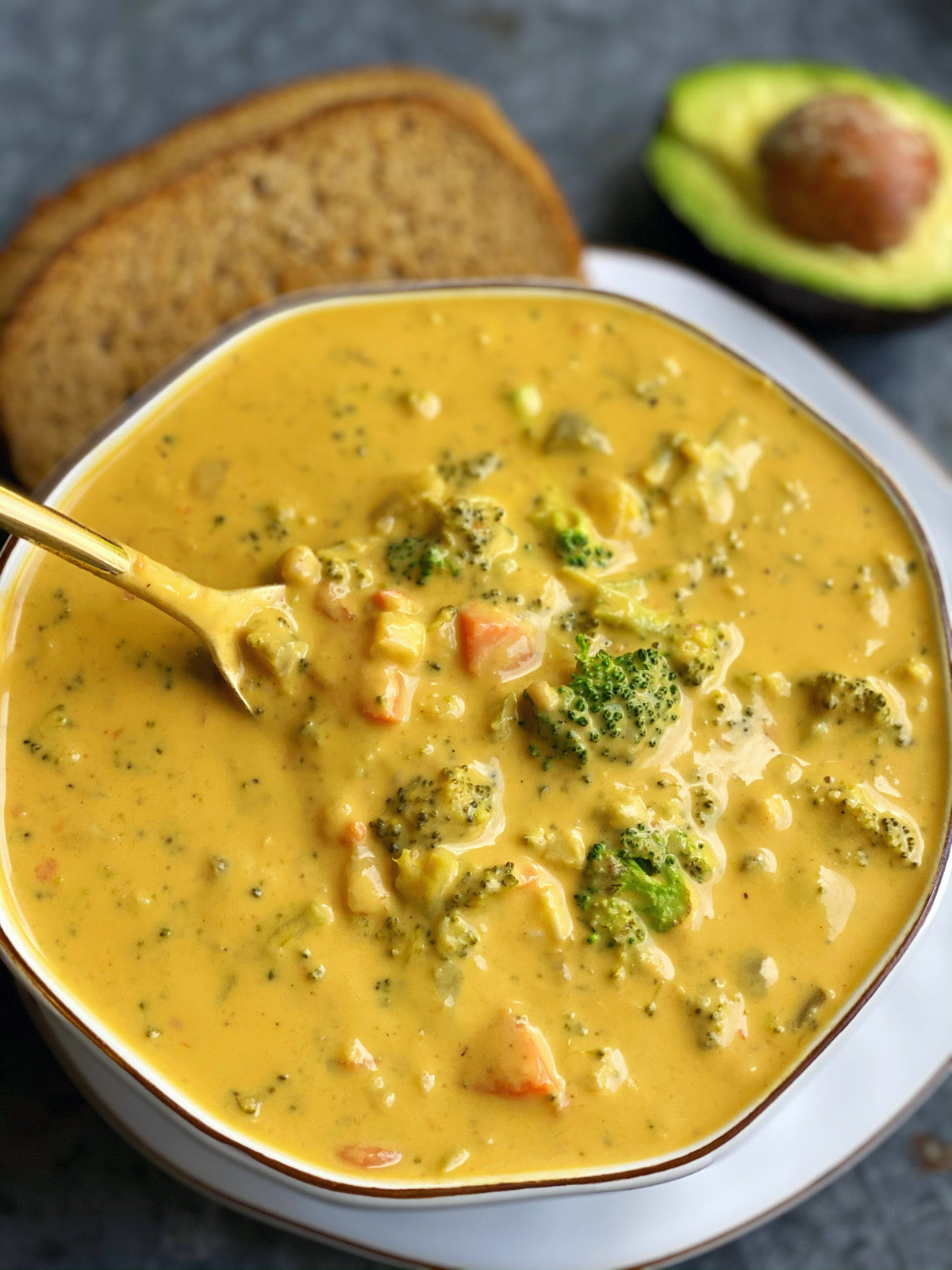 World's Best Vegan Broccoli Cheddar Soup
Who else's childhood favorite soup included broccoli, lots of cheddar cheese, and a big ole bread bowl?
It has to have been 20 years since I have had a warming bowl of this creamy classic, but as soon as the temperatures dropped a few weeks ago, I had a major craving for It! 
I went back and forth on whether I should save this for a cookbook, bc it's honestly one of my favorite recipes I have ever created, but I could NOT hold out on you that long! 
One bite will take you back to tearing that bread bowl apart as a kid!
Cheese Sauce Ingredients 
1.5 cup cashews, soaked
1 large carrot, peeled and quartered
1/2 large white onion, halved
1 garlic clove
2/3 cup vegan cream cheese (I used kitehill)
1/4 cup almond milk
1 tbsp lemon juice
1 tsp Smoked paprika
1/2 tsp Chili powder
1/2 tsp salt
1 tbsp Sriracha
Directions
In a steam pot add your carrot, onion, and garlic. Steam until fork tender.
Drain and rinse your cashews soaking. Add to blender. Add all ingredients from your steam pot into blender. Add the rest of your sauce ingredients into blender. Blend until smooth & creamy!
Transfer to a container and keep close as we will stir into the soup. No need to clean blender, as we will pulse the soup in the blender. We will be pulsing soup in the blender too!
Soup Ingredients
2 tbsp olive oil
1 onion, diced
1 large parsnip, diced ( sub extra carrot)
2 carrots, diced
2 sprigs celery, diced
1 garlic clove, minced
4 cups broth
3 tbsp chickpea miso paste
1/3 cup nutritional yeast
5 cups broccoli
1 tsp salt to taste
Directions
Add your olive oil to a dutch oven or soup pot and warm over medium heat. Saute your onion, parsnip, carrots and celery until fork tender.
Add your broth, miso paste, and nutritional yeast. Bring broth to a boil.
Once boiling, stir in your broccoli florets and reduce to a simmer. Allow to simmer for 10 minutes.
Pour your soup into your blender ( you might have to do in two batches based on what blender you have) and pulse your soup a few times … do not blend, or else you will get a puree.
Pour soup back into dutch oven or soup pot, and stir in 1.5 cups of your cheese sauce!
Taste and adjust seasonings, you will most likely need more salt, and enjoy!
Save leftovers for up to 5 days in the fridge!