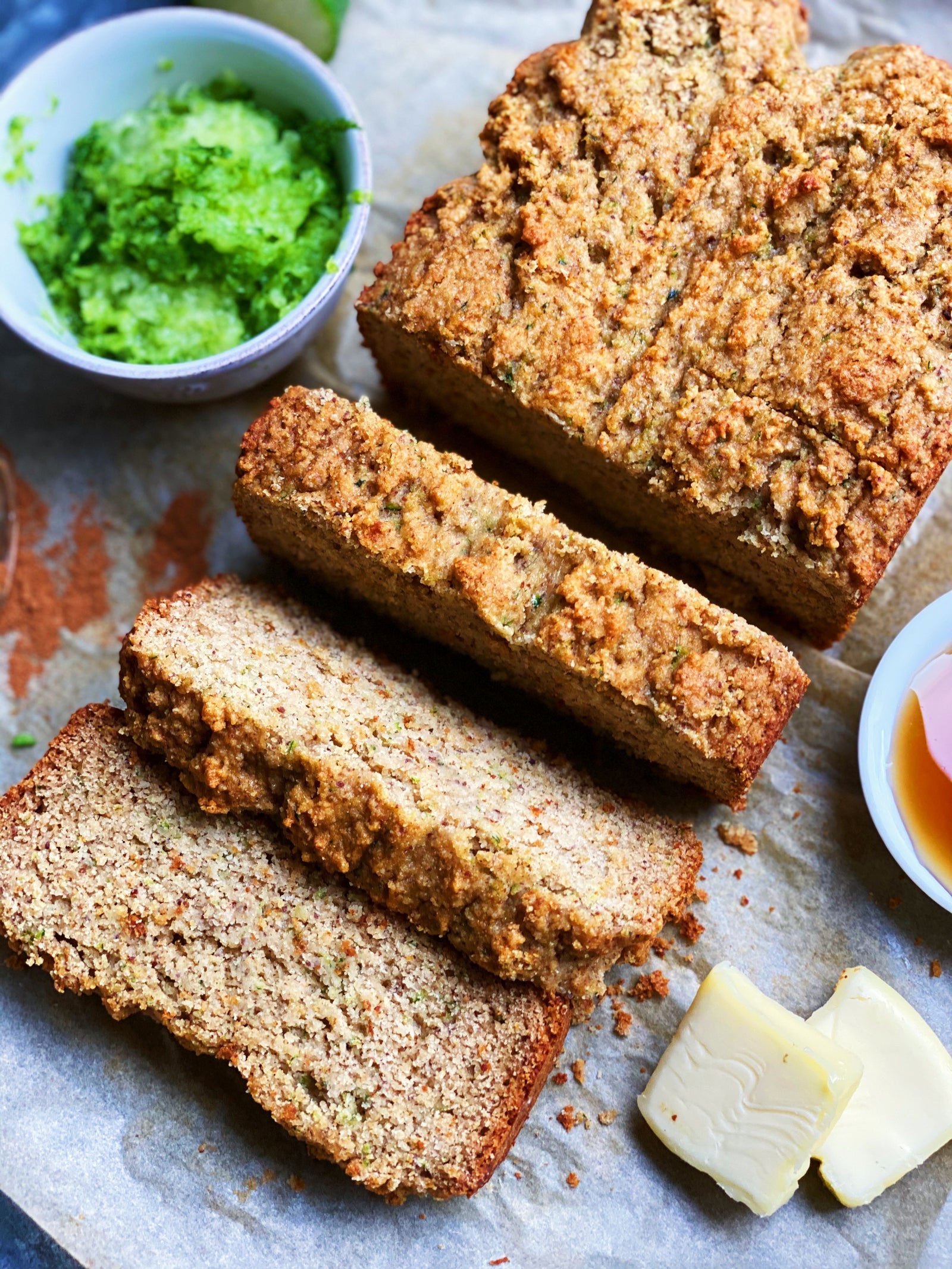 The only Zucchini Bread recipe you will ever need in your life. Right here, right now.
Moist, dough-ey, cake-like center with a golden crisp crust, speckled with freshly grated zucchini and sweetened with pure honey. This would be just as divine as muffins, as breakfast or dessert, with chocolate chips or walnuts. Let your creativity fly! 
If you don't eat honey, try swapping out for maple syrup! 
Ingredients 
DRY
1 cup blanched almond flour
1 cup brown rice flour
½ cup gluten free oat flour
2 tbsp arrowroot powder
1.5 tsp baking powder
1 tsp baking soda
1 tsp cinnamon
3/4 tsp sea salt
1/8 tsp clove
WET 
2 flax eggs ( 2 tbsp flax meal + 4 tbsp water )
½ cup unsweetened applesauce
1 medium zucchini finely grated ( I used a zester ), measures about ½ cup once liquid all squeezed out  
¼ cup + 2 tbsp honey ( sub maple syrup if vegan) 
1.5 tsp vanilla
1 tsp apple cider vinegar 
Directions
Preheat oven to 375 F and line a loaf pan with parchment paper. In a small bowl mix your flax eggs and set aside.
In a mixing bowl add all of your dry ingredients, whisk and set aside. 
Using a cheese cloth or thin dish rag squeeze all liquid out of grated zucchini. Once all water is squeezed out, add to a large mixing bowl. Add your applesauce and honey. When flax egg is ready add in with wet ingredients. Whisk until all combined.
 Slowly add your dry ingredients into your wet, folding batter until everything is combined. DO NOT OVERMIX. Now add in apple cider vinegar, and mix in.
Pour batter into loaf pan and bake for 33-35 minutes, or until top is golden brown and a toothpick comes out clean.
When ready allow bread to cool COMPLETELY before slicing. When cooled, slice and serve! Save in a sealed container in refrigerator for optimal freshness!