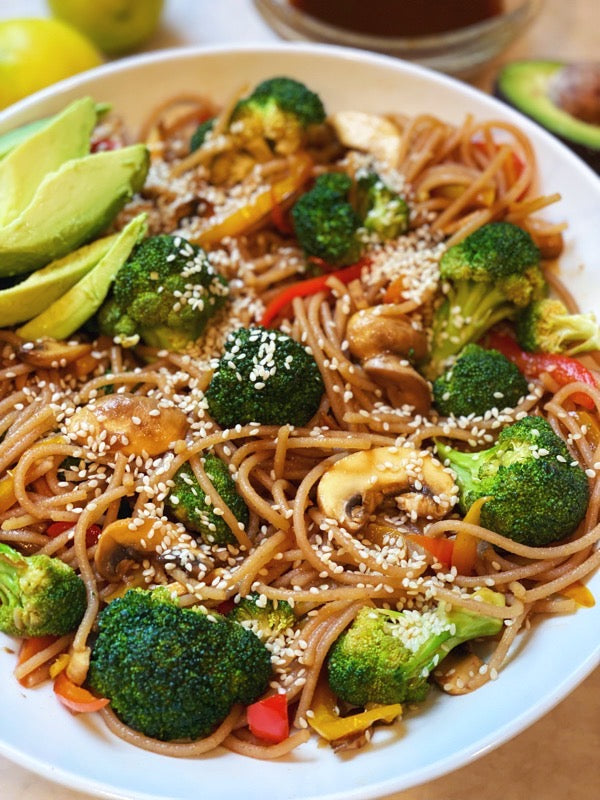 10 Minute Noodle Stir Fry
Even as a food blogger, with babies on board, dinner sneaks up FAST.  Sometimes all I have is 15 minutes, and I have mastered the "I want a homemade meal but I don't have time to think about one" crisis.
This is one of Boyd's favorite's, and one of my go-to meals when dinner needs to happen fast, and It never gets old because its completely customizable! 
Change up the vegetables, change up the noodles, add avocado, add a protein... you get the idea! You will love this one! 
STIR FRY 
1 package pasta noodles ( anything goes) 
Sauce 
1 tbsp sesame oil
2 tbsp Tamari
1 tbsp rice vinegar
1/2 lime, about 1 tbsp
2 tsp sriracha ( pluse more to taste ) 
2 tsp maple syrup — add more to taste
1 tsp miso paste ( brown rice or chickpea is what I used!) 
pinch sea salt 
Vegetables 
2 shallots, diced 
2 cloves garlic, minced 
3 inch piece ginger, peeled and grated 
1 red or yellow pepper, sliced  
1 container mushrooms , sliced 
1 large bunch broccoli , chopped into florets 
Optional : Bean sprouts
Optional: avocado 
Optional: sesame seeds 
While you prepare your stir fry, boil your noodles of choice to package instructions. 
For sauce: whisk all ingredients in a large bowl until no clumps remain and the sauce has thickened. Adjust acidity and sweetness to your liking! Set aside. 
For stir fry: Add a dash toasted sesame oil to a large sauté pan over medium heat. When warm, add your shallot, garlic, grated ginger, and begin to sauté. Add your bell peppers and stir. Once they begin to soften add your mushrooms. Sauté a few minutes more. Add your broccoli and allow to heat through. When your broccoli turns bright green, turn off your burner.
Add in desired amount of noodles, a few pinches sea salt,  and desired amount of sauce. Toss all together until your noodles and vegetables are all coated. 
Taste and adjust your seasonings. 
Top with bean sprouts, sesame seeds, and avocado