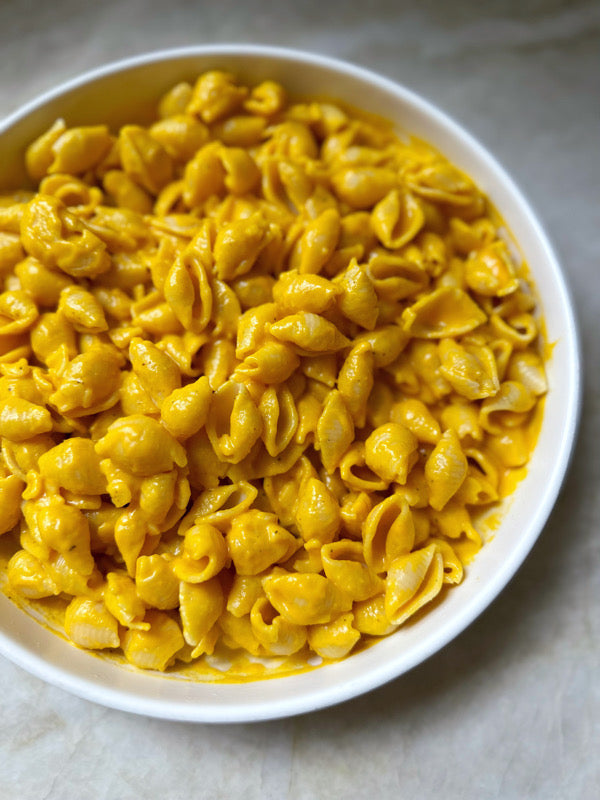 This recipe is for all my moms out there whose kids incessantly ask for mac n' cheese but are tired of giving in to that box in the pantry! 
This 10-minute mac-n-cheese is truly my kind of "easy mac." Steam, blend, and serve up some cheesy goodness. Serve with some broccoli on the side and pour some extra sauce right on top. 
I love serving this one with elbows or shells so they really feel at home. 
PS- you will 100% be sneaking some bites ( aka a big bowl ).
Equipment 
blender 
steam pot 
pasta pot 
Serves 
6+ 
Ingredients
1 carrot, peeled 
1 small garlic clove 
1.5 cups vegan shredded mozzarella ( Violife is my favorite ) 
3 tbsp vegan cream cheese ( I used Kitehill ) 
2 tsp nutritional yeast 
1/4 cup very hot water 
Salt to taste
Pepper to taste 
Optional : 1 tbsp vegan butter or ghee 
Steam your carrot and garlic clove until fork tender. Once tender add steamed carrot , garlic, mozzarella, cream cheese, nutritional yeast, butter ( if using ), and *almost* boiling water to a high-speed blender. 
Blend on high until smooth and creamy. Taste and add desired amount of salt and pepper. If you want thinner add in some extra hot water. 
Pour over cooked noodles of choice! 
Best when served fresh. 
Store leftovers in a sealed container in the refrigerator. To reheat, add the desired amount of sauce to a saucepan and reheat on low/medium, stirring frequently.