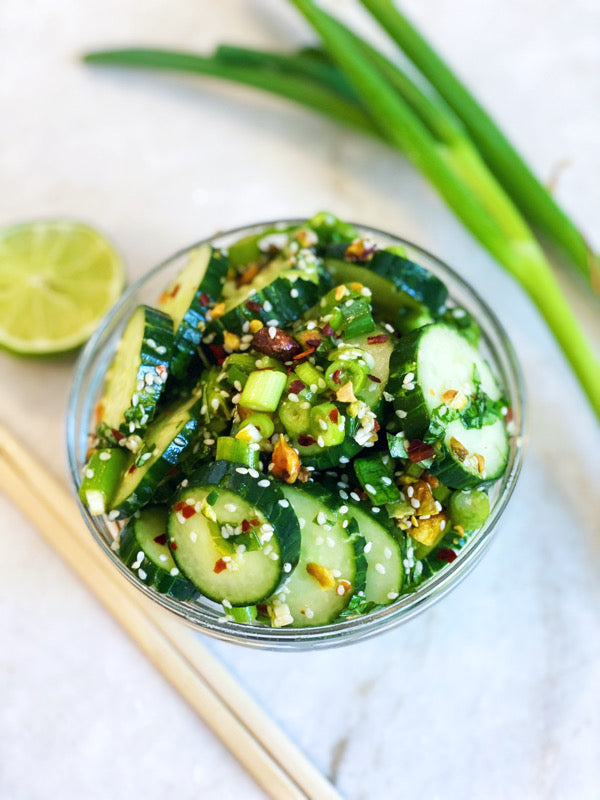 Asian Cucumber Salad … for the win, again and again and again. 
I saw a version of this salad back to back on two of my favorite developers blogs, ( Feasting At Home and Kale Junkie), so I knew it was a sign I had to give It my own spin.  
To give you a barometer for just how good this salad is , Boyd ate an entire batch in one sitting , and then came the deal sealer... "can we always have this in the fridge?" That statement from my carb loving husband is a real feat. 
Im telling y'all, there is something about marinated cucumbers that just hits the spot. It is almost like when you were a kid and you would pour 'Zesty Italian' dressing over a few cucumbers and slurp it down .... only this time we threw an asian twist in the game. 
Can't wait for yall to try It!
Cucumber Salad 
2 large english cucumbers or 4 persian cucumbers 
1/3 cup green onion, sliced 
6 basil leaves, sliced 
1/3 cup pistachios , rough chopped ( sub peanuts or cashews ) 
3 tbsp sesame seeds 
optional add ins: 
Avocado 
Edamame 
Sliced peppers 
Dressing 
2 tbsp lime juice 
1 tbsp toasted sesame oil 
1.5 tbsp raw honey 
1 tbsp rice vinegar 
1 tsp fresh grated ginger 
1 tsp low sodium tamari 
1/2 tsp red pepper flakes or sriracha 
1/2 tsp sea salt 
First use a fork to score your cucumbers with the prongs of a fork before slicing. In my research when testing this salad, I read how this allows the dressing to cling better to the cucumber — and It does! 
Now slice your cucumbers into thin coins. Add your cucumbers to a large mixing bowl and sprinkle with a pinch of sea salt. Toss well. 
Add in your green onion and basil leaves. 
In a large bowl whisk together all dressing ingredients. Taste and adjust any seasonings to preference. Pour dressing over your salad. Mix well. 
Toss in your pistachios and seseame seeds. Allow salad to marinate at least 30 minutes before serving. 
Store leftovers in fridge.