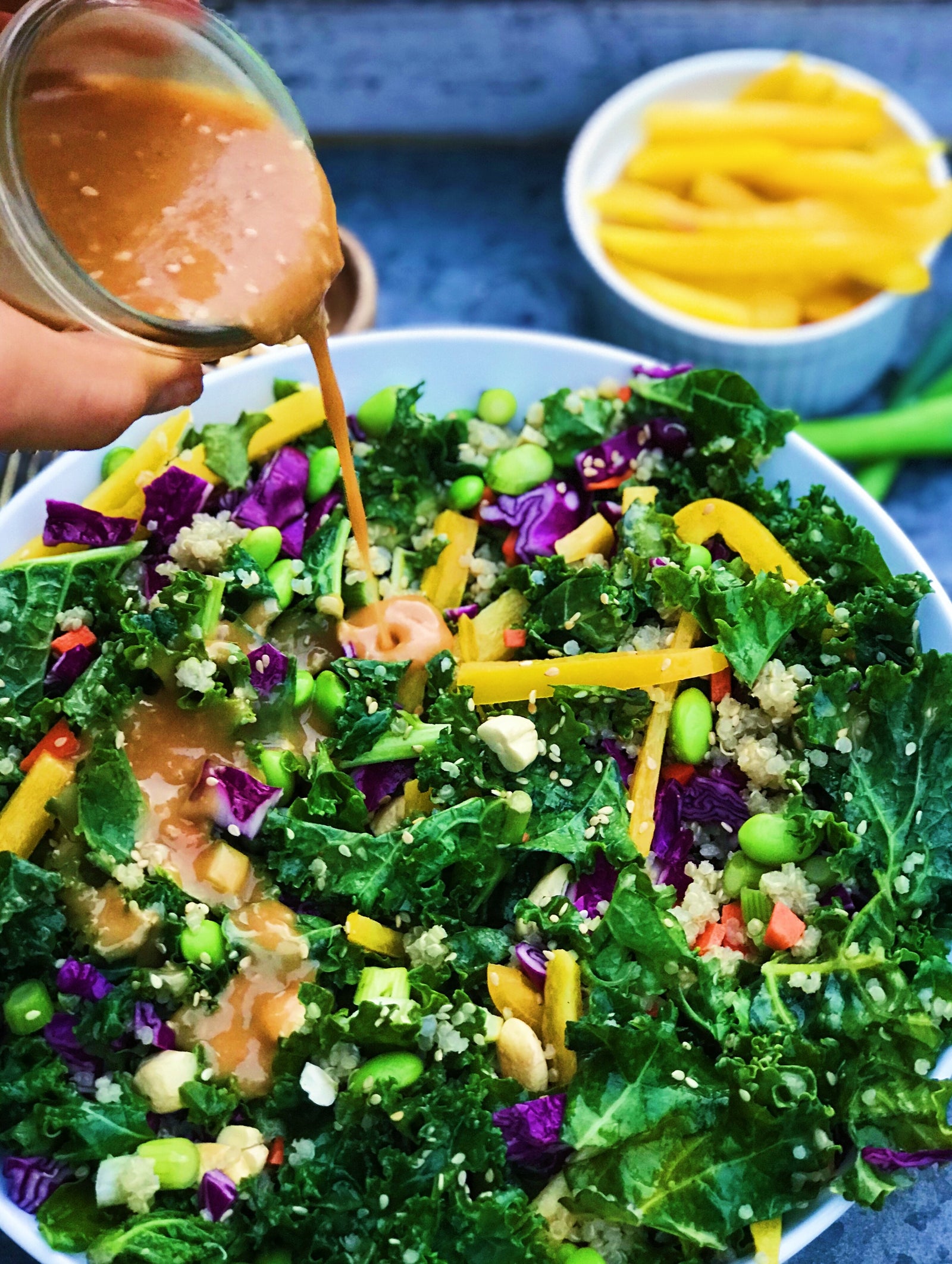 LOADED ASIAN KALE & QUINOA SALAD w/ GINGER MISO DRESSING
When something this delicious and packed with flavor also happens to be packed with antioxidants, protein, fiber, vitamin k, vitamin c, immune boosters, digestion aids.... well, you get the picture. SIGN ME UP. This salad is LOADED with the good stuff.
@naturesgreens was kind enough to ask me to use their beautiful kale to concoct something that was not only magical for your insides but for your tastebuds too, and I am VERY happy with the result. 
I was craving one of those ginger dressings they serve at Asian restaurants that "you know" cant be good for you but you order 11 extra sides of it anyways... you know the one? Well, now I have a new "one" and it is this little concoction right here.
This salad is amazing for meal prep or dinner parties bc you can dress it as you intend to eat It! I kid you not, this will serve as your spring and summer salad-- its just that good. 
Cant wait to see your recreations!  
S a l a d  I n g r e d i e n t s 
8 cups (loose packed) Natures Greens pre-chopped kale 
3/4 cup cooked quinoa 
1 yellow pepper, julienned or diced 
1 large carrot, peeled and diced 
1 cup red cabbage, shredded 
1/2 cup green onions, chopped 
1/2 -3/4 cup edamame (preference) 
For Topping: 1/2 cup raw or toasted cashews ( how to toast cashews here)
For Topping: extra sesame seeds 
D r e s s i n g  I n g r e d i e n t s 
1.5 tbsp toasted sesame oil 
 2 tbsp avocado oil 
3 tbsp rice vinegar 
1 tbsp cashew butter (optional: almond or peanut will work too) 
1 tsp miso paste ( I used chickpea, any will do) 
2 tsp tamari 
1 clove garlic, diced 
1 tsp ginger, grated 
2 tsp raw honey 
pinch sea salt ( to start) 
1 tbsp sesame seeds to stir in 
Prepare your dressing in a small food processor , blender, or whisk in large bowl. Add all ingredients EXCEPT sesame seeds to processor, and pulse until all combined. Pulse or stir in your sesame seeds. Taste and adjust salt-- I typically add a bit more salt and/or honey! 
In a large bowl add your kale. Massage in three tbsp of dressing to start. Really work dressing into kale. Now add all other ingredients into salad ( minus toppings and drizzle on 2 tbsp more dressing. Toss with salad tongs until ingredients are worked into the salad. Taste and adjust dressing -- you can always add more! Allow salad to sit in fridge for 10-15 minutes. Before serving add cashews + extra sesame seeds! 
Dressing will save in a container in fridge for 3-4 days!