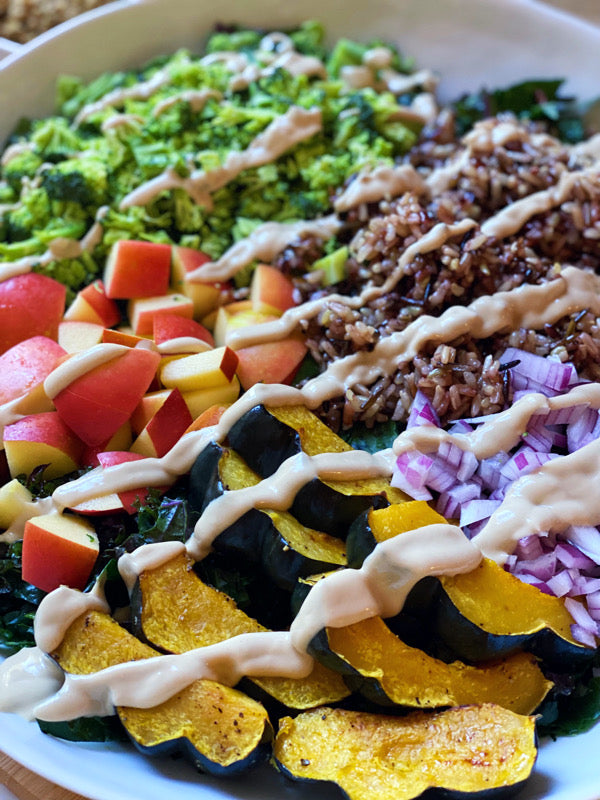 Autumn Kale Salad w/ Maple Tahini Dressing
Every year when the temperatures begin to drop, I find myself craving more hearty dishes. Even when making salads I will bulk them up with roasted vegetables, grains, and most likely a creamy dressing.  
This "salad" has It all — caramelized roasted squash, a warming wild rice blend, crisp apples, and a nutty pecan parmesan. 
I added in some shaved broccoli for extra crunch and whisked together a drinkable 'maple tahini' dressing. 
The creamy dressing melds these bold flavors together to create a salad you won't be able to make just once. 
Salad
1 kabocha/ acorn / butternut squash, cut or sliced into even pieces 
1 large bunch kale, de-stemmed & chopped 
2 cups broccoli florets, shaved or chopped
1 cup cooked wild rice blend ( any grain will do )
2 small or 1 large red apples, chopped 
1 small or 1/2 large red onion, diced 
Dressing 
1/2 cup tahini 
1/4 cup chilled water 
2 tbsp balsamic vinegar
1 tbsp lemon juice
1/2 tbsp apple cider vinegar
2 tsp maple syrup 
Salt to taste 
Pecan Parmesan
1 cup raw pecans
1 tbsp nutritional yeast
2 tsp olive oil
1/4 tsp sea salt
Preheat your oven to 400 F and line a baking sheet with parchment paper. 
Cut your squash in half and scoop the seeds out of both halves. Slice or chop your squash according to preference, just make sure the pieces are even. 
Spread your squash onto your lined baking sheet. Evenly drizzle olive oil over the squash. Season with salt and pepper. Toss with your hands and spread back out onto your baking sheet. 
Roast for 35-45 minutes (time depending on how you sliced ) flipping over halfway through, and removing from the oven when fork tender. 
In a large bowl add your chopped kale. Season your greens with a little salt and massage your kale with 1 tsp olive oil. 
Now add shaved broccoli, wild rice blend, red apple, red onion, and squash. 
Prepare your pecan parmesan:
Add pecans to a skillet and warm over low heat. Toast pecans for a few minutes until they slightly darken in color and become fragrant. Turn off your burner. 
Once cooled, add your pecans to a small food processor or blender. Add your olive oil, nutritional yeast, and salt. Pulse until you achieve breadcrumb consistency. 
Top your salad with the desired amount of pecan parmesan. 
Prepare your dressing:
Whisk all dressing ingredients into a large bowl. Add more water depending on thickness preference. Taste and adjust your salt and maple syrup. 
Drizzle desired amount of dressing over the salad and toss until mixed well.