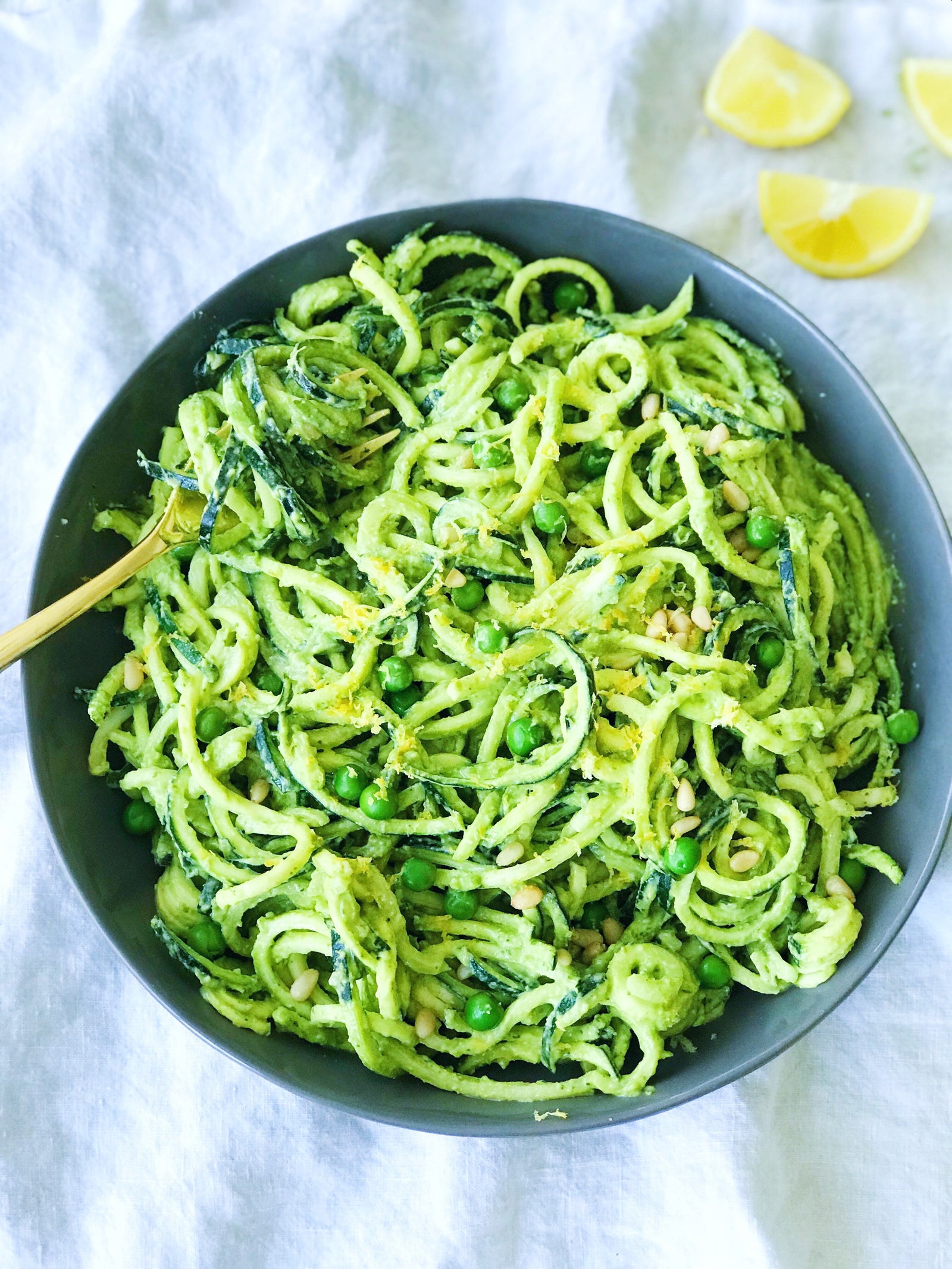 AVOCADO, BASIL, & SWEET PEA PESTO ZOODLES
I know I say this a lot but.... HOLY COW. I think I have found my new favorite recipe. 

Y'all this took me TEN MINUTES to make and if you are a fan of pesto, this is about to blow your mind.

Name a soul who does not dream about diving head first into a big bowl of creamy, pesto-ey noodles ( or zoodles in this case) ! But hey, if zoodles aren't your thing this sauce can be mixed with any pasta, into any salad, casserole, etc.

I was beyond ecstatic with how well this dish turned out and once you make you will quickly see why.


I n g r e d i e n t s 
1/2 cup organic frozen peas ( opt: 1/4 cup extra for topping)
1/2 large avocado
1/2 cup fresh basil
1-2 clove garlic ( I used one only)
Juice from 1 small lemon
1 tbsp water
1/4 pine nuts
1.5 tbsp nutritional yeast
1 tsp raw honey (optional)
1/4-1/2 tsp salt
1/3 cup olive oil
To top: extra pine nuts, peas, and lemon zest!! .
3-4 spiralized zucchini or noodles of your choice! .
D i r e c t i o n s 

For peas: I used the microwave instructions to thaw out! Let cool. .
Put everything into the food processor EXCEPT the olive oil. Start blending, and drizzle the olive oil in as it churns. Scrape down sides as needed, and keep blending until mixture is completely smooth. .
Taste and adjust seasonings — salt, nutritional yeast, etc!

Options to keep your zoodles raw OR add them Into a large sauté pan to heat for a few minutes or until desired consistency! .

Either add your zoodles into a large bowl to mix in sauce or add your sauce directly into the saute pan! Mix as you add sauce until you have achieved desired amount, and mix until completely combined!

Top with lemon zest, a few extra peas, and pine nuts. Serve hot or cold. .
This should keep in fridge for a few days! .