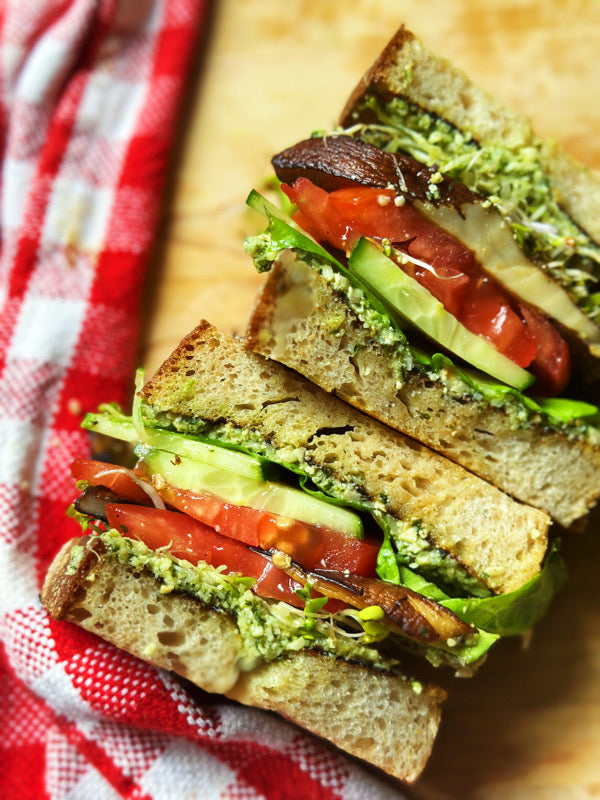 Balsamic Portobello Veggie Sandwich
This hands down is one of the best sandwiches I have ever had. What is it about summer that makes you crave a loaded messy sandwich? 
Toasted sourdough, creamy homemade pesto, balsamic glazed portobello mushrooms, juicy tomatoes, crunchy cucumbers, fresh sprouts, and avocado make every bite one to remember.
These balsamic portobello mushrooms will forever have a place in my fridge -- add them to sandwiches, wraps, salads, or a plant-based charcuterie board! 
Enjoy every last bite! 
Serves 
1 large sandwich 
Equipment 
Food processor 
Sauté pan 
Toaster or oven for toasting bread 
Cashew Pesto 
2 cups fresh basil, loosely packed 
1/3 cup raw cashews, toasted ( pine nuts work great too ) 
1/4 cup vegan parmesan cheese, rough chopped ( I used Violife brand ) 
1 clove garlic 
3 tbsp lemon juice
1/3 cup olive oil 
1/4 tsp sea salt 
Balsamic Portobello Mushroom 
1 large portobello mushroom
1 tablespoon avocado oil or olive oil 
Sea salt 
Freshly ground black pepper
1 teaspoon balsamic vinegar 
Sandwich Ingredients 
2 large pieces of sourdough bread, toasted 
1 beautiful piece greens of choice ( I used romaine ) 
2 thin slices of cucumber 
2 heirloom tomato slices ( seasoned with salt and pepper ) 
2 tbsp sprouts 
3 pieces avocado 
For the pesto: Add basil, cashews, parmesan cheese, garlic, and lemon juice to a food processor. Process a few times so that the nuts begin to break down. 
Add olive oil a little at a time (streaming in while the machine is on if possible) and scrape down sides as needed. Pulse in your sea salt. Taste and adjust seasonings. 
Set pesto aside while you prepare your mushrooms.  
For the mushroom: Scrape and discard the black gills from the underside of the portobello mushroom. Slice the mushroom into 1/2" thick slices.
Heat the oil in a sauté pan over medium-high heat. Add the mushroom slices when your oil has started sizzling. Allow mushrooms to cook for 3 minutes on each side and continue to cook until golden brown all over.  Add salt and pepper, and then drizzle the vinegar over the mushrooms. Stir to combine for about 1 minute. Remove the pan from the heat while you prepare the rest of your sandwich. 
Make your sandwich: Spread pesto on each piece of toasted bread. Layer on your lettuce, cucumber, tomato slices, portobello mushroom, sprouts and avocado. 
Close it up and enjoy!