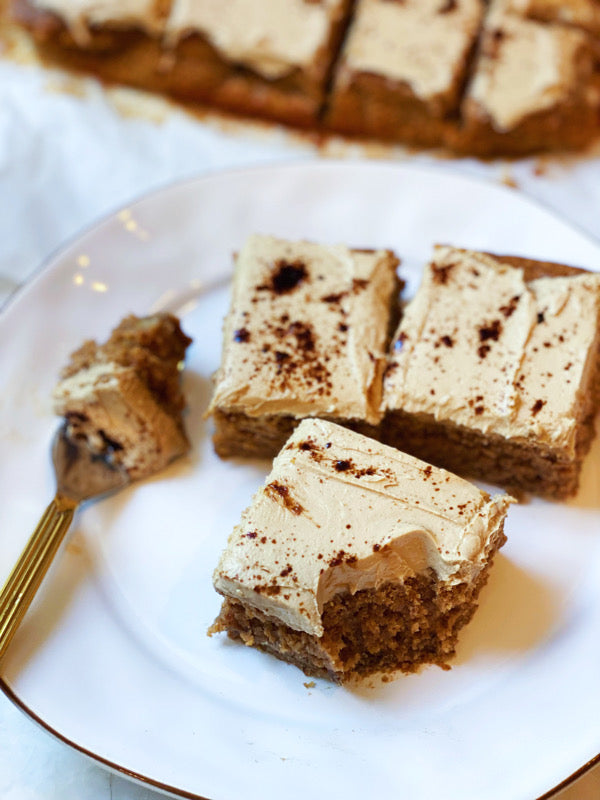 Banana Cake w/ Vanilla Espresso Icing
I feel like banana bread is one of those baked goods that's nostalgic for everyone, so I wanted to take it up a notch and make a banana cake. Well, maybe up two notches because this cake is topped with a vanilla espresso icing that will have you licking your fingers. 
I had a solid crew to taste test this recipe and one of my favorite responses was "I have never tasted a cake this moist!" 
It's a good one yall. Perfect for birthdays, special dinners, or paired next to a hot cup of coffee. 
Icing 
1 cup raw cashews ( soaked overnight in water) 
1 can full-fat coconut milk ( refrigerated overnight ) 
2 tbsp coconut sugar 
2 tbsp maple syrup
2 tsp instant espresso powder ( add more to taste) 
2 tsp lemon juice 
1 tsp vanilla extract 
Pinch Sea salt 
Banana Cake 
Wet 
2 flax eggs ( 2 tbsp flax meal + 4 tbsp water) 
2 medium bananas 
1/2 cup coconut sugar 
1/4 cup LIGHT coconut milk ( any nut milk should be fine to replace) 
1/4 cup unsweetened cashew yogurt 
1/4 cup maple syrup 
2 tsp vanilla extract 
2 tsp lemon juice 
Dry 
1.5 cup oat flour 
1/2 cup almond flour 
2 tbsp arrowroot powder 
1 tsp baking powder 
1/2 tsp baking soda 
1/2 tsp cinnamon 
1/2 tsp Himalayan sea salt ( less if using table salt ) 
Notes
*Icing is best prepped the day before serving
*Do NOT skip soaking your cashews and refrigerating your full-fat coconut milk can for your icing 
Make the Icing: Drain and rinse your cashews. Add to a high-speed blender. 
Flip your coconut milk can ( that has been refrigerated for at least 12 hours ) upside down. Open from the bottom and discard all the liquid on top of the hardened cream ( or save for other recipes). Scoop all the hardened cream into the blender. 
Add all other icing ingredients. Blend on high until smooth and creamy. Usually takes a few minutes to achieve the right consistency! Taste and adjust any flavorings— if you prefer a stronger espresso taste, add another teaspoon of powder! 
Set in the refrigerator for at least 5 hours to harden. 
Make the Cake: 
Preheat your oven to 350F. Line a cake pan with parchment paper. 

In the mixing bowl you will be adding your wet ingredients into, go ahead and prepare your flax eggs. Add your flax meal + 1/4 cup water into the bottom of the bowl and stir well. Set aside while you prep your dry ingredients. 
In a separate large bowl, whisk all dry ingredients. 
Once your flax eggs have coagulated, mash in your 2 bananas until no clumps remain. Add all other wet ingredients *EXCEPT LEMON* into the bowl and whisk well. 
Slowly add your dry ingredients into your wet ingredients, mixing as you pour. Next, stir in your lemon. 
Pour your batter into your cake pan and bake for 28-30 minutes, or until the top of your cake is golden brown and a toothpick comes out clean. 
Allow your cake to completely cool before slathering on your icing. 
Store leftovers in a sealed container in the refrigerator.