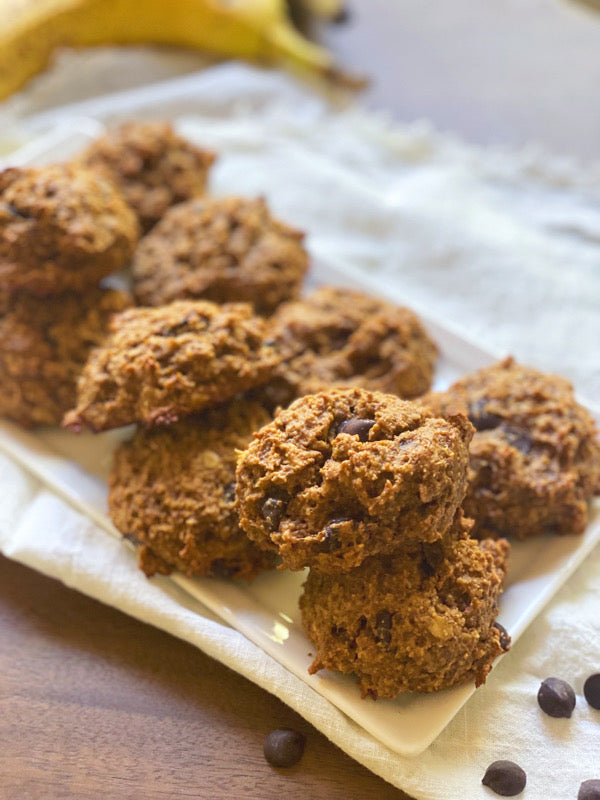 Chocolate Chip Breakfast Cookie
This recipe was born out of a needy sweet tooth as well as a need to use my browning bananas. My lazy Sunday also played a roll as I did not want to bother with a loaf pan or my bread rising. I then attempted to create a spin off of banana bread -- and out came these insanely delicious chocolate chip cookies! 
These cookies are a mix between a crispy cookie and everyones favorite part of a muffin ... the fluffy top. And they are incredibly easy.. you probably have all the ingredients in your pantry as we speak.
They are light, fluffy, crispy on the outside and the perfect amount of sweet on the inside. 
I added chocolate chips but feel free to switch up your toppings -- cranberries, white chocolate chips, dates.. opportunities are endless! 
Ingredients 
Wet
1 flax egg  ( 1 tbsp flax meal + 2 tbsp water ) 
1 ripe banana, mashed ( about 1/2 cup banana mash ) 
1/3 cup almond butter , creamy
1 tbsp ghee or coconut oil, melted 
1 tbsp nut milk
2 tsp vanilla extract 
Dry
1/2 cup almond flour 
1/4 cup almond meal 
1/2 cup gluten free oat flour ( measured in flour form ) 
1/4 cup gluten free oats 
1/4 cup coconut sugar 
1/2 tsp baking powder 
1/2 tsp baking soda 
1/4 tsp sea salt 
other: 
1/3 cup chocolate chips 
Preheat your oven to 350 F and line a large baking sheet with parchment paper. 
In a small bowl mix your flax egg and set aside. 
In a large mixing bowl, mash your banana with a fork until no clumps remain. Whisk in all other wet ingredients. Once your flax egg has thickened up, whisk that in as well. 
In a separate bowl, whisk all of your dry ingredients.
Add your dry mix into your wet mix and slowly fold in. Stir in your chocolate chips. 
Using an ice scream scooper, scoop out your dough ( about 1.5 tbsp ) and line on your baking sheet.
Bake your cookies for 13-15 minutes, until they fluff up and the bottom has begun to darken. 
Best when right out of the oven , but will store in the fridge for a few days!