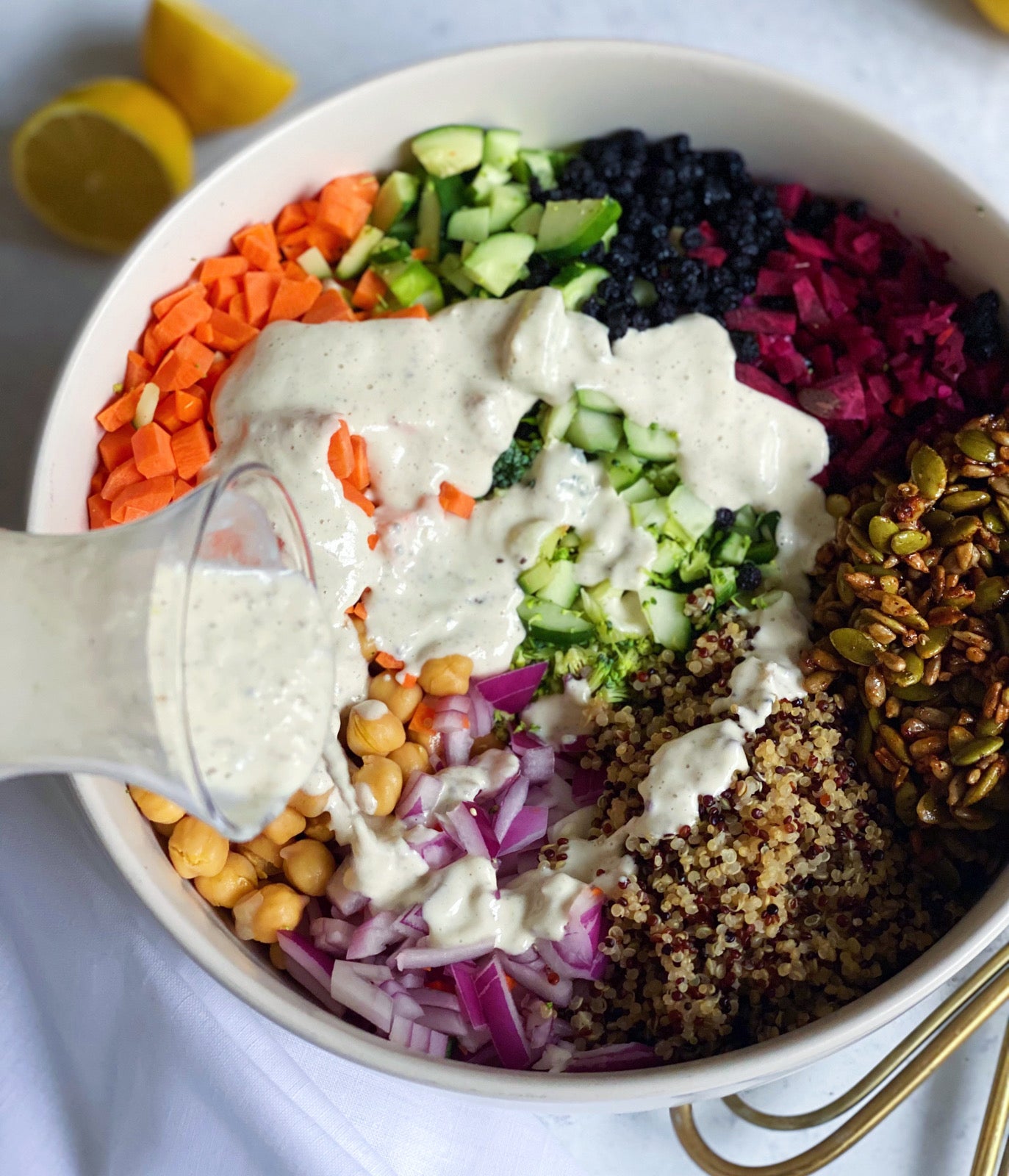 Beauty Broccoli Salad Bowl
Go ahead and save this 'Beauty Reset Salad' for all your post-holiday needs– or if you're like me, make during the holidays! I promise, everyone appreciates something bright and colorful at the table… that also happens to be DELICIOUS. So delicious in fact, and this is the truth, Boyd asked me to make it for a third time in two weeks. I've created a monster.
This salad SERVES up the goodness and the flavor all in one. It is packed with fiber, powerful antioxidants, hydrating goodness, and vitamins galore – hence the name, the Beauty Reset Salad.
The slightly creamy Lemon Poppyseed Dressing really takes these flavors over the top and melds these superstar ingredients into one incredible rainbow bowl! 
Beauty Broccoli Salad Bowl 
5 cups broccoli florets, finely chopped or shaved (about 2 heads)
1 cup cooked quinoa
1 small or ½ large red onion, diced
1 red beet, peeled and finely diced
1 large carrot, peeled and diced
1 large cucumber, peeled and diced
1 cup cooked or canned chickpeas (drained, rinsed and pat dry if using canned)
½ cup currants or wild dried blueberries
Lemon Poppy Seed Dressing
3/4 cup cashews (measured dry), soaked for min. 4 hours
3/4 cup water
1/4 cup almond milk
2.5 tbsp lemon juice
zest of 1/2 lemon
1 tbsp dijon mustard
1 tbsp raw honey
3/4 tsp sea salt
1 tbsp poppy seeds
Smokey Maple Nut and Seed Clusters  ( optional )
¾ cup pumpkin seeds
¾ cup sunflower seeds
2 tablespoons maple syrup
1 tsp low sodium tamari 
½ teaspoon smoked paprika 
1/2 teaspoon garlic powder
sea salt and ground black pepper, to taste
Prepare Salad: In a large bowl mix all your salad ingredients. Set aside . Prepare your dressing with below instructions.

Prepare Dressing: Drain and rinse your cashews. Add all ingredients EXCEPT poppy seeds into the blender. Blend until smooth and creamy. Stir in or pulse in your poppy seeds. Taste and adjust any flavor you need.
Prepare Nut & Seed Clusters: Heat your skillet to a medium heat. Add your pumpkin seeds, sunflower seeds, maple syrup, tamari, smoked paprika, garlic powder, salt, and pepper. Stir your seeds frequently, until the maple syrup is caramelized and the nuts have slightly browned, about 4-5 minutes.
Immediately remove the seed mixture from the heat and transfer them off the hot baking sheet to cool completely. 
Assemble: Add desired amount of dressing to salad and massage the dressing into the ingredients like you would a kale salad – by hand or with salad tongs. Taste and add more salt as needed.
After you have prepared your nut and seed mix (recipe below) fold in desired amount of clusters!