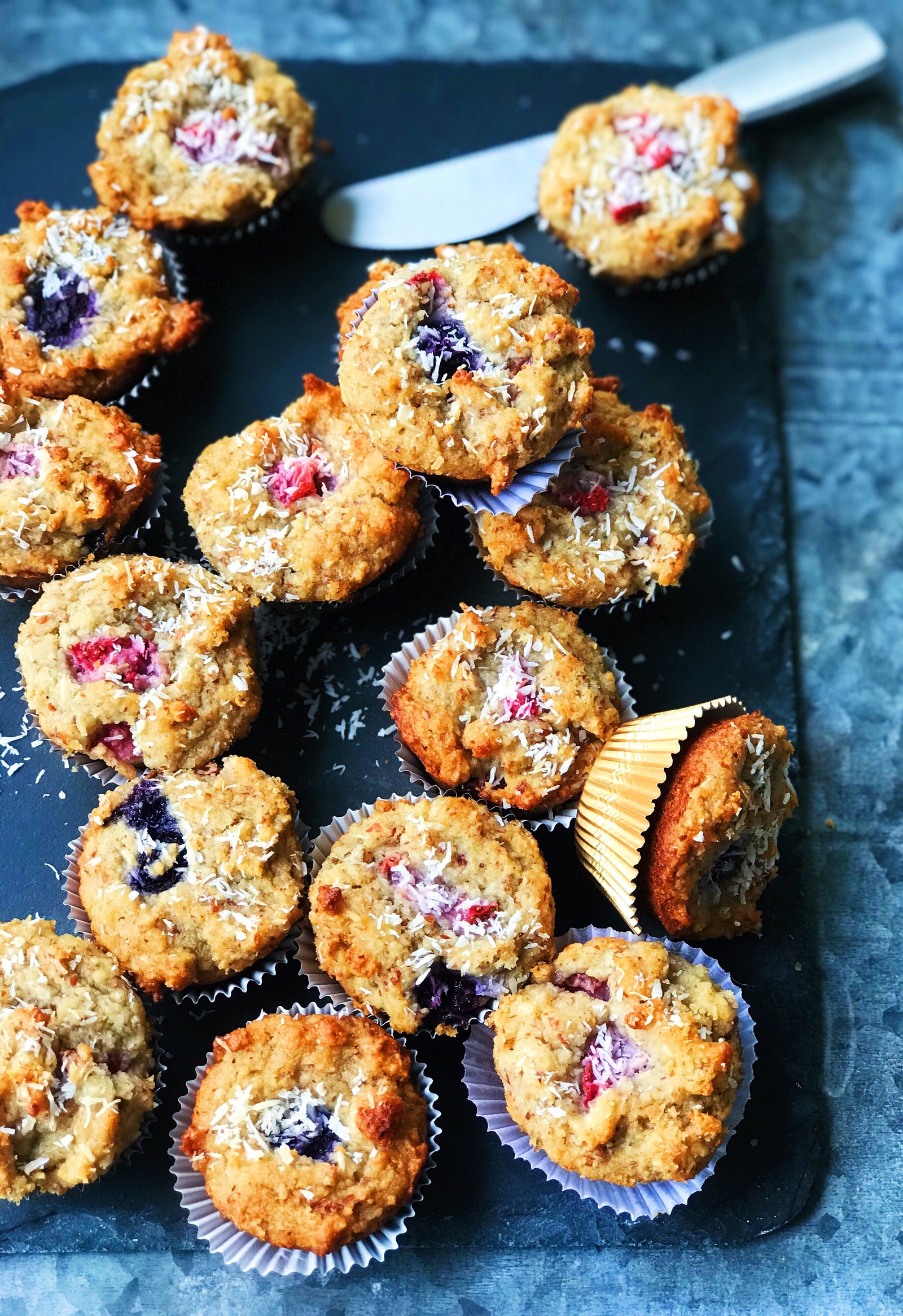 BERRY COCONUT MINI MUFFINS
Can your hear that? These little berry bites of bliss are calling your name. 
As the weather warms up my body begins to crave lighter foods, whether thats at meal time or my after dinner treat. Luckily, these minis have been hitting the spot! 
Best thing about minis... its a rule that you have to go back for seconds. 
Im almost positive your little ones will love them too!
 and you know the drill, gluten free, oil free, and dairy free
I n g r e d i e n t s
DRY
3/4 cup GF oat flour 
2 cups almond flour 
1/2 cup almond meal
1/2 cup tapioca flour 
2 tbsp flax meal 
2 tbsp coconut sugar
1/3 cup shredded coconut  
1 tsp baking powder 
1/2 tsp baking soda
1/2 tsp sea salt 
WET
1/2 cup plain cashew yogurt ( I used foragers project ) 
1/2 cup applesauce 
1/4 cup nut milk 
1/4 cup honey 
1 tsp vanilla 
1 tsp apple cider vinegar 
OTHER: 3/4 cup diced strawberries, blueberries, raspberries (or a mix like I did)  --you want small pieces for the muffins as to not weight them down! Blueberries are fine whole.  If using frozen, add when slightly thawed. 
D i r e c t i o n s
**I have only tested these in a mini muffin pan**
Preheat oven to 350F. Spray a mini muffin pan with olive oil/ coconut oil spray. 
If using frozen fruit, allow to slightly thaw. If using strawberries, be sure and dice into small pieces. 
EXCEPT the apple cider vinegar, add all wet ingredients into a mixing bowl. Whisk well. 
In another bowl add in all your dry ingredients. Whisk until evenly incorporated. 
Pour your dry mix into your wet, and stir until all combined. 
Add your apple cider vinegar and stir in. Now add in your berries and stir. 
Fill each muffin mold with the batter. Bake for 20-25 minutes or until a toothpick comes out clean and top is golden. 
Allow to cool *completely* before removing from the muffin pan!
Store leftovers in a sealed tight container in the refrigerator.