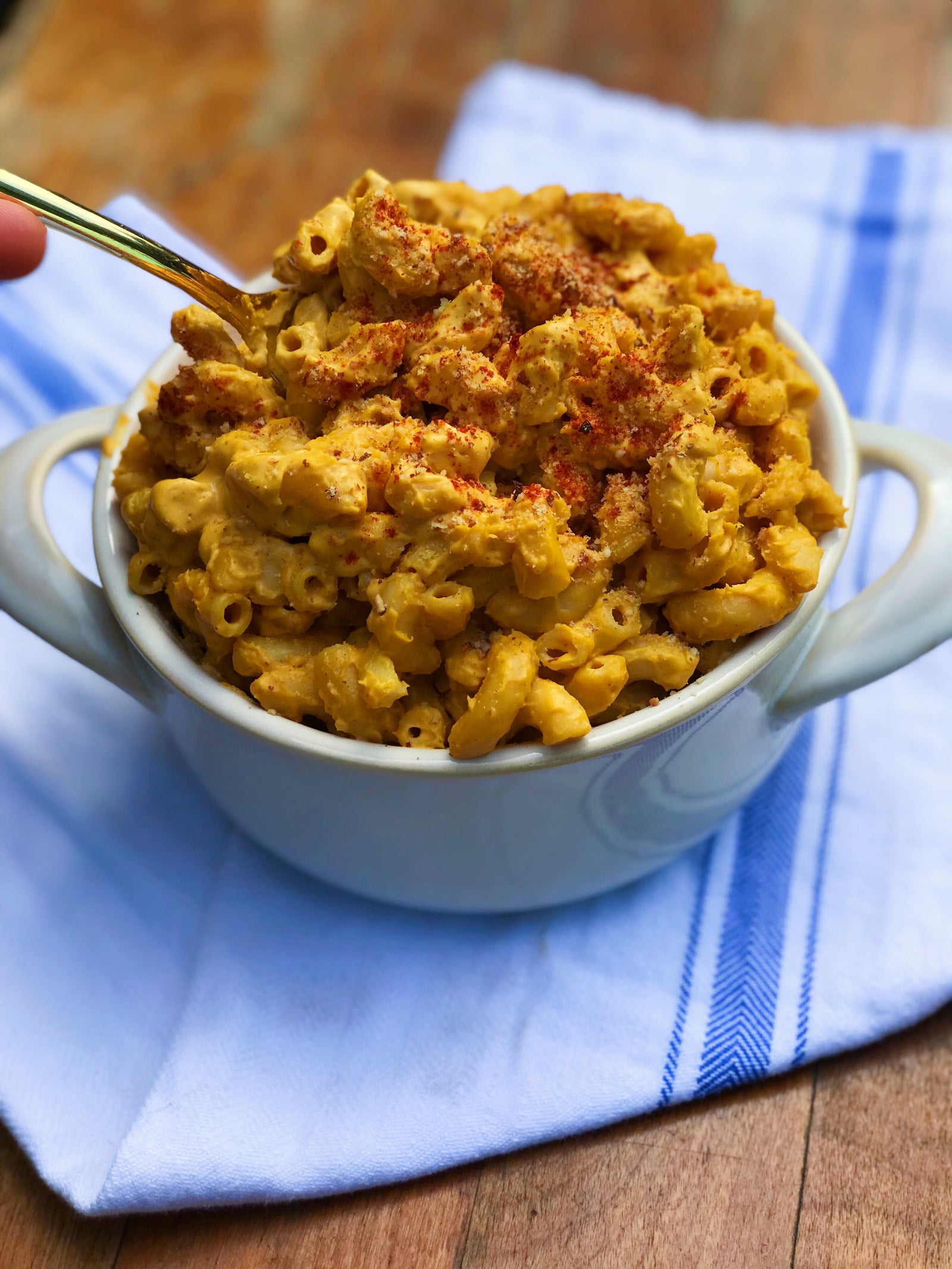 Here is the thing. I did not wake up this morning and say, "I am going to create the best vegan Mac n' cheese that has ever existed today!"

But yall it just happened, and I figured you would be pretty freaking happy too.

Best part about this sauce is that there is NO nutritional yeast!! So for those who cant have It, voila, achieving a creamy cheesy perfectly golden sauce CAN BE DONE without It!

Have fun hiding this from your kids, boyfriends, husbands, mail man. It's that dreamy.
Equipment Needed:
High Speed Blender 
Steamer / Steam Pot  
Servings: 4, varies depending on your personal portion size 
I n g r e d i e n t s 
1.5 cup cashews ( soaked for 4-6 hours) 
2 large carrot, peeled and halved
1 sweet onion, peeled and quartered
2 cloves garlic ( 3 if like super garlicky) 
3/4 cup unsweetened cashew yogurt ( I used Forager Project, any unsweetened non-dairy yogurt should work) 
1/4 cup water
1 tbsp lemon juice 
1 tbsp ghee or vegan butter (do not sub this, enhances cheesy flavor ) 
1 tsp paprika (extra for sprinkling on top) 
1/2 tsp chili powder (optional) 
3/4 tsp sea salt 
Any pasta of your choice, I used my favorite Banza pasta!
D i r e c t i o n s 
Begin to boil water for your pasta. Drain your soaked cashews and add them into a high-speed blender.
Into your steam pot, add your carrots, onion, and garlic, and steam until carrot and onion are fork tender.

Once water boils, cook your pasta while you make the sauce!

Once steamed through add the steamed mix to the blender with cashews. Add your cashew yogurt, water, lemon, ghee/ vegan butter and all spices into blender. Blend until smooth and creamy! Taste and adjust your seasonings...more salt, paprika, chili powder, etc.

Add your sauce to your pasta in the pasta pot so that It warms with the hot pasta! You can always warm sauce in another pot of pasta is already cooked!

The sauce will thicken in the fridge. You can warm on the stove ( adding a little water if need be)
Store in a sealed container in the refrigerator. 

Enjoy!