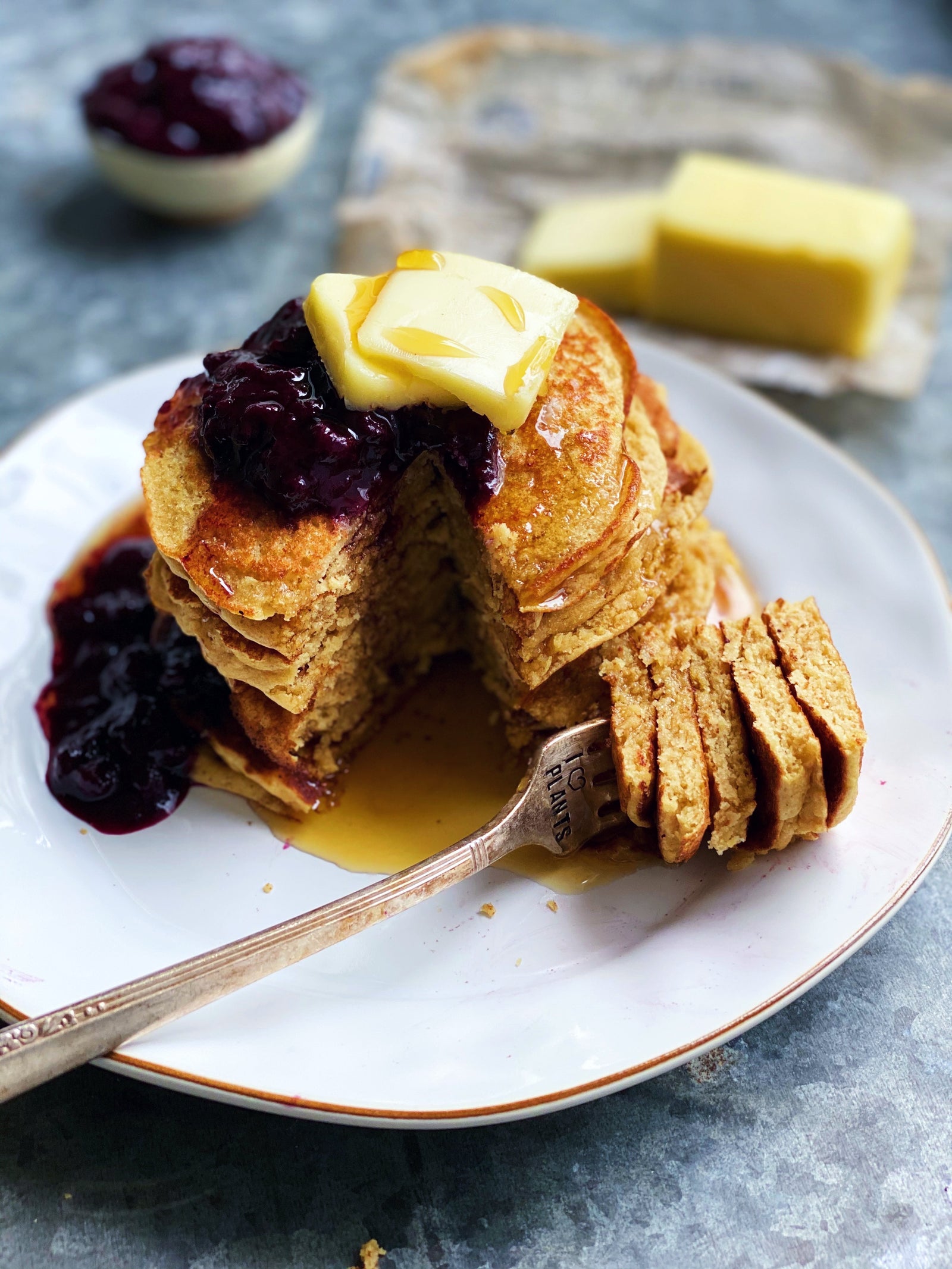 Is there anything better than a big stack of fluffy pancakes, cup of coffee, and large pour of maple syrup on a Sunday morning? One silver lining of all this time at home, is the time to perfect recipes Ive been wrestling with for some time.
After this last batch I finally got a major seal of approval from the hubs, who considers himself a tried and true pancake critic. And I know why, they are FINALLY fluffy, golden, light, and absolutely delicious. 
Want to make your Sunday morning complete? These pancakes are your answer! 
I n g r e d i e n t s
1 cup chickpea flour
3 tbsp coconut sugar
3 tsp baking powder
½ tsp himalayan sea salt
 ½ cup nut milk
¼ water
¼ cup unsweetened applesauce
2 tsp vanilla
D i r e c t i o n s
In a large bowl mix your chickpea flour, coconut sugar, baking powder, and sea salt. Mix well.
In another small bowl whisk all the rest of your ingredients from nut milk – vanilla.
Fold your wet ingredients into your dry ingredients and whisk well. Batter should be a normal pancake batter consistency. DO NOT TASTE YOUR BATTER, it will not taste good. Chickpea flour has an unfavorable after taste until cooked.
Warm a large skillet over low-medium heat. Spray well with avocado oil/coconut oil/ olive oil or ghee.
Once your skillet is warmed, pour one pancake on your skillet. Flip after about 2 minutes – once you get your temperature right , and if you have the space, pour two at a time.
Best when enjoyed fresh!
Top with fresh blueberries, maple syrup, and vegan butter!