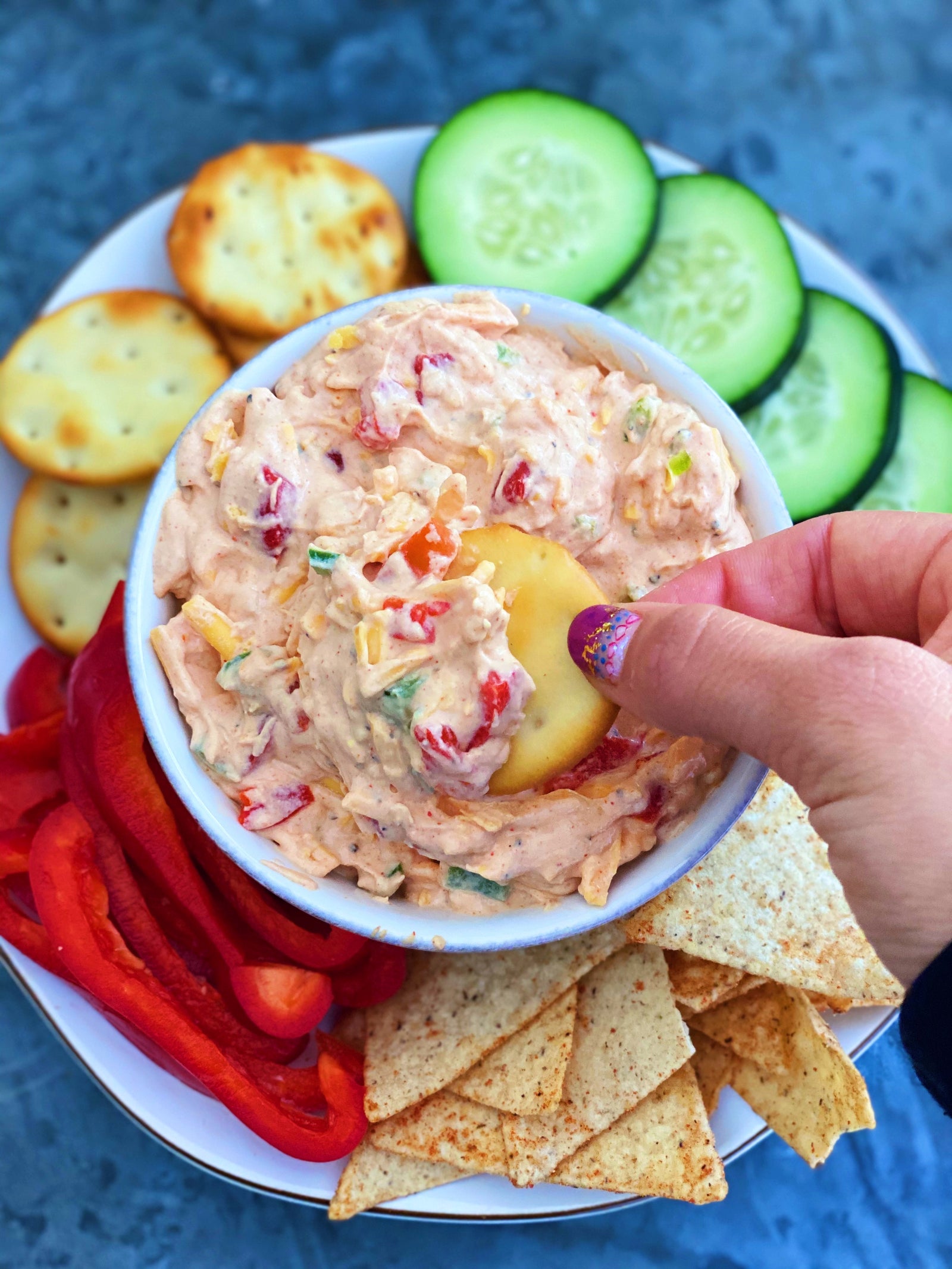 BEST VEGAN PIMENTO CHEESE
All my pimento cheese lovers out there, now I know yall are skeptical of a plant-based version, and trust me I was too. My biggest thing before I release a recipe is, if it cant stand next to the "real" thing, its not there yet. Who wants a recipe that's just "good" for being plant-based. No, I want it GOOD period.
Now I had some secret helpers, aka taste testers, for this one. Why? Because I happen to have some no non-sense, pimento cheese obsessed, won't settle for anything but the real stuff, team members that were not scared to give me their opinion.
On the THIRD round of tweaks, they finally gave me the green light. It was ready to stand up next to the cheesiest of them all. FINALLY! I could not be more excited to share with yall. 
It takes 10 minutes to make, no cooking, no oven, just mixing and just some time to "set" in the fridge!
Cannot wait to see this one at your virtual happy hours soon!
I n g r e d i e n t s :
NOTE There is a "set" time of a minimum of 4 hours for this dip to ensure optimal taste. I let mine sit overnight.
1 container Kitehill Cream Cheese ( I have only tasted this brand, other vegan brans might vary
in taste )
1 tbsp unseasoned rice vinegar
1 tbsp tomato paste
1 tsp siracha
1 tsp lemon juice
1/2 tsp pickle juice ( if don't have, sub an extra ½ tsp lemon juice)
3/4 tsp paprika
1/2 tsp sea salt
1/2 tsp pepper
1 heaping cup Shredded Violife Cheddar Cheese ( any vegan shredded cheddar cheese will work)
1 Jalapeño, de-seeded, finely chopped
1/3 cup pimentos , rinsed and finely chopped
 D i r e c t i o n s
In a large mixing bowl add your ingredients from Kitehill cream cheese- pepper. Using a mixing spatula, mix well until all is combined and seasonings are mixed throughout.
Now stir in your cheddar cheese, jalapeno, and pimento. Lightly fold in ingredients until all mixed through.
Allow to set in fridge, covered,  for a minimum of 4 hours or overnight if possible. This will ensure the flavors have had time to meld together.  
Serve with favorite crackers or veggies of choice!