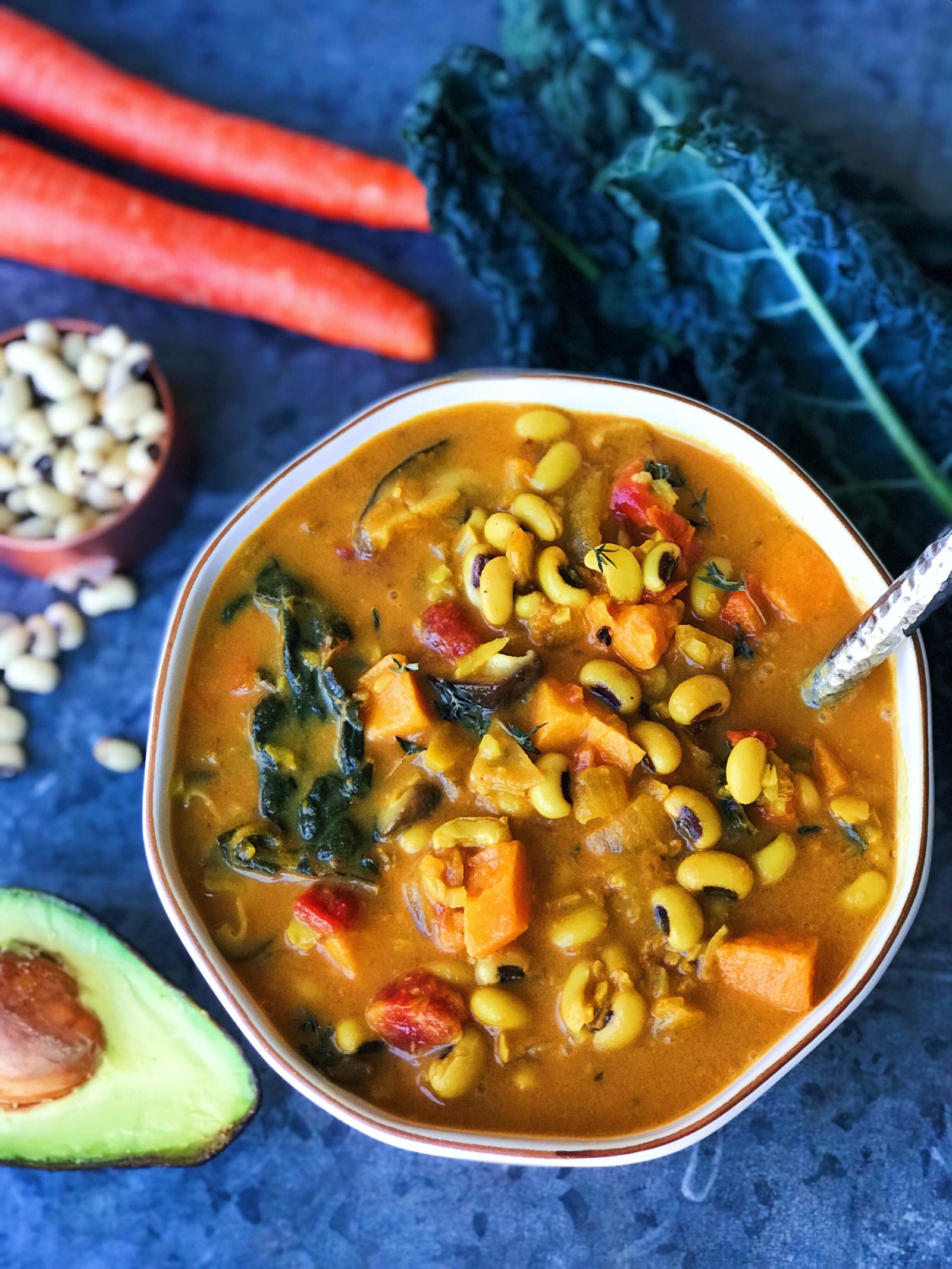 Black Eyed Pea, Sweet Potato, & Cauliflower Rice Curry
I n g r e d i e n t s
1 yellow onion, chopped
1 large carrot, peeled and chopped
3 cloves garlic, minced
1.5 tbsp Curry (my curry powder has turmeric, mustard, and coriander listed in the ingredients, if yours does not feel free to add a little more turmeric and a dash of the others) 
1/2 tsp turmeric
1 tsp sea salt
1 small sweet potato, peeled and cube chopped
2 tbsp tomato paste
1 can rotel tomatoes, or fire roasted tomatoes
1 32oz vegetable broth
1 cup water
2 tbsp low sodium tamari
1.5 tbsp coconut sugar
1 tbsp siracha (optional: I like this a little spicy!)
2 cups dry black eyed peas (soaked for a minimum of 6 hours)
1 10oz container shitake mushrooms ( about 2 cups - any mushroom will do )
1 cup cauliflower rice
1 can full fat coconut milk
1 bunch kale, collards, or 1 cup spinach
½ - 1 lime (based on preference)
D i r e c t i o n s  
Add a tbsp olive oil to a large soup pot over medium heat. Once warmed add your onion and carrots. Stir and saute about 5 minutes. When the onion becomes translucent add your garlic. After another minute of sautéing in the garlic add your curry, turmeric, and sea salt and stir until the spices become fragrant, another minute.
Add your sweet potatoes and tomato paste. Stir until all is incorporated and sweet potatoes are coated.
Now add your broth, rotel tomatoes, water, tamari, coconut sugar, siracha (if using), beans, mushrooms, cauliflower rice, and stir – do not add your coconut milk just yet!
 Bring the soup to a boil and remain at a boil for about 3 minutes.
Reduce the heat to low, add your coconut milk and stir in. Add your greens and continue to cook on low, covered, until black eyed peas are a desired consistency. I simmered for about 20-30 minutes!
Once cooked, turn off heat, add your ½ lime, stir in , taste and adjust for more lime or sea salt!
Serve alone as a soup, with brown rice, zoodles, avocado, etc!
Enjoy!