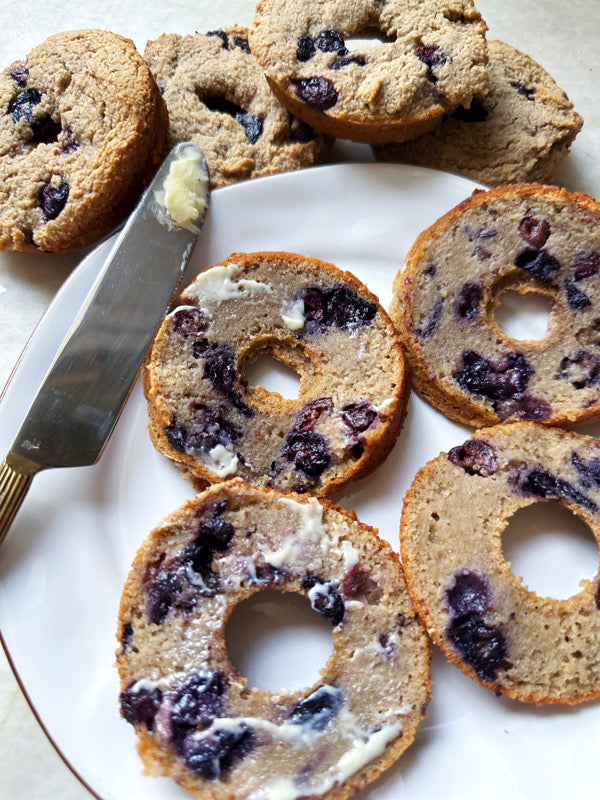 Gluten-Free & Dairy-Free Blueberry Bagel
Today's recipe is a little different than normal. I saw some delicious blueberry bagels on Gathered Nutrition's blog ( one of my favorites)  and I really wanted to see if I could make them gluten-free AND dairy-free. I am happy to report.. her recipe worked beautifully. 
I made a few tweaks and they turned out really delicious. More like a bagel and a muffin had a baby. A really yummy baby. Now I think I may become addicted to testing bagels.
Smear on your favorite vegan cream cheese or butter and enjoy!
Ingredients 
2 cups almond flour
3 tbsp + 1 tsp oat flour, plus more for rolling bagels
1/3 cup tapioca flour/starch
1 tbsp baking powder
1/2 tsp sea salt
1 cup frozen blueberries (I like to use the small wild blueberries)
1/3 cup coconut sugar 
1 cup plain, unsweetened Coconut Yogurt or Greek-style yogurt (yogurt NEEDS TO BE A THICK ONE, I used this Cocojune brand) 
1 tbsp olive oil ( for brushing ) 
recipe adapted from Gathered Nutrition 
In a large bowl, mix together the almond flour, oat flour, tapioca flour, baking powder, and salt.

In a bowl, microwave the frozen blueberries for 45 seconds, then mash the blueberries with the coconut sugar. This wil I like to use a potato masher or the back of a fork. 

Add the mashed blueberries and coconut sugar ( with liquid) and the yogurt to your flour mixture, and stir to combine. This may take a minute, and the dough will be sticky so don't worry!

Set dough in refrigerator to chill for 20 minutes.
While dough is chilling, preheat oven to 375 F and grease a bagel/ donut pan.
Clean a work station and sprinkle with oat flour. 
Turn your dough out onto your floured surface, and sprinkle the top of the dough with oat flour. Use your hands to knead the dough a few times and then place batter into each bagel/ donut mold. 
Brush a little olive oil onto the top of each bagel. 
Bake for 25-28 minutes or until tops are golden brown. 
DO NOT try to remove from pan until the bagels have cooled for at least 20 minutes. 
Carefully remove from the pan and enjoy!