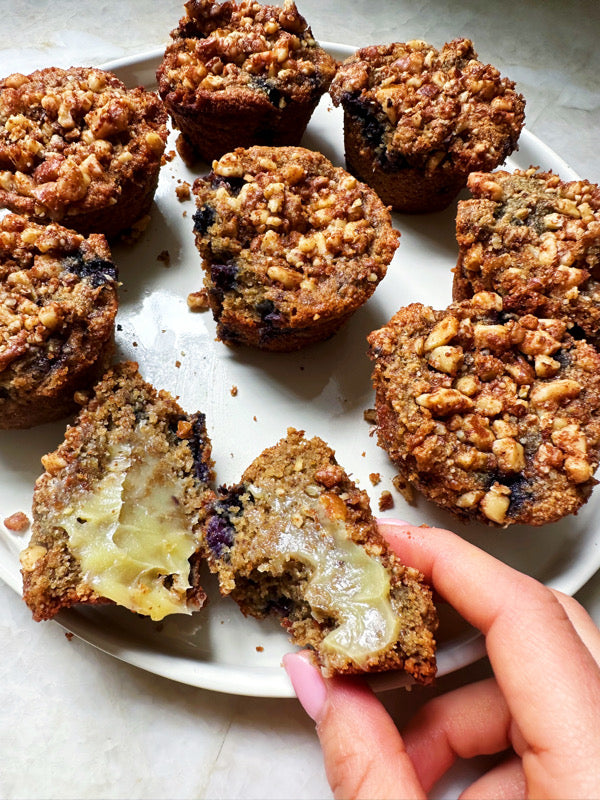 This may not be of popular opinion, but I will take a warm fresh-baked muffin over a donut any day of the week. However, there *must* be a crumble... a thick crumble. And the bursting blueberries? That's just bonus points. 
These are nostalgia baked into muffin form. Incredibly moist and warming comfort with every bite. 
Highly recommend for you or your babies! Mine downed two in one sitting, and they are by far my toughest critic. 
Enjoy! 
Serves:
10 muffins 
Equipment: 
Muffin Pan 
Oven 
Crumble 
1 cup raw walnuts, crumbled 
3 tbsp coconut sugar 
1 tbsp coconut oil, melted 
Dash vanilla extract 
Pinch sea salt 
Dry
1 cup almond flour
3/4 cup oat flour
1/4 cup coconut flour
1/4 cup coconut sugar 
2 tbsp arrowroot powder
1.5 tsp baking powder
1 tsp baking soda
1/2 tsp sea salt
Wet
2 flax eggs ( 2 tbsp flax seed meal + 4 tbsp water)
1/3 cup unsweetened applesauce
1/3 cup cashew yogurt or any yogurt
1/4 cup honey ( sub maple syrup for vegan option) 
3 tbsp maple syrup
2 tbsp lemon juice
1.5 tsp vanilla
1/2 cup frozen wild blueberries ( I love the tiny wild blueberries for this one) 
Prepare your crumble:  
- Add your crumbled walnuts into a small mixing bowl along with coconut sugar and a pinch of salt. Mix. 
.
- Add your vanilla extract and coconut oil and start to work the liquid into the walnut mixture with the back of a fork until you have a slightly wet crumble. Set aside. 
Prepare your muffins: 

- Preheat your oven to 350 F and line a muffin pan with parchment paper, with muffin liners, or grease with coconut/avocado oil.
.
- Prepare your flax eggs in a small bowl, mix, and set aside.
.
- Add all of your dry ingredients into a mixing bowl. Whisk until all are combined.
In a separate large bowl add all of your wet ( except blueberries) ingredients.
.
- Mix well. Fold your dry ingredients into your wet. Now fold in your frozen blueberries. Don't over mix 
.
- Fill each muffin mold. Divide your crumble on top of each muffin slightly pressing it into the batter. 
.
- Bake for 28-32 minutes or until golden brown and a toothpick comes out clean. Allow to cool completely!