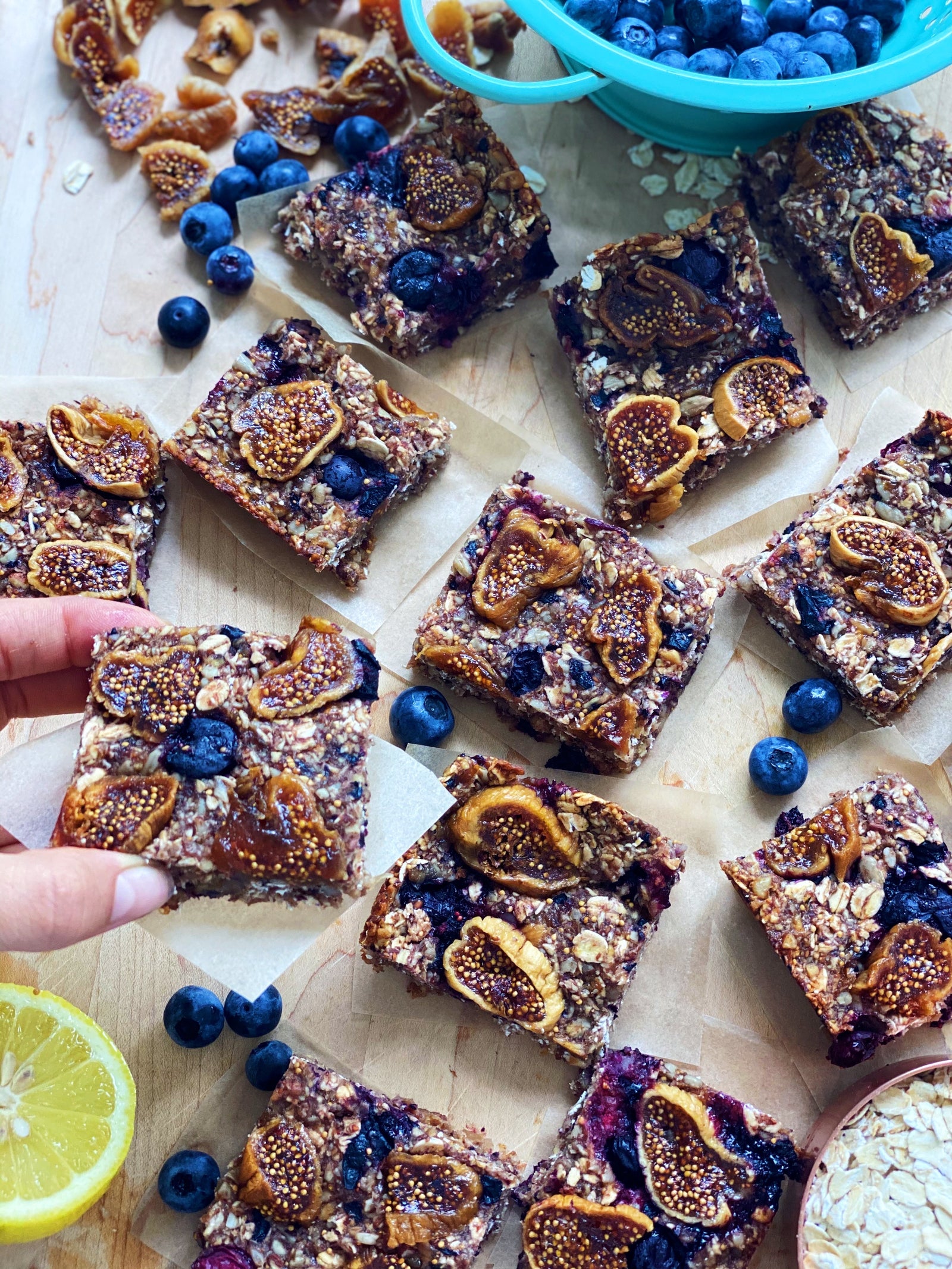 Blueberry & Fig Breakfast Bars
Fresh blueberries, dried figs, sweet maple, warming vanilla -- the combo I didn't know I needed in my life, until NOW. 
We are getting into some *hot* days here in Columbia, and where I do normally love me a big bowl of creamy oats in the morning, that just isn't going to happen anytime soon.... so enter these insanely delicious bars. 
Honestly yall, these are loaded with nuts, seeds, gluten free oats, fresh fruit, and flax meal... making them the perfect quick grab-n-go bar, whether for breakfast, snacking, or dessert. 
Another reason I love them, aside from the mouthwatering flavor, is how EASY they are to make... and perfectly customizable for you or your kids. 
Cant wait to see what you think! 
I n g r e d i e n t s 
15 large dried Turkish figs, DIVIDED
2 cup oats, DIVIDED
1 cup pecans
1/2 cup sunflower seeds
1/4 cup flax meal
1/2 tsp sea salt
1/2 tsp cinnamon
1 1/4 cup fresh blueberries ( rinsed and pat dry ) , DIVIDED
1/3 cup maple syrup
1 tbsp lemon juice 
2 tsp vanilla
D i r e c t i o n s 
Add 10 of your figs into a bowl of hot water to help them soft— about 10 minutes! Set aside. Slice the rest of your figs for topping and set aside.
Preheat your oven to 350F and line an 8x8 baking dish with parchment paper.
Into a large food processor add 1 cup of your oats, pecans, sunflower seeds, flax meal, sea salt, and cinnamon. Pulse until large crumbles are left.
Drain your figs, and squeeze with a paper towel to remove any excess liquid. Now quarter your figs that were soaking, removing any tough stems. Add your soaked figs into the food processor, along with just 1/2 cup of your blueberries, maple syrup, lemon , and vanilla. Process for 30 seconds, or until one dough remains.
Add your dough into a large bowl. Add the other half of your oats into the large bowl. Mix with your hands or a large spatula, ensuring your oats are fully mixed in. Now fold in your remaining blueberries. I did this with my hands as well.
Press your dough evenly into your baking dish, ensuring dough is packed down. Use your fingertips to create one even layer from edge to edge, this will help bars to cook evenly.
Top with your chopped figs, pressing each piece securely into batter.
Bake or 22-25 minutes or until edges begin to golden. Remove and let COMPLETELY cool before slicing. Store in refrigerator for up to one week.