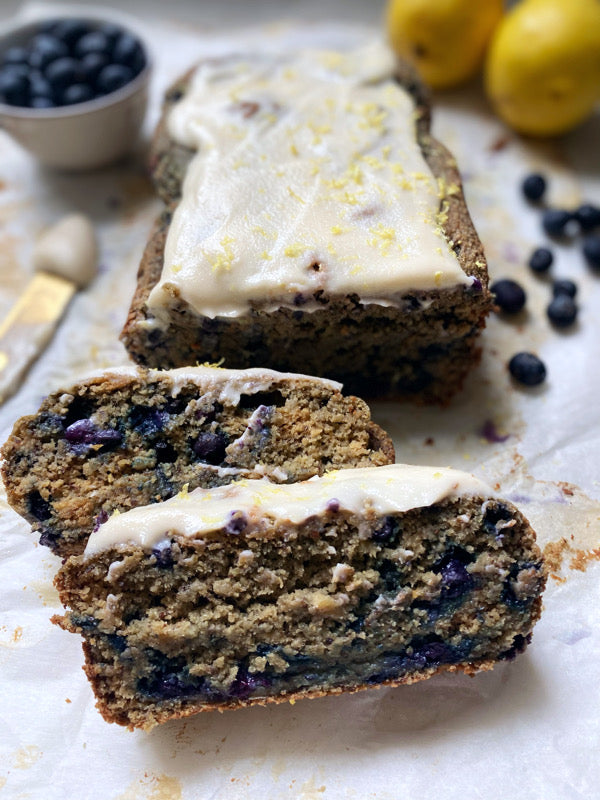 Blueberry Banana Loaf w/ Coconut Lemon Glaze
An end-of-summer loaf in all its glory! Blueberry, banana, and lemon come through with each bite. 
I accidentally bought 4 bunches of bananas on Instacart last week (hence why you keep seeing banana recipes roll through) but they are one of my favorite things to create recipes around. Nine times out of ten you have some browning on your kitchen counter as we speak. 
This loaf is a perfect, no fuss, throw It all together and enjoy something sweet type of bread. The glaze + lemon zest add a little something extra, but necessary extra. 
Can't wait to see your creations!  
WET
2 flax eggs (2 tbsp flax meal + ¼ cup water )
1 large banana, overripe 
1/2 cup cashew yogurt 
1/4 cup maple syrup
3 tbsp coconut sugar
1.5 tsp vanilla extract
2 tbsp nut milk 
2 tsp lemon zest ( option: more for topping ) 
2 tbsp lemon juice
1 cup frozen blueberries (thawed and drained)  
DRY
2 cups GF oat flour
1/2 cup almond flour
1 tsp baking soda
1 tsp baking powder
1/2 tsp sea salt
ICING 
1/2 cup coconut butter
1/4 cup almond milk ( to start) 
1 tbsp maple syrup 
pinch sea salt 
Preheat your oven to 350F. Line a loaf pan with parchment paper.
Mix your flax eggs in the bottom of a large mixing bowl that you will use for your wet ingredients. Set aside.
Add all your dry ingredients to a separate mixing bowl and whisk to combine.
Now that your flax eggs have most likely coagulated, add your banana. Mash with the back of a fork until no clumps remain. Mix in the rest of your wet ingredients, EXCEPT your blueberries and lemon. 
Add your dry mix to your wet ingredients bowl and mix well. 
Add your lemon to your batter and mix. Now fold in your blueberries. 
Pour your batter into your lined loaf pan and spread evenly. Now add your streusel topping and lightly press it into your batter with your fingers.
Bake for 48-50 minutes or until a toothpick comes out clean. Allow the loaf  to sit until COMPLETELY cool before trying to slice, at least an hour.
Prepare your icing. Add your coconut butter and almond milk to a small saucepan. Turn heat to low and begin to melt the coconut butter. Stir constantly with a spatula or whisk until one cohesive icing forms. Add your maple syrup and sea salt and stir. Coconut butter will begin to soften and thin out. Move off the burner when desired consistency and pour onto your cooled loaf. 
Store loaf in the refrigerator for up to one week. Enjoy!