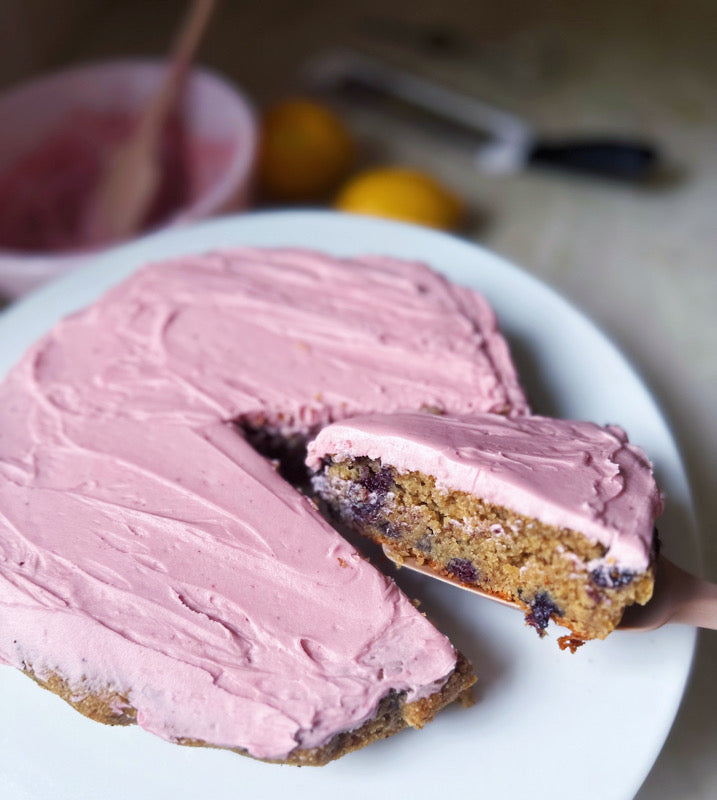 Blueberry Lemon Cake w/ Simple Mills Icing
Brunch menus are always important, but your Easter brunch menu is especially important. 
Spending the week curating some delicious dishes that are worthy for a spot at your brunch table and this Blueberry Lemon Cake would be the perfect addition. 
She is fluffy, moist, bursting with lemon and blueberry and brought together with a blueberry infused icing.  I used the Simple Mills Vanilla icing and it could not be more delicious! 
Ingredients 
Dry
1 1/4 cup almond flour 
1 cup oat flour 
3 tbsp coconut sugar  
1/4 tsp ginger powder
1/2 tsp baking powder
1/2 tsp baking soda 
1/2 tsp sea salt 
Wet
2 flax eggs ( 2 tbsp + 4 tbsp water , let sit 10 minutes ) 
1/4 cup thick yogurt
1/4 cup almond milk 
1/4 cup honey 
1.5 tsp vanilla extract
Zest from 1 small lemon 
3 tbsp fresh lemon juice 
1/2 cup frozen blueberries ( I used wild mini blueberries ) 
Icing 
1 container Simple Mills Vanilla 
2 tbsp juice from frozen blueberries 
*Mixed together before applying on cake 
Preheat oven to 350F. Line a cake pan with parchment paper. 
Prepare your flax egg in a small bowl. Set aside
Add all dry ingredients into a mixing bowl. Whisk until well combined.
In a separate bowl, add your yogurt, almond milk, vanilla, honey and lemon zest. Mix well. When ready, stir in your flax egg. 
Slowly stir your dry ingredients into your wet and stir to combine. 
Now mix in your lemon juice. 
Lastly, lightly fold in your blueberries. You want a tie dye batter, not a purple batter, so do not mix in too much. 
Pour batter into your cake pan and bake for 38-40 minutes or until a toothpick comes out clean. 
Allow your cake to cool COMPLETELY, and then place your cake in the refrigerator for at least an hour before applying icing. 
Slice and serve when ready! Store leftovers in a sealed container in the refrigerator.