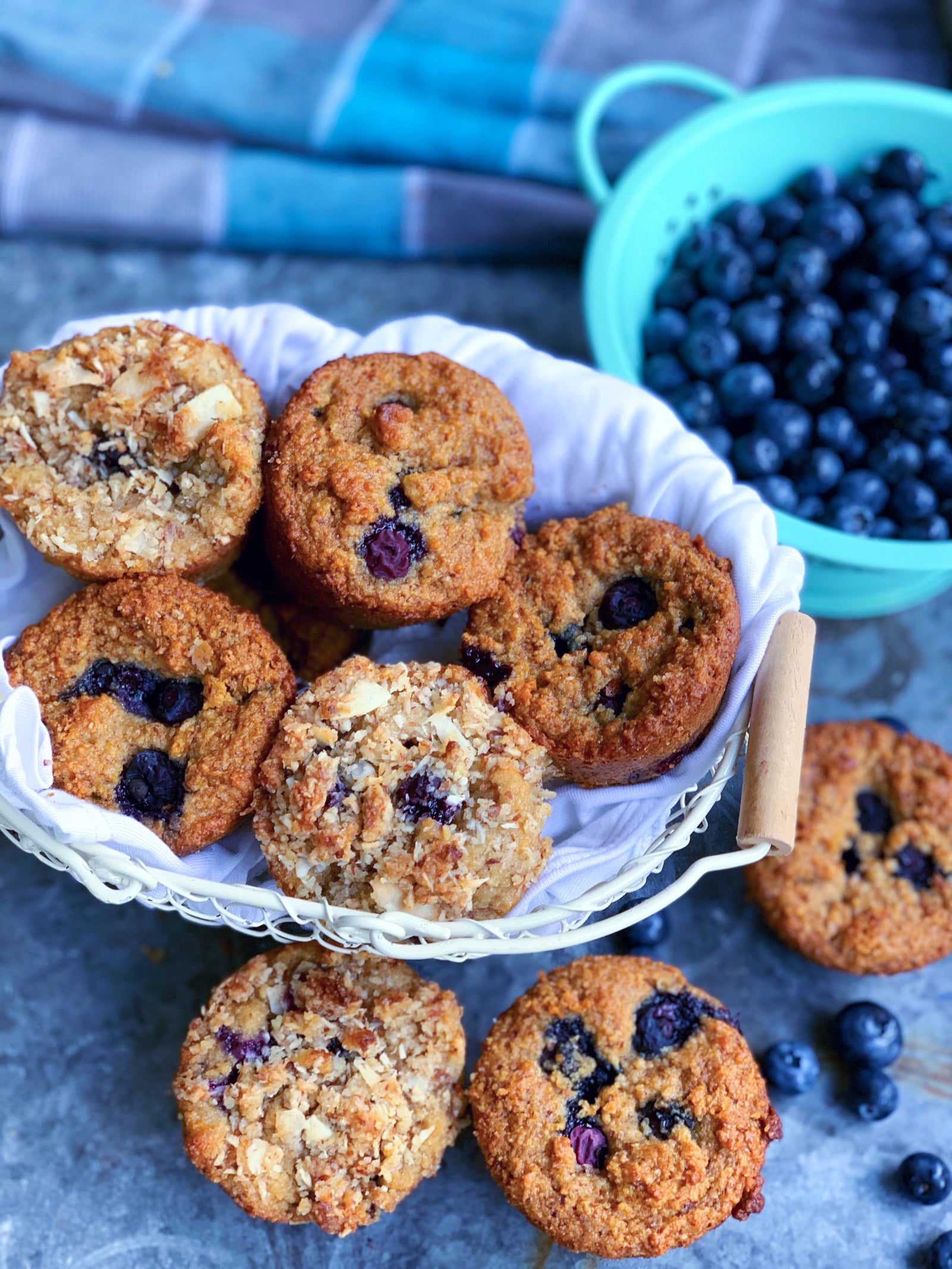 Let me just say, whether you swing for the crumble or just prefer the simple life, this blueberry muffin is for you. I mean, even if you're just a batter person... its for you. 
Bursting blueberries, moist center, golden top...this muffin has It all. 
Usually by time I finish testing a recipe I want to lay off It for a while... but not with these. These I could eat every. single. day and still go back for one more bite. 
What is It about blueberries baked into a sweet, fluffy muffin that just sounds so dang appealing. Well It doesn't just sound... It IS. Cant wait to hear what you think! 
Enjoy! 
DRY
1 cup superfine almond flour
¾ cup GF oat flour
2 tbsp tapioca flour
2 tbsp coconut sugar
1.5 tsp baking powder
½ tsp sea salt
WET
1 flax egg ( 1 tbsp flax meal + 2.5 tbsp water)
¼ cup full fat coconut milk from a can ( make sure you blend first so the fat and the liquid are combined)
¼ cup dairy free yogurt ( I use Foragers Project Plain yogurt)
3 tbsp honey
1.5 tsp vanilla
OTHER: ½ -3/4 cup fresh blueberries
CRUMBLE – OPTIONAL
*this should make enough for 2 batches of muffins*


1/3 cup almond meal 
1/2 cup finely shredded coconut 
1 tbsp tapioca flour 
Pinch sea salt 
2 tbsp honey, 
2 tbsp ghee or coconut oil , melted.
DIRECTIONS
Preheat your oven to 350F. Grease your muffin tray with melted coconut oil.
Prepare your flax egg in a small bowl. Set aside.
Go ahead and make your crumble (if using ) for the muffins. Add your dry crumble ingredients into a cereal bowl and stir until all combined. Now add your wet ingredients, and using a fork, work the honey and ghee/coconut oil into the dry ingredients until a crumbly mixture forms.  Set aside. 
In a mixing bowl, add all of your dry ingredients. Whisk until no clumps are left and all is well combined.
In another mixing bowl add in your coconut milk (freeze the rest of your coconut milk in an ice cube tray for your smoothies) , yogurt, honey, and vanilla. Whisk. When your flax egg has set ( takes about 10 minutes) add it into the wet ingredients bowl. Whisk all together.
Fold your dry ingredients into your wet, and stir until your batter is fully combined. Carefully, fold in your blueberries.
Add your batter into each muffin mold. Try and make sure no blueberries are on the very bottom of each muffin as that can cause them not to hold together. I typically get 6 muffins. 
If using a crumble, sprinkle a little on each muffin top. You will have enough crumble for two batches or you can use to sprinkle on oatmeal, yogurt, smoothies, etc!
Bake for 23-25 minutes or until a toothpick comes out clean and the tops are golden brown. Allow to cool for at least 35-45 minutes…. I KNOW THIS IS TORTURE but this will give them time to set with the juicy blueberries!!
* these will set even more as they sit in fridge! *
Store in an air tight container in the refrigerator.