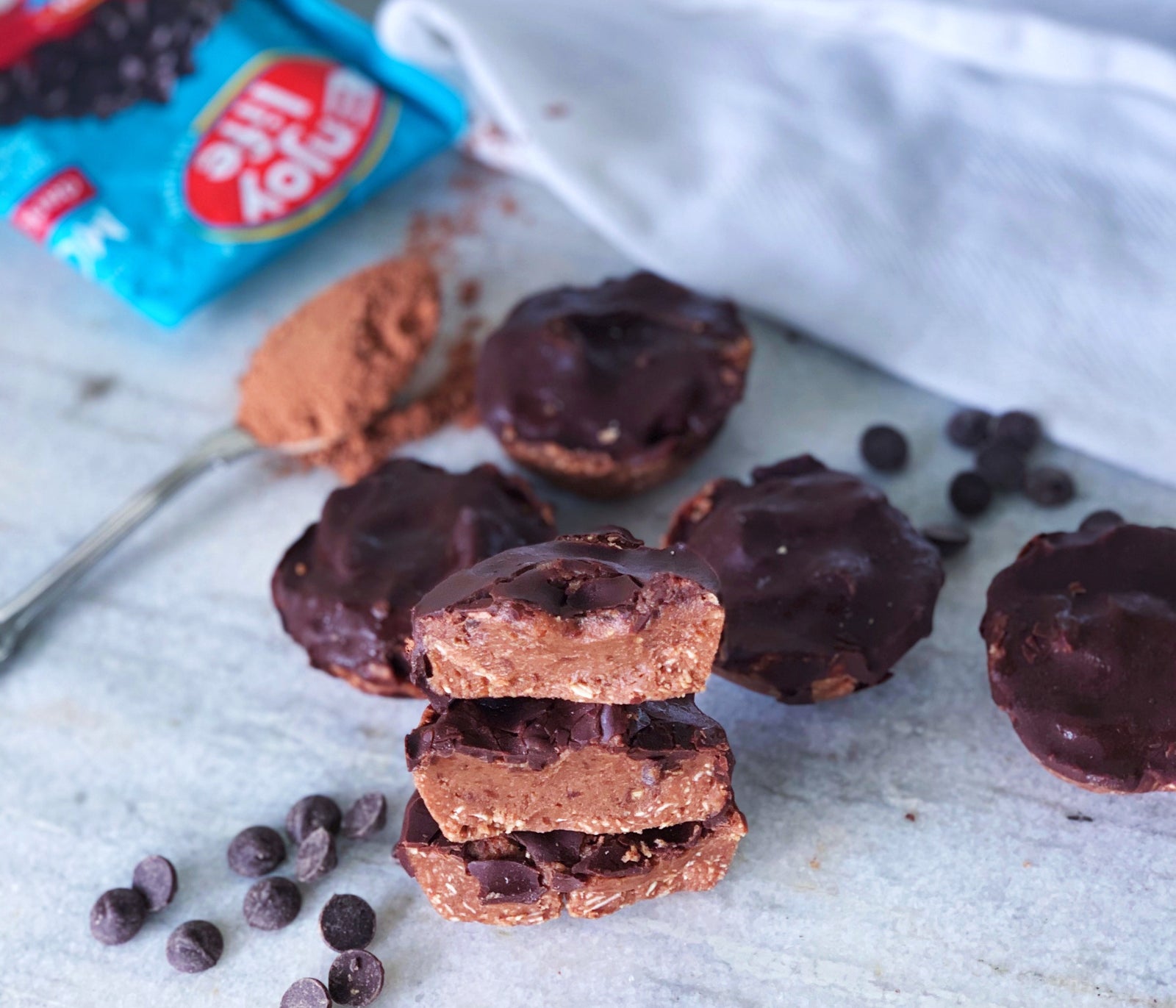 BROWNIE BATTER "REESES" CUPS
These are what happen when you drive your delicious Gingersnap Cheesecake all the way home to Greenville and then forget about said cheesecake until it's too late. 
Tragic, yes. BUT sometimes the best things come out of mistakes.... just like these   "Brownie Batter Reeses Cups" !! I tweaked my favorite snickers recipe and voila! They saved the day & all of our sweet tooth cravings! 

All my choco lovers go ahead and save this one! All you need is a food processor and some major willpower to not eat all at once .


I n g r e d i e n t s  
CRUST LAYER
¾ cup oat flour ( grind gluten free oats in your food processor/blender until a flour like consistency) 
¾  cup almond flour
1.5 tsp vanilla
2 tbsp maple syrup
1/3 cup creamy cashew butter
2 tbsp melted coconut oil
2 tbsp cacao powder
1/4 tsp sea salt
BROWNIE BATTER LAYER  
12 medjool dates
1/3 cup full fat coconut milk
2 tsp vanilla extract 
3 tbsp cashew butter
2 tbsp maple syrup
2 tbsp cacao powder
1/4 tsp sea salt
OTHER
1 cup dark chocolate mini chips
1 tbsp coconut oil 
Optional toppings: pomegranate seeds, coconut flakes, extra chocolate chips, walnuts
D i r e c t i o n s
Line a mini muffin or standard muffin pan with strips of parchment paper about 2 inches thick. Allow the strip ends to poke out of the muffin mold so you can use as tabs to pull out each Brownie Batter Cup.
Remove the pit from your dates & soak them in a bowl with hot water for 10 minutes. 
While they soak prepare your crust. In a food processor add your almond flour and oat flour. Pulse until well combined. Add all other crust ingredients and process until a crust like texture forms. If too dry add a dash warm water! Should be sticky enough to form a crust but not wet. 
Using your fingertips, press enough mix into each muffin mold to form a crust layer. Pinch up on sides to ensure the crust is sturdy
Pop your muffin pan into the freezer while you prepare your filling. No need to rinse your food processor. 
In the food processor add all of your brownie batter ingredients. Allow to process for about 5 minutes or until the mix becomes smooth and brownie batter like in color. Scrape down the sides as needed with a spatula while processing. Add a dash more coconut milk as needed to get as smooth as possible! 
When ready remove your crust from the freezer. Use the spatula to add a thick layer of chocolate batter onto each crust. Place back in the freezer. Allow to freeze for 30 minutes.  
In a small, microwave safe bowl add your chocolate chips. Place in the microwave for 45 seconds. Remove and stir. Repeat until melted. Once melted add your coconut oil and stir in! This allows the shell to harden for your snickers. 
Remove each cup from mold and dip into bowl, batter layer first. Place back into mold. Add back into the freezer to set for 10 minutes. Store in freezer or refrigerator in sealed container.