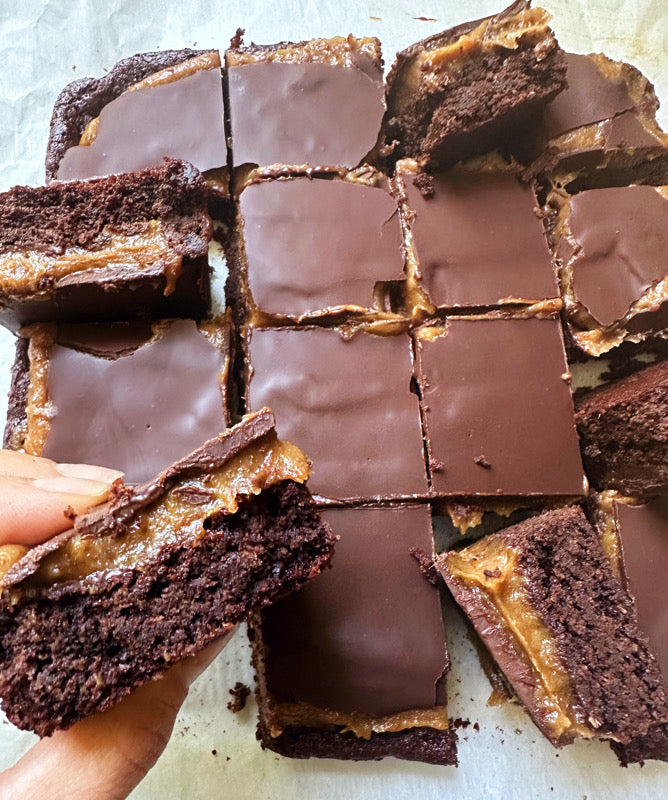 Buckeye Peanut Caramel Brownies
A Buckeye brownie must have come to life when someone couldn't decide between a fudge brownie or a chocolate peanut butter cup… so they basically combined the two. My hero.
I added in a little caramel twist because I tested two versions and this one just reigned supreme. 
These, as always, are vegan and gluten-free, but taste-test qualified for all eaters. 
EQUIPMENT: 
Mixing Bowls 
Food Processor ( cookie dough) 
Stove or microwave for warming dates
Oven 
8x6 Baking dish
BROWNIE LAYER
Dry
1/2 cup almond flour
1/2 cup almond meal
1/2 cup cacao powder
1/2 cup coconut sugar
2 tbsp arrowroot powder
1/2 tsp baking powder 
1/2 tsp baking soda 
1/4 tsp sea salt
Wet
2 flax eggs ( 2 tbsp flax meal + 1/4 cup water mixed ) 
3 tbsp coconut oil, scooped out at room temperature
1/4 cup creamy peanut butter
1/4 cup chocolate chips ( + more for topping) 
3 tbsp maple syrup
1 tsp vanilla
6 tbsp almond milk or any nut milk
PEANUT BUTTER FILLING
10 large Medjool dates
1/4 cup hot water ( from step-in instructions )
1/2 cup creamy peanut butter
2 tbsp maple syrup 
1 tbsp coconut oil, melted
1 tsp vanilla extract 
Pinch sea salt 
CHOCOLATE SHELL
6 oz dark chocolate chips 
2 tbsp coconut oil 
Preheat your oven to 350F. Line an 8x8 pan with parchment paper. 
Prepare your flax egg in a small bowl and set aside. 
In a large mixing bowl, add all the dry ingredients and whisk until all are combined. 
In a small sauce pot, add your coconut oil over low heat. Once melted add your cashew butter and whisk into the coconut oil until one thin mixture remains. Turn off the burner and add your chocolate, maple syrup, and vanilla. Whisk until the chocolate is all melted and everything is one uniform mixture. 
Add the wet mixture into your dry, along with your flax eggs, and 2 tbsp warm water. Now mix everything well until your brownie batter has formed. 
Lay your batter into your pan and spread evenly. Bake for 18-20 minutes -- you want them  *slightly* undercooked —once cool place them in the fridge for 30 minutes to solidify. 
In the meantime make your peanut butter filling and melted chocolate. 
Cover your dates with water in a small pot on the stove and turn to heat to medium. Before the water reaches a boil, turn off the heat and let sit for 5 minutes.  
While they are heating up add your peanut butter, coconut oil, vanilla, and sea salt to a food processor. 
Scoop 1/4 cup hot water from your soaking dates and add into the food processor — reserve a little more in case you need to thin out your peanut butter caramel. 
Drain your dates and carefully remove the pit. Add them all into your food processor. 
Process the mix on high until the caramel is smooth and creamy, stopping to scrape down the sides if you need to. Taste and adjust any vanilla or sea salt and add in a dash of water if you need to thin more. 
Spread peanut butter caramel over your chilled brownies. Place back in the freezer while you prepare your chocolate topping. 
In a microwave-safe bowl melt your chocolate and coconut oil in 30-second increments. After every 30 seconds, give the chocolate a stir — this will help it not burn! 
Pour over the melted chocolate and place back in the freezer for another 20 minutes before slicing. 
 Store in the fridge or freezer!