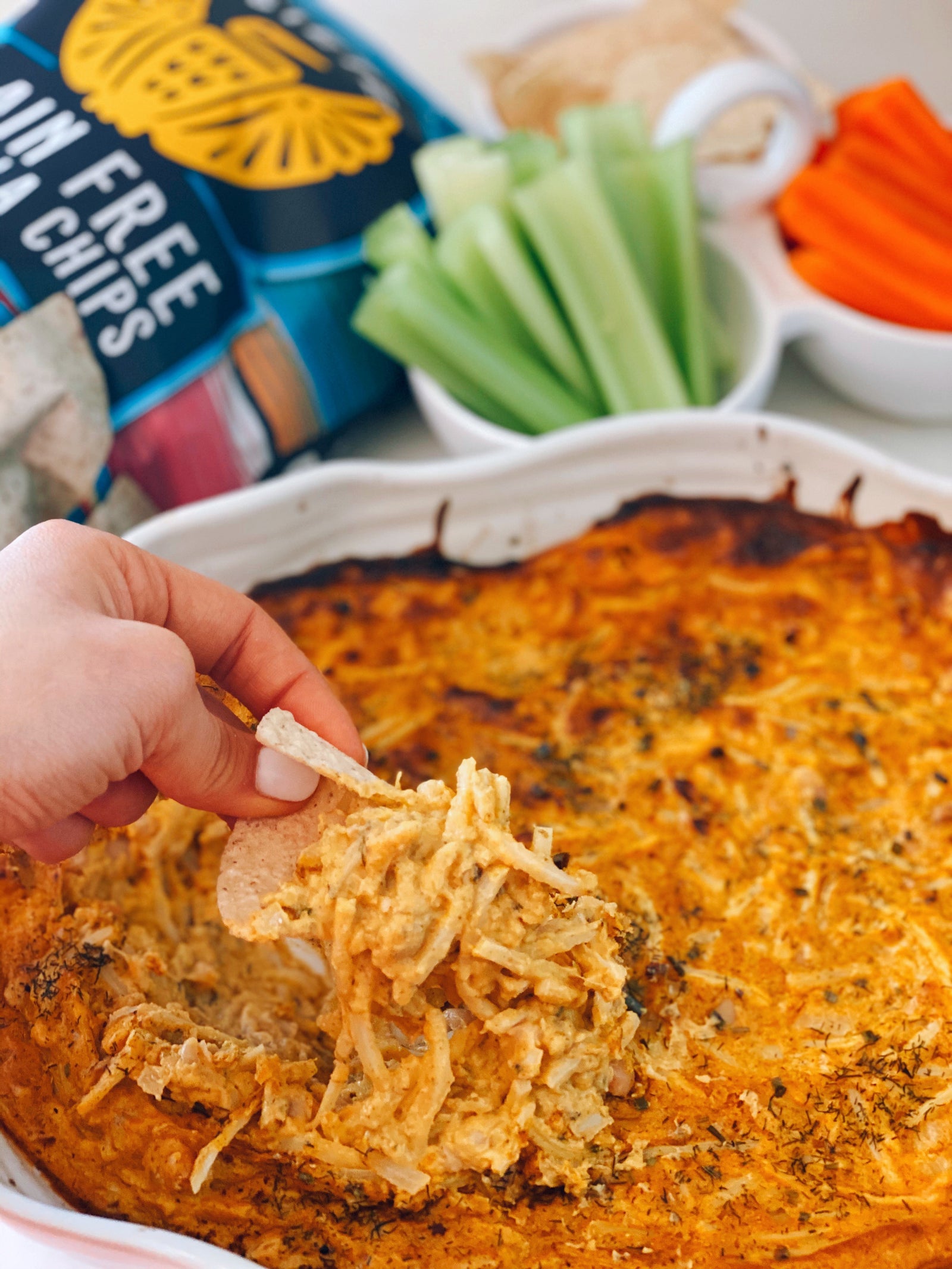 I had every intention of getting this dip out to y'all weeks ahead of the Super Bowl, but leave It to me to give you only a few hours. My husband calls It "greek time" so let's blame It on that.

I tested It twice in 24 hours because I was determined to get this out in the slight chance some of you might have time to make It. Lets just say better late than never, bc this dip will change your plant-based eating life! 

This might be my absolute favorite dip yet, and was so impressed with how the Palmini noodles resembled "shredded chicken" when chopped up!! 

Hope everyone has lots of delicious things to scoop up tonight! Cannot wait for you to try!! 
1 onion chopped
2 cloves garlic, minced
2 cans palmini ( linked here!) 
1 can great northern beans, rinsed and drained 
1 cup cashews ( soaked in water min 4 hours )
1 container Miyokos mozzarella (sliced in half) - found at Whole Foods! 
1/2 cup unsweetened almond milk
1/2 cup Franks Red Hot sauce ( i tried a few and this one gives the most "buffalo" flavor 
3 tbsp rice vinegar
1 tbsp fresh lemon juice 
1/2 tsp Onion powder
1/2 tsp Garlic powder
2 tbsp olive oil 
2 tbsp water
2 tsp dried dill
2 tsp dried chives 
1 tsp sea salt 
D i r e c t i o n s 
Preheat oven to 375.
Rinse and drain your Palmini. Pat dry. On a cutting board rough chop your Palmini noodles so It resembles shredded chicken. Rough chop HALF of your vegan mozzarella. Set aside
In the same strainer rinse your white beans. Lightly mash your white beans until about half are mashed and some still whole.
Add a dash olive oil into a skillet over medium low heat. Add your chopped onion and saute a few minutes. Add your garlic and saute until onions are translucent and garlic is fragrant. Turn off burner and set aside.
Drain and rinse your cashews and add into your blender. Add other 1/2 package of your Miyokos mozzarella ( not chopped) , and half of your onion garlic mixture. Now add all ingredients from almond milk - sea salt . Blend until very smooth & creamy.
In your baking dish add the rest of your onion/garlic mixture , your palmini, white beans and all your sauce. Stir well until all combined.
Stir in the other half of your chopped vegan mozzarella. 
Bake on 375 for 45 minutes. For a really golden top, turn your oven on broil, and set your oven timer for 3 minutes. Watch carefully so does not burn!
Remove from oven and allow to cool before digging in!