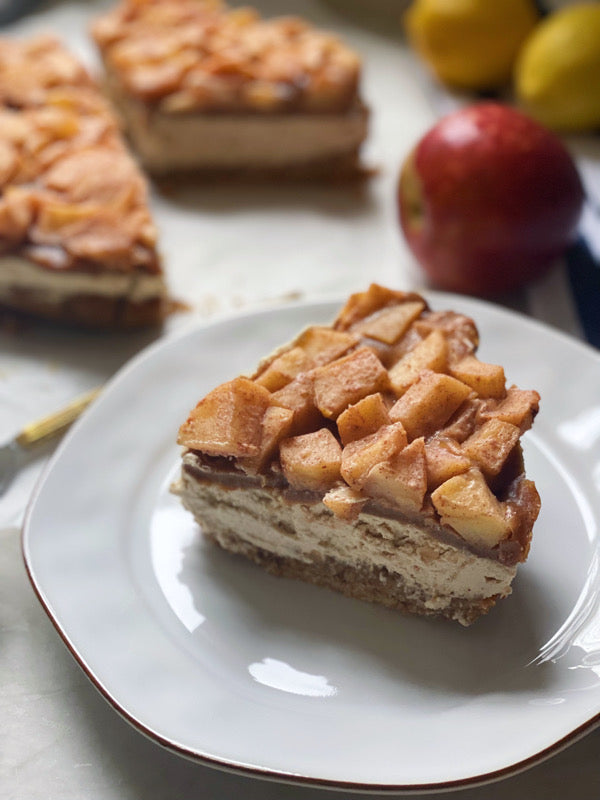 Every now and then, when I am testing in the kitchen, I get the urge to run with something creative. Something unplanned or thought out, something spontaneous. This cheesecake happened in one of those moments, and I am so glad I ran with It. 
Layers of sautéed cinnamon apples, golden caramel, a creamy apple filling, and of course a homemade baked crust. 
It's one of those desserts you look at and think... "I made that? Wow." And even better, it tastes more delicious than it looks. 
Ingredients 
CRUST 
1 cup pecans, roughly chopped
1 cup oat flour 
1 cup almond flour 
2 tbsp coconut sugar
3.5 tbsp coconut oil, melted
2 tbsp maple syrup
1 tsp vanilla
1/2 tsp sea salt
SAUTÉED APPLES
5 apples, peeled and chopped 
3 tbsp coconut oil/ vegan butter 
2 tsp coconut sugar 
1/2 tsp cinnamon 
2 tsp maple syrup 
FILLING
1.5 cups raw cashews, soaked in water for a minimum of 4 hours  
1 full fat can coconut milk, refrigerated overnight 
1 cup sautéed apples ( from above ) 
3 tbsp maple syrup 
2 tbsp fresh lemon juice
1 tsp fresh grated ginger
1.5 tsp vanilla extract 
1/2 tsp cinnamon 
1/2 tsp sea salt 
CARAMEL
1 can full-fat coconut milk 
3 tbsp maple syrup
3 tbsp coconut sugar 
1/2 cup cashew butter (must be runny, not chunky or hardened) 
1.5 tsp vanilla extract 
1/4 tsp sea salt 
I broke this recipe down into steps so it would be easier to follow ! 
Crust 
Line a 9" cake pan with parchment paper. Preheat oven to 350F.
Add your pecans, oat flour, almond flour, and coconut sugar into a large food processor. Process until the mix resembles flour. 
Add in all other crust ingredients and process. You may have to scrape down the sides in between processing and continue processing until the crust forms into one cohesive mixture. The mix should be slightly sticky and wet. If too sticky add more oat flour, if not sticky enough add a splash of warm water.  
Scoop out your crust mixture onto parchment paper. Press your mix firmly into the bottom of the dish, working to ensure the thickness is consistent throughout, pinching upwards on the sides to form an edge.
Bake for 20 minutes, removing when golden brown. While your crust bakes continue on with the steps below. 
Sautéed Apples
Add your coconut oil to a large sauté and turn to low/med heat. Once warm add your apples. Stir to coat with the coconut oil. 
Add your cinnamon and coconut sugar and stir until apples are evenly coated. 
Sauté your apples for 7-8 minutes or until they begin to soften. 
Stir in your maple syrup. 
Turn off your burner and add a lid to your sauté pan. This will help soften your apples even more as they cool! 
Remove the lid once your apples can be easily pierced with a fork. Place them in the fridge until ready to use.
Filling 
Drain and rinse your cashews and add them into your blender.  Open your coconut milk can and scoop out all the hardened cream from your can. Discard or save any liquid leftover from the can. 
Add all other filling ingredients and blend on high until smooth and creamy. 
Pour your filling onto your baked crust. 
Place in the freezer to set. Allow to freeze for a minimum of 3 hours before adding caramel and apples. You can make your caramel ahead of time and add when ready! 
Caramel 
Add coconut milk, maple syrup, and coconut sugar to a small saucepan over medium heat. Bring the mixture to a boil, stirring frequently. Let the mixture boil for 4-5 minutes, and then reduce to a simmer. 
Simmer your caramel for 30-35 minutes, stirring frequently, until the color deepens and It has reduced significantly. 
Turn off burner and remove your pot from the heat. Stir in the cashew butter , vanilla, and sea salt. Stir until one caramel mixture remains.
The caramel will thicken as It cools.  If It has thickened too much by time your cheesecake freezes, just reheat on the stove (over low heat) or in the microwave in 15 second increments, stirring in between.
Assemble Your Cheesecake
Once your cheesecake has frozen, spread the caramel on top of your filling in an even layer. Then add your apples. 
Place back in the refrigerator to set for a minimum of an hour. 
Slice, serve and enjoy! 
Save leftovers for 3 days in the refrigerator.