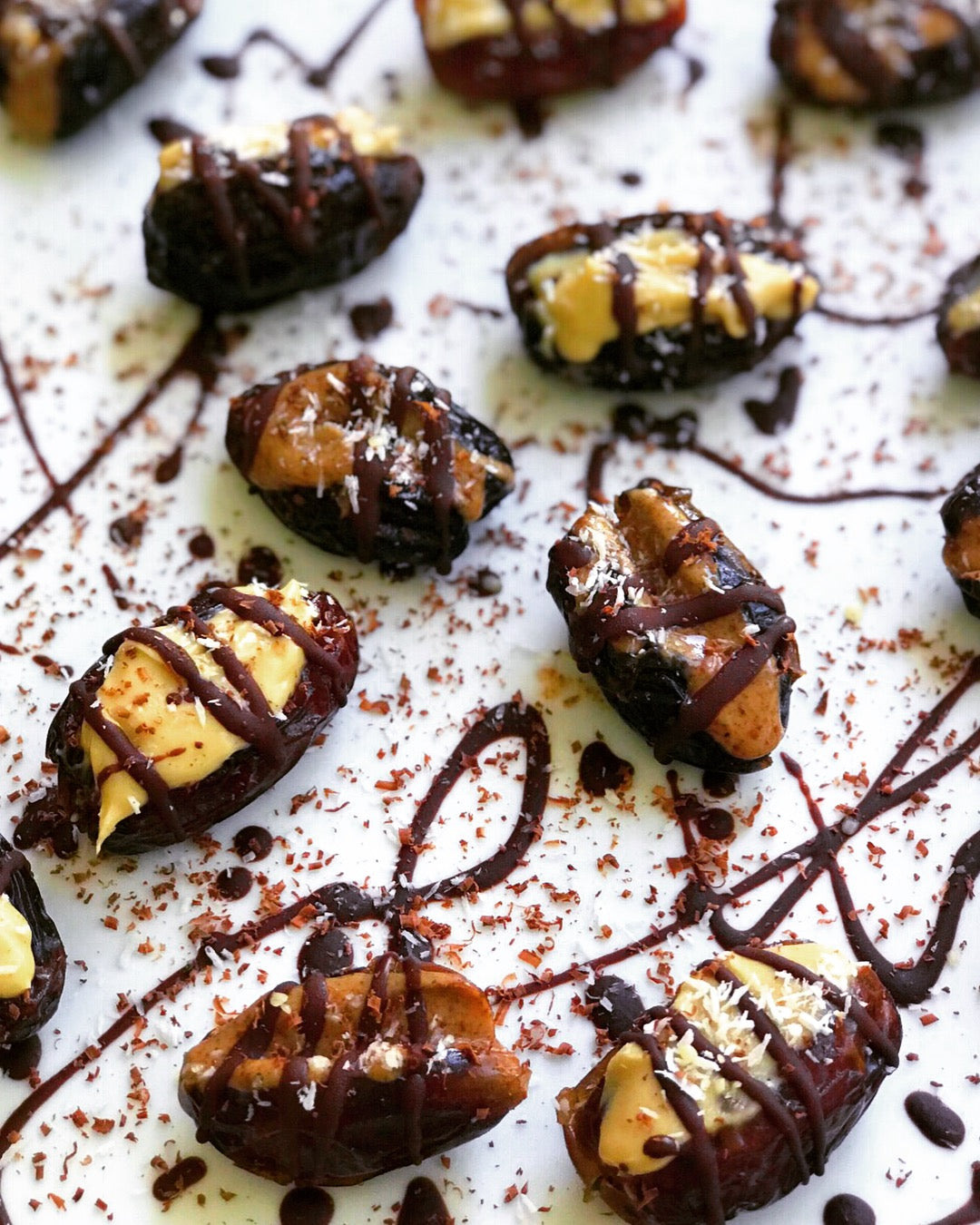 If you haven't picked up on this yet, I have a sweet tooth. A night time sweet tooth. A very enormous night time sweet tooth that likes to try and undo all my healthy choices during the day.

Not today sir. These little bites can be ready in minutes and are packed with protein, good fat, antioxidants, and fiber. Is It even called dessert anymore? .

Making these and having a stash in your freezer will be the best thing you do for your cravings, your body, and your tastebuds!


I n g r e d i e n t s 
12 medjool dates, (make sure they are soft!)
5-6 tbsp almond/cashew/any nut butter , divided (I prefer cashew) 
1/3 cup dairy free chocolate chips ( I use Enjoy Life Foods)  

1 tsp coconut oil 
toppers: coconut shreds, hemp seeds, shaved chocolate.


Equipment Needed: Baking Sheet, Parchment Paper, small mixing bowl 
Servings: 12 date bites 
D i r e c t i o n s 
Line a baking sheet with parchment paper, spread out your dates. Remove pits from dates, and create a little hole for the nut butter. Fill each date crevice with about 1/2 tbsp of nut butter each.
Place in freezer while you melt chocolate.
Add your chocolate and coconut oil into a microwave safe bowl. Melt in 30 second intervals, stirring in between EACH interval until fully melted. 

Remove dates from freezer and drizzle on chocolate. Sprinkle on your coconut & hemp seeds! Add back into freezer and allow 30 minutes for chocolate to set.
However, totally acceptable to go ahead and sneak one.