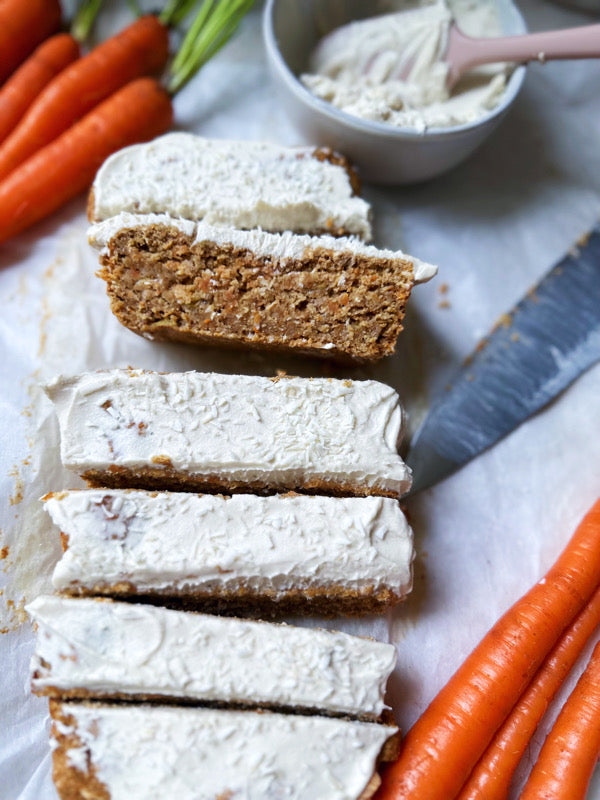 Browning bananas on my counter always inspire me to bake! I probably have a dozen banana bread recipes, but I wanted something light and seasonal. 
I am honored to welcome this new Carrot Cake Banana Bread into the mix! Basically the result of two of my favorite desserts colliding. 
You must make the fluffy cashew cream icing to top it with, a match made in heaven. 
The bread would be the perfect coffee snack or brunch addition, and did I mention very toddler friendly??
Servings
6-8 
Equipment 
Oven 
Loaf Pan 
High-Speed Blender ( icing ) 
Ingredients
Icing 
1 heaping cup raw cashews, soaked overnight ( should measure 1.5 cups when soaked) 
1 can full-fat coconut milk, refrigerated overnight 
3 tbsp maple syrup 
1.5 tsp vanilla extract 
1/4 tsp sea salt 
Dry 
2 cups oat flour
1 tsp cinnamon
1 tsp baking powder
1/2 tsp ginger 
1/4 tsp allspice 
1/2 tsp baking soda 
3/4 tsp salt
Wet 
1 1/2 cup mashed overripe banana ( 2 bananas ) 
1/2 cup finely shredded carrot
1/4 cup coconut shreds ( more for topping) 
1/4 cup maple syrup
1/4 cup coconut sugar
1/4 cup cashew yogurt 
1/4 cup almond milk
2 tbsp coconut oil, melted  
2 tsp pure vanilla extract
1 tsp lemon juice
Optional add ins :
currants 
raisins 
crushed walnuts 
Make the icing ahead of time so it has time to set! 
Rinse your soaked cashews and add into a blender. 
Open your coconut milk can from the bottom. Discard any liquid on top. Sccop out only the hardened coconut and add it into the blender. Add remaining icing ingredients and blend on high until zero clumps remain. Pour into a sealed container and let sit in the fridge overnight. 
Time to make the bread.
Preheat oven to 350 F and line a loaf pan with parchment paper. 
Mix all dry ingredients into a mixing bowl. 
In a separate bowl, add your mashed banana. Make sure there are no clumps remaining in your bananas. When ready add all other wet ingredients EXCEPT LEMON and mix well. 
Slowly add the wet mix into your dry, stirring as you pour. 
Stir in your lemon. 
Pour batter into your loaf pan and spread out evenly. 
Bake in the oven until a toothpick comes out clean, 35-42 minutes. 
Store leftovers in a sealed container in the refrigerator.