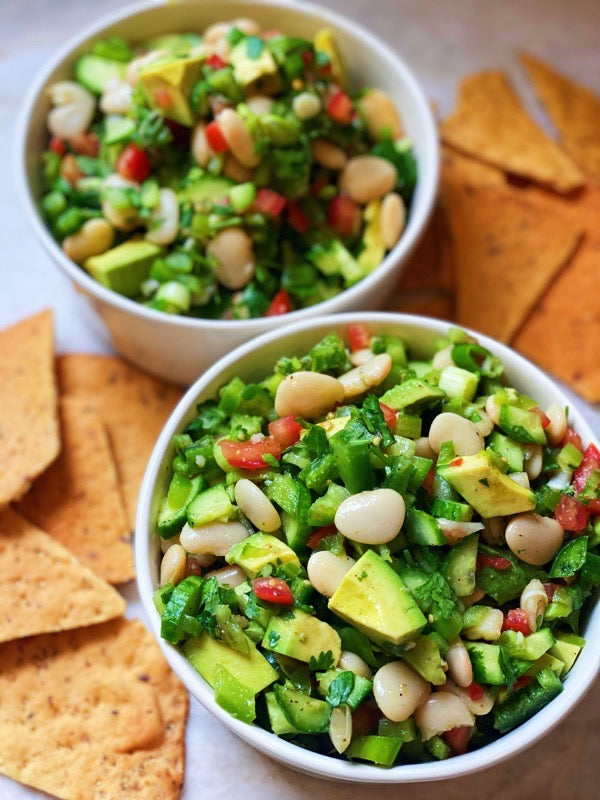 Fresh, cool, and bursting with flavor. That is the best way to describe this plant-based ceviche. The white beans take on a texture as would a raw fish and everything else just falls into place. 
The hardest part about making this ceviche salad is waiting for It to marinate before diving in with your favorite chip or scooping into a warmed taco. 
These are the days of summer and this is what's for dinner!
Ceviche  
1 can butterbeans beans, drained and rinsed 
3 Persian cucumbers, finely diced  
2 vine ripe tomatoes, diced 
2 avocado, cubed 
2 jalapeno, deseeded and diced 
1 green pepper, finely diced
1/2 cup green onions, sliced 
1/2 cup cilantro, diced 
1 clove garlic, grated 
Marinade 
1/4 cup salsa verde 
5 tbsp fresh lime juice ( about 2 large limes) 
Juice from 1/2 small orange, about 3 tbsp 
1 tsp sea salt ( to start) 
Pepper to taste 
Add all salad ingredients into a large bowl and mix well. Add all the marinade ingredients and toss. Allow ceviche to sit for 30 minutes. Taste and adjust salt/pepper/lime.