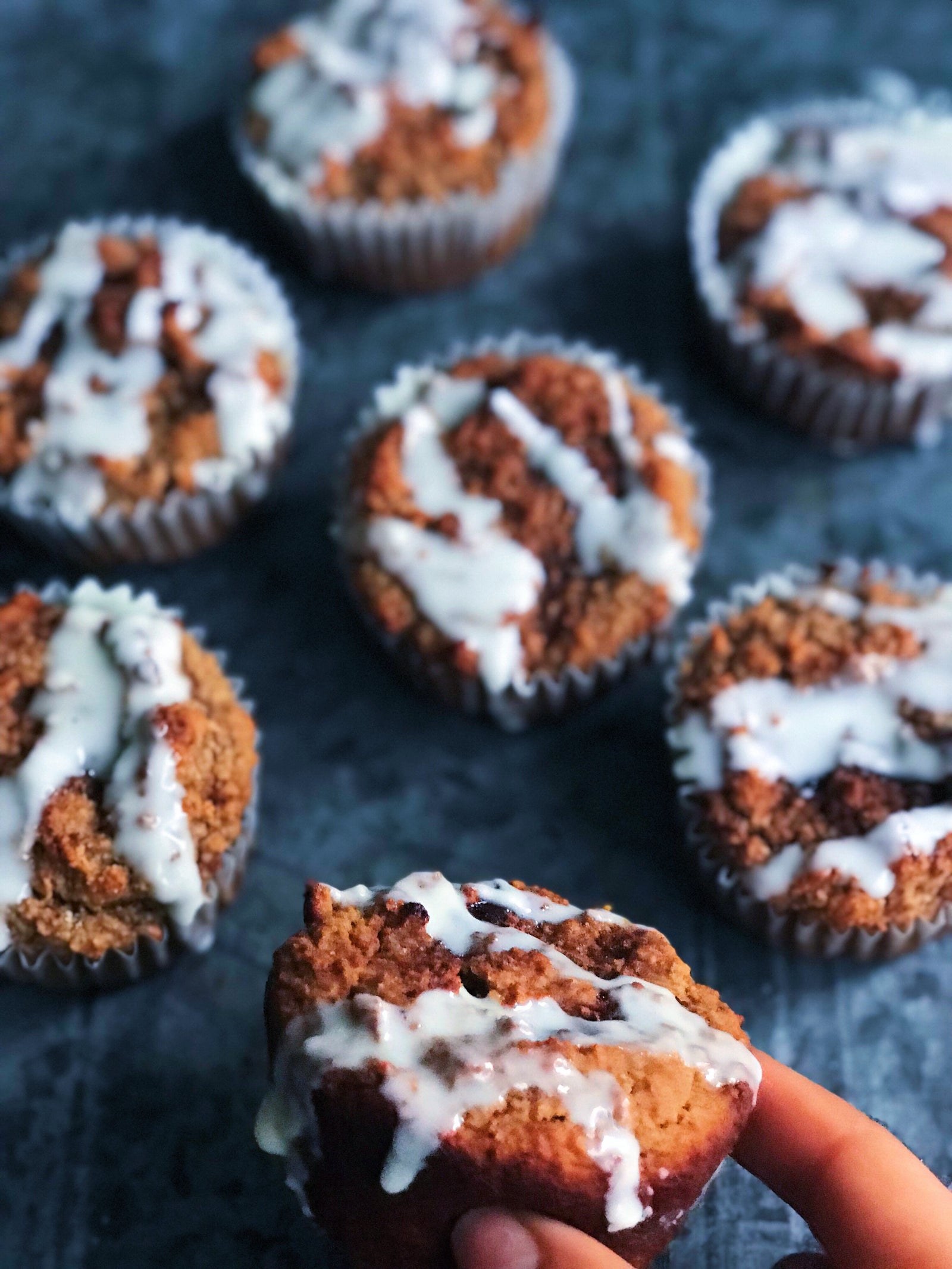 Chai Spice Breakfast Muffins

oil-free, grain-free, gluten-free, and dairy free

Doesnt the word "chai" just make you want to snug up on the couch with some tea, a warm muffin, and light your favorite candle? Yea, me too. Which is exactly why I was on a mission to create these muffins. 

These can come together in under ten minutes, which makes them perfect for, well, anything.

However I do suggest making them with friends or family around because your kitchen will smell like you are smack in the middle of a spice market & they will think you are a bad ass chef 
I n g r e d i e n t s 
DRY
3 cups almond flour (I use@honeyvillegrain, it the best iN my opinion— amazon! )
1/4 cup almond meal

1/2 cup tapioca flour

1 tbsp flax meal

2 tbsp coconut sugar (extra for sprinkling)

2 tsp cinnamon (extra for sprinkling)

1/2 tsp coriander

1/4 tsp clove

1/4 tsp ground ginger

1 tsp baking powder

1/2 tsp baking soda

1/2 tsp sea salt

WET
1/2 cup@foragerproject Cashew yogurt

1/2 cup unsweetened apple sauce

1/4 cup nut milk

3 tbsp maple syrup (honey works too)

2 tsp vanilla extract
D i r e c t i o n s 
Preheat your oven to 350F. Spray/ oil a muffin pan. Add all your dry ingredients into a mixing bowl. Whisk until fully combined. Whisk to combine so that there are no clumps. 

In another bowl add all your wet ingredients. Whisk to combine so that there are no clumps. 
Add your dry ingredients to your wet and stir until fully incorporated. Taste batter and adjust whatever you need.

Fill each muffin mold with batter until there is no more batter. Sprinkle each muffin with coconut sugar + cinnamon. This helps caramelize the top of the muffin!

Bake for 22-25ish minutes or until a toothpick comes out clean and tops of muffins are golden! This will vary oven to oven and muffin pan size.

ICING is melted coconut butter (you can add a little maple syrup or honey if you like!)