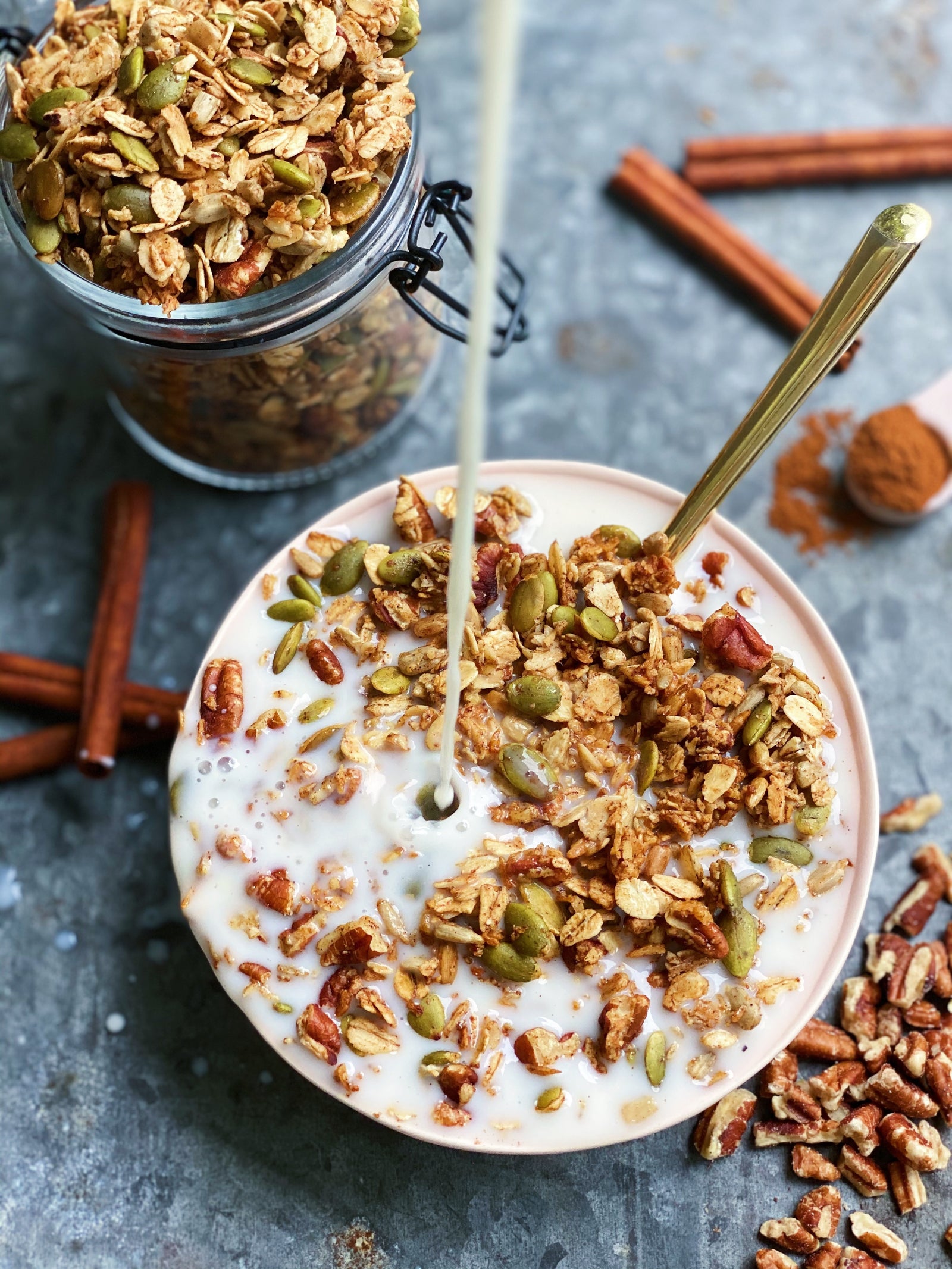 Hello fall, I see you creeping in.
Being the first week home with baby girl, I swear I blinked and we were already celebrating her 7th day earthside with us. It has been the most incredible, most magical, most exhausting, and HUNGRIEST time of my life.
I will thank those hunger cues for this granola inspiration. Im craving comfort and cozy, both of which sum up this recipe. It's simple , it's delicious, and it will get your kitchen smelling like fall heaven. 
Mmmm I can't wait to have a bowl with some almond milk and berries tomorrow! 
Enjoy!
Granola Ingredients
3 cup gluten free oats
1 cup pumpkin seeds
1 cup sunflower seeds
1 cup pecans
1 cup coconut shreds
3 tbsp melted coconut oil
1/3 cup honey or maple syrup
1.5 tsp vanilla extract
3/4 tsp sea salt
Chai Spice Mix 
3 tbsp coconut sugar
3 tsp cinnamon
1 tsp cardamom
1 tsp ginger
1/4 tsp ground clove
1/4 tsp all spice
1/4 tsp black pepper
Preheat your oven to 350 F. Line an extra large baking sheet with aluminum foil or parchment paper.
In a small mixing bowl add your chai spices and stir until all combined. Set aside.
In a large mixing bowl add your oats, pumpkin seeds, sunflower seeds, pecans, and coconut shreds. Mix well.
Add in your melted coconut oil, honey, vanilla and sea salt. Stir well.
Now stir in your chai spice mix until mixed evenly into granola.
Spread in an even layer on your baking sheet.
Bake for 28-30 minutes or until golden brown. Stirring at the 15 minute mark. When ready, remove from oven and allow to cool.
Store in a sealed container. Can be left on counter for two weeks or refrigerated for up to 4 weeks.