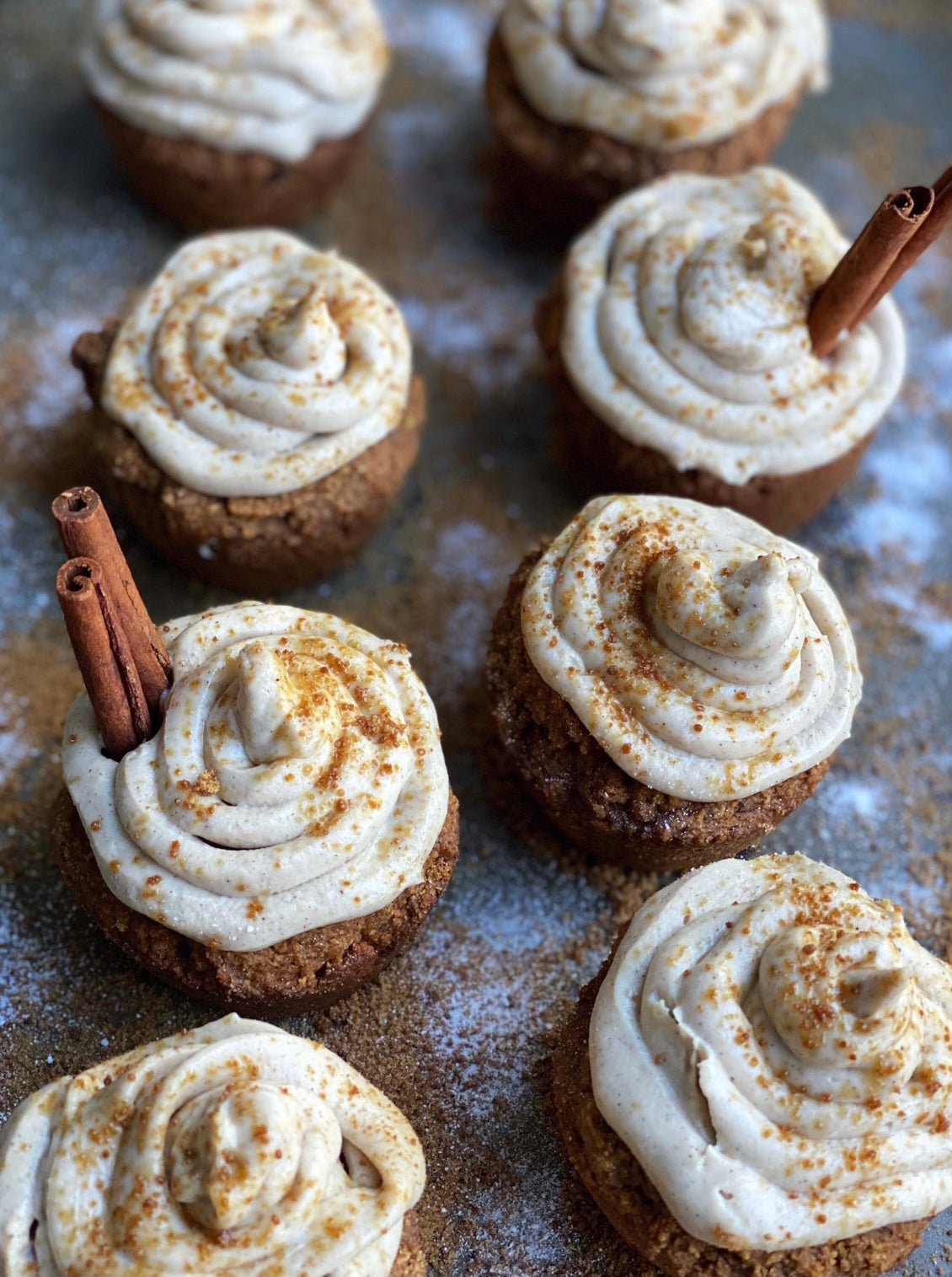 Chai Spiced Muffins w/ Maple Buttercream Icing
Due to the crazy times, I'm absolutely loving the idea for individualized holiday menu options…aka less touching, less double dipping, less double scooping.
These 'Chai Spiced Muffins w/ Maple Buttercream Icing' would be the perfect addition to your brunch, lunch, or dinner dessert spread.
They look so festive with a pillow of icing and sprinkle of cinnamon and coconut sugar.
The sweet potato puree helps these muffins stay moist and the maple syrup creates the perfect hint of sweetness to help balance out the punch of chai spice.
All in all, these muffins deserve a spot at the table, whether with a cup of coffee or glass of wine!
Ingredients 
Chai Spice Mix 
3 tbsp coconut sugar
3 tsp cinnamon
1 tsp cardamom
1 tsp ginger
1/4 tsp ground clove
1/4 tsp all spice
1/4 tsp black pepper 
Dry
3/4 cup almond flour
3/4 cup gluten free oat flour
1/4 cup tapioca flour
1/2 cup brown rice flour
3 tbsp coconut sugar
1 1/2 tsp baking powder
1 tsp baking soda
1/2 tsp salt
Wet
1 flax egg ( 1 tbsp flax meal + 2 tbsp water)
1.5 cup sweet potato puree ( I used canned! Make sure not sweet potato pie filling)
1/3 cup maple syrup
3 tbsp coconut oil
1.5 tsp vanilla
2 tsp apple cider vinegar
Icing
2 cups raw cashews, soaked ( minimum 4 hours)
Coconut from 1 can full fat coconut milk , refrigerated for 24 hours
¼ cup maple syrup
2 tbsp coconut oil, melted
1 tsp cinnamon
1 tbsp coconut sugar
½ tsp sea salt
Directions
**Note: Prepare your icing the day before or hours before serving. Needs a minimum of 6 hours to thicken in fridge!
Rinse your soaked cashews and add into a high-speed blender. Open your refrigerated can of coconut milk UPSIDE DOWN. Pour out ( or save for smoothies) all of the liquid sitting on the top. Now scoop out all your hardened coconut and add into the blender.  Add all other icing ingredients and blend on high for 3-4 minutes or until smooth and creamy, no clumps. Store in a container and allow 6-8 hours to thicken in fridge.
Preheat your oven to 350 F and lightly "grease" your muffin pan with coconut oil.
In a small bowl, prepare your flax egg by mixing 1 tbsp flax meal + 2 tbsp water. Set bowl aside and allow to coagulate, around 10 minutes.
In a large mixing bowl add your dry ingredients along with your chai spices. Mix well.
In a separate large bowl add your wet ingredients EXCEPT apple cider vinegar. When your flax egg is ready, whisk into the wet ingredients.
Fold your wet ingredients into your dry until all combined. Add in your apple cider vinegar and stir in. Do not "over mix."
Scoop your batter into each muffin mold – I got about 10 large muffins.  
Bake for 26-28 minutes or until tops are golden brown and hollow. Allow muffins to completely cool before icing.