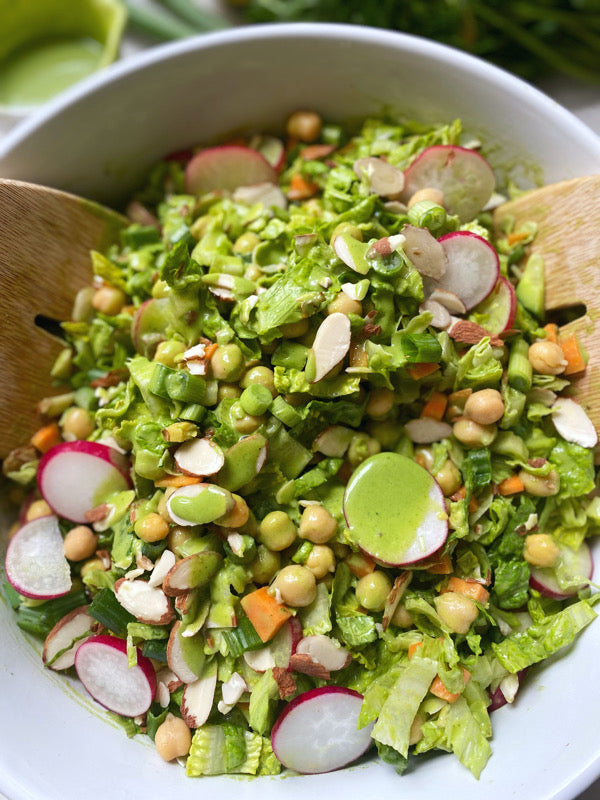 Forever dedicated to making people fall in love with salad, and this 'Chickpea Chopped Salad' is the perfect place to start. 
Topped with crisp radishes, crunchy cucumber, toasted almonds, protein packed chickpeas, and tossed in the dreamiest, creamiest green dill dressing. 
It's like you can almost taste spring! 
Chopped Salad 
2 romaine heads, thinly shredded
2 cans chickpeas, rinsed and pat dry
6 radishes, sliced into coins
1 large carrot, diced
1 cucumber, deseeded and diced
1/2 cup green onion, chopped
1/2 cup slivered almonds, toasted 
Dressing 
1 cup cashew yogurt 
1 cup italian parsley 
1/2 cup fresh dill 
8 basil leaves
3 tbsp olive oil
3 tbsp lemon juice 
2 tbsp shallot , minced 
1 tbsp capers
1 tsp apple cider vinegar
1 tsp honey ( optional ) 
1/2 tsp sea salt 
Add all of your salad ingredients in a large bowl.
Add all of your ingredients into a blender. Blend until smooth and creamy. Taste and adjust any salt/lemon preferences! 
Add desired amount of dressing into salad bowl and mix well. Add more salt and / or dressing to taste!