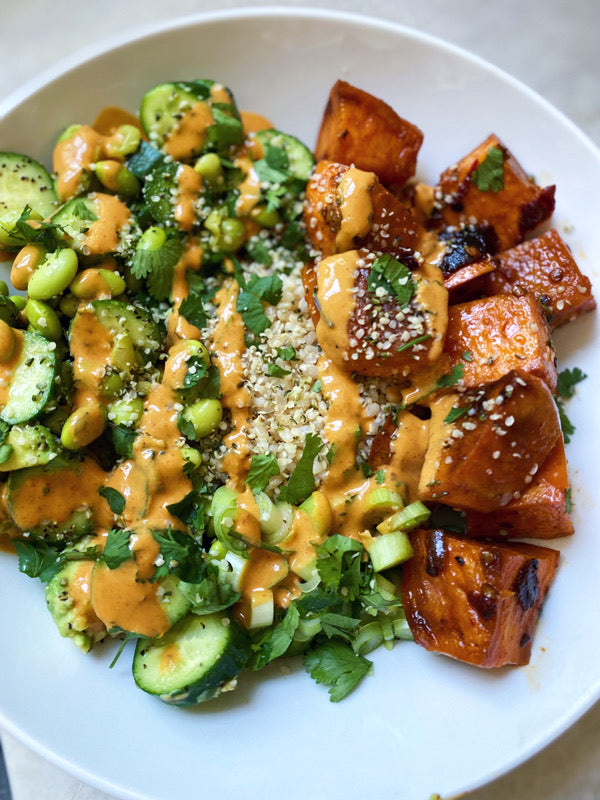 Spicy Chipotle Sweet Potato Bowl
I sincerely cannot wait for you to try this bowl! It is all things flavor, texture, and delicious. I don't know what took me so long to create a chipotle bowl, but this is just the beginning. 
These sweet potatoes would be a perfect meal prep item to keep in your fridge all week long while you switch up the extras! 
I used brown rice and a cucumber avocado salad that truly deserves its own post. 
File this one under, 'when trying to convince a meat eater plant-based meals can be delicious too'. 
And this spicy dressing, if you choose to make one thing from this post let it be that! 
Servings: 
2 large or 3 small bowls 
Equipment : 
High-Speed Blender 
Large Baking Sheet
Oven 
Sweet Potato Chipotle Bowl
Sweet Potatoes 
1 large or two small sweet potatoes, peeled and chopped into 2-inch cubes  
1 tbsp chopped chipotle peppers ( from a can in adobo sauce ), finely chopped
1.5 tbsp olive oil 
1 tbsp honey
1/2 tbsp tamari 
1 tbsp lime juice 
¼ tsp sea salt 
Cucumber Edamame Salad 
1 large English cucumber 
1 cup cooked edamame 
1 jalapeno ( optional ) 
1 ripe avocado 
1.5 tbsp olive oil 
1- 2 tbsp lemon juice 
Salt ( to taste) 
Pepper ( to taste ) 
Other Bowl Ingredients 
1 cup cooked brown rice ( divided amongst bowls ) 
cilantro, rough chopped ( divided amongst bowls ) 
Sprinkle hemp seeds ( divided amongst bowls ) 
Chipotle Honey Mustard
1/2 cup cashew yogurt
1/4 cup olive oil or grapeseed oil
3 tbsp chipotle peppers in adobo sauce, rough chopped 
2 tbsp dijon mustard
2 tbsp honey 
2 tbsp water
2 tbsp lemon 
1/4 - 1/2 tsp sea salt  ( to preference ) 


Sweet Potatoes: Preheat the oven to 400F and line your baking sheet with parchment paper. Add your chopped sweet potato to a bowl. Add a dash of olive oil and a pinch of salt and pepper. Spread out evenly onto your baking sheet. Roast for 35-45 minutes, or until easily pierced with a fork. Sweet potatoes should be tender but not mushy. 
While your sweet potatoes are roasting, prepare the marinade in a mixing bowl ( preferably the one you just mixed your sweet potatoes with). Add your chopped chipotle peppers, olive oil, honey, tamari, lime, and sea salt into the bowl and whisk well. 
When your sweet potatoes are done roasting, drop them into the bowl with the marinade and mix well. Set aside while you prepare the rest of your bowl.
Cucumber Edamame Salad: Add all ingredients for the salad (except avocado) into a large mixing bowl, and mix well. Taste and adjust salt/pepper/lemon. When ready add your avocado and lightly fold in. Set aside. 
Spicy Chipotle Honey Mustard:Add all ingredients for your into a blender. Blend on high until you achieve a smooth dressing. Taste and adjust salt/sweetness/ acidity with the lemon. 
Prepare your bowl:Add the desired amount of brown rice as your base, scoop desired amount of salad on top, and then add your sweet potatoes. Finish off with your chopped cilantro and hemp seeds. 
Devour!