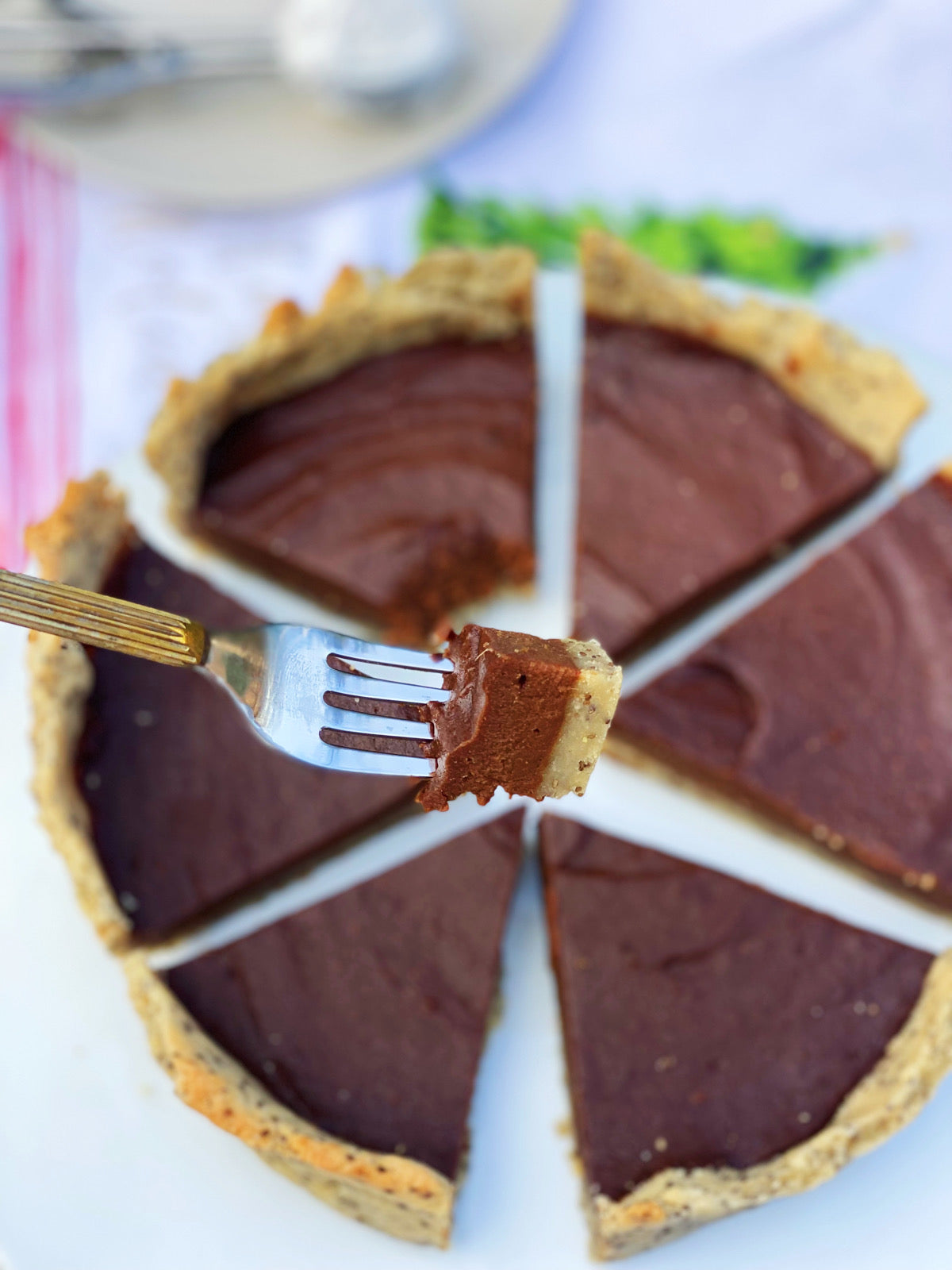 Brownie Batter Sweet Potato Pie
I went back and forth on what to name this insanely delicious pie because it tastes like all the things : Brownie batter , Fudge , Chocolate Butterscotch … basically all things YUM. 

I might change my mind after each bite but here we are for now.

This filling is so good you will be scraping (and licking) the bowl clean.

However, im most excited about this gluten free & vegan crust! I have big plans for all types of variations— and seriously the easiest pie crust you will ever make.

If you are in charge of your holiday dessert please consider making this guy! It will impress the best of them!

Brownie Batter Sauce  
1/3 cup coconut oil, melted
2/3 cup coconut sugar
½ cup almond milk
2 tbsp cashew butter
1/3 cup chocolate chips
½ tsp sea salt
Crust
2 tbsp chia seeds
8 tbsp water
2 cups  almond flour
5 tbsp tapioca flour
2 tbsp Coconut sugar
1/2 tsp cinnamon
½ tsp sea salt
Filling
1 batch Brownie Batter Sauce
1 cup roasted sweet potato puree/flesh ( see note – I tested with canned too, and fresh yielded the best results)
1 tbsp maple syrup
1.5 tsp vanilla extract
Equipment
9 inch pie pan
Food Processor
Oven
Sauce pot
parchment paper 
**Note : for 1 cup sweet potato mash, preheat oven to 400F. Wrap your sweet potato with aluminum foil. Roast sweet potato for 35-40 minutes or until a fork pierces through easily. Remove from oven and let cool. Slice open sweet potato and scoop out one cup for recipe. Discard or save the peel and leftovers. 
Preheat your oven to 400F ( if not already there from roasting your sweet potato).
In a separate bowl, go ahead and mix the chia egg from the crust ingredients. Add your chia seeds to a small bowl and stir in your water. Stir a few times and set aside.
Now, we will prepare the sauce. 
Start by adding coconut oil to your sauce pot, warming over low/ medium heat.
Stir in your coconut sugar.
Once the coconut sugar absorbs the oil, add in all other ingredients and stir or whisk to combine.
Bring the mix to a low boil, stirring frequently, as we don't want the chocolate to burn. 
Allow the mix to simmer for 5 - 6 minutes. Turn off the burner, and slide the pot off the hot burner. The sauce will thicken up a good bit as it cools.   
While your sauce is cooling, prepare the crust.
In a large bowl mix your almond flour, tapioca flour, coconut sugar, cinnamon and sea salt. Add your chia "egg" into the bowl. Begin to work the dough with your hands. If dough gets too sticky, add a touch more almond flour until you reach a good consistency.
Place the dough between two large sheets of parchment paper. Roll out the dough into an even circle ( perfection not necessary) , achieving about an inch thick of the crust.
Remove your top layer of parchment paper and carefully transfer dough to pie plate (I used parchment paper to flip it over), and gently press dough into pie pan.
It is OK if it does not look perfect , you can repair any tears or empty spots. Trim any excess dough that hangs over the pan.
Bake in the oven for 15 minutes while you prepare the filling.
Add your entire batch of sauce into the food processor. Add in all other filling ingredients, including your sweet potato mash. Process on high for a few minutes or until everything is completely smooth.
Once pie crust is done baking remove from oven. 
Pour your filling into the pie crust and spread out evenly.
Place back in oven for 18-22 minutes or until crust is golden brown at edges. Mine was perfect at 20 minutes. 
Allow your pie to completely cool. Once cooled allow to set in refrigerator for 2 hour minimum.
Slice and serve when ready!